Joseph Wilson Swan (1828-1914)
January 11, 2014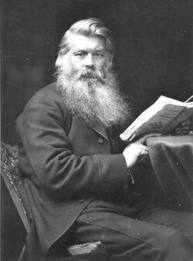 Joseph Wilson Swan (1828-1914) '… was a British physicist and chemist. He is most famous for inventing an incandescent light bulb. Swan first demonstrated the light bulb at a lecture in Newcastle upon Tyne on 18 December 1878, but he did not receive a patent until 27 November 1880 (patent No. 4933) after improvement to the original lamp. His house (in Gateshead, England) was the first in the world to be lit by lightbulb, and the world's first electric-light illumination in a public building was for a lecture Swan gave in 1880. In 1881, the Savoy Theatre in the City of Westminster, London, was lit by Swan incandescent lightbulbs, the first theatre and the first public building in the world to be lit entirely by electricity…'
Joseph Wilson Swan's brother John Swan (?-?) worked as a homeopathic chemist (Mary E. Swan, Kenneth Raydon Swan, Sir Joseph Wilson Swan, F.R.S., inventor and scientist, (Oriel P., 1968). Page 28). Joseph Wilson Swan was in Partnership with John Mawson (?-1867), a homeopathic chemist (George Atkin, The British and Foreign Homeopathic Medical Directory and Record, (Groombridge & Sons, 1853). Page vii. See also Thomas Marwood (Ed.), North of England maritime directory, shipping register, and commercial advertiser, (1848). Page 72), whose widow Mrs. Mawson (?-?) (Joseph Wilson Swan's sister) was a ?patient ?friend of James John Garth Wilkinson, as her name is listed in his address book at Ashfield House, Gateshead on Tyne (Swedenborg Archive Address Book of James John Garth Wilkinson 'Where is it' dated 1.10.1892). Joseph Wilson Swan is also listed in Garth Wilkinson's 'Where is it?' address book at Lauriston Bromley Kent.
From http://en.wikipedia.org/wiki/Joseph_Swan '… The common coupling of Swan's name with that of Edison [Thomas Alva Edison]_ in connection with the incandescent electric lamp has often led to the notion that Swan collaborated with Edison in this invention. That was not so. Their work was completely independent, and although each knew the other was working on the problem of devising a practical lamp, they had neither met nor communicated with each other_. The conjunction of their names came about in 1883 when the two competing companies merged to exploit both Swan's and Edison's inventions…'
'… In 1904 Swan was knighted by King Edward VII, awarded the Royal Society's Hughes Medal, and was made an honorary member of the Pharmaceutical Society. He had already received the highest decoration in France, the Légion d'honneur, when he visited an international exhibition in Paris in 1881. The exhibition included exhibits of his inventions, and the city was lit with electric light, thanks to Swan's invention. 
Joseph Wilson Swan was born in 1828 at Pallion Hall in Bishopwearmouth (now part of Sunderland, Tyne and Wear). His parents were John Swan and Isabella Cameron .** He served an apprenticeship under a pharmacist there. He later became a partner in Mawson's, a firm of manufacturing chemists in Newcastle upon Tyne. This company existed as Mawson, Swan and Morgan** until 1973, _formerly located on Grey Street in Newcastle upon Tyne near __Grey's Monument. The premises are now owned by the Swedish fashion retailer H&M and can be identified by a line of Victorian-style electric street lamps in front of the store on Grey Street. _
*Swan lived at Underhill, a large house on Kells Lane North, Low Fell, Gateshead, where he conducted most of his experiments in the large conservatory. The house was later converted into a private fee paying, grant aided co-educational grammar school named Beaconsfield School. Here, students could still find examples of Swan's original electrical fittings. __In 1850 Swan began working on a light bulb using carbonized paper filaments in an evacuated glass bulb. By 1860 he was able to demonstrate a working device, and obtained a British patent covering a partial vacuum, carbon filament incandescent lamp. However, the lack of a good vacuum and an adequate electric source resulted in an inefficient bulb with a short lifetime. *
*In 1875 Swan returned to consider the problem of the light bulb with the aid of a better vacuum and a carbonized thread as a filament. The most significant feature of Swan's improved lamp was that there was little residual oxygen in the vacuum tube to ignite the filament, thus allowing the filament to glow almost white-hot without catching fire. However, his filament had low resistance, thus needing heavy copper wires to supply it. *
_Swan first publicly demonstrated his incandescent carbon lamp at a lecture for the Newcastle upon Tyne Chemical Society on 18 December

However after burning with a bright light for some minutes in his laboratory, the lamp broke down due to excessive current. On 17 January 1879 this lecture was successfully repeated with the lamp shown in actual operation; Swan had solved the problem of incandescent electric lighting by means of a vacuum lamp. _
_On 3 February 1879 he publicly demonstrated a working lamp to an audience of over seven hundred people in the lecture theatre of the Literary and Philosophical Society of Newcastle upon Tyne, Sir William Armstrong presiding. _
Swan turned his attention to producing a better carbon filament and the means of attaching its ends. He devised a method of treating cotton to produce "parchmentised thread" and obtained British Patent 4933 on 27 November 1880. *From that time he began installing light bulbs in homes and landmarks in England. His house, Underhill on Kells Lane in __Low Fell, Gateshead, was the world's first to have working light bulbs installed. The Lit & Phil Library in Westgate Road, Newcastle, was the first public room lit by electric light during a lecture by Swan on 20 October 1880. *
*In 1881 he founded his own company, The Swan Electric Light Company, and started commercial production. __The Savoy, a state-of-the-art theatre in the City of Westminster, London, was the first public building in the world lit entirely by electricity. Swan supplied about 1,200 incandescent lamps, powered by an 88.3 kW (120hp) generator on open land near the theatre. *
The builder of the Savoy, Richard D'Oyly Carte, explained why he had introduced Swan's electric light: "The greatest drawbacks to the enjoyment of the theatrical performances are, undoubtedly, the foul air and heat which pervade all theatres. As everyone knows, each gas-burner consumes as much oxygen as many people, and causes great heat beside. The incandescent lamps consume no oxygen, and cause no perceptible heat." _The first generator proved too small to power the whole building, and though the entire front-of-house was electrically lit, the stage was lit by gas until 28 December 1881. At that performance, Carte stepped onstage and broke a glowing lightbulb before the audience to demonstrate the safety of Swan's new technology. _
On 29 December 1881, __The Times described the electric lighting as superior, visually, to gaslight. __The first private residence, other than the inventor's, lit by the new incandescent lamp was that of his friend, _Sir William Armstrong at Cragside, near Rothbury, Northumberland. Swan personally supervised the installation there in December 1880. _
_Swan had formed 'The Swan Electric Light Company Ltd' with a factory at Benwell, Newcastle, and had established the first commercial manufacture of incandescent lightbulbs by the beginning of 1881. The first ship to use Swan's invention was The City of Richmond, owned by the 'Inman Line'. She was fitted out with incandescent lamps in June

_
*The Royal Navy also introduced them to their ships soon after with HMS Inflexible having the new lamps installed in the same year. Swan was one of the early developers of the electric safety lamp for miners, exhibiting his first in Newcastle upon Tyne at the North of England Institute of Mining Engineers on 14 May 1881. This required a wired supply so the following year he presented one with a battery  and other improved versions followed. By 1886 a lamp with better light output than a flame safety lamp was in production by the Edison-Swan Company. However, it suffered from problems of reliability and was not a success. It took development by others over the next 20 years or so before effective electric lamps were in common use… *
When working with wet photographic plates, Swan noticed that heat increased the sensitivity of the silver bromide emulsion. By 1871 he had devised a method of using dry plates and substituting nitro-cellulose plastic for glass plates, thus initiating the age of convenience in photography. Eight years later he patented bromide paper, developments of which are still used for black-and-white photographic prints. __In 1864, Swan patented the transfer process for making carbon prints, a permanent photographic process. By adding the transfer step, Swan was able to easily make photographs with a full tonal range…'* *
Of interest
From Swedenborg Archive Address Book of James John Garth Wilkinson 'Where is it' dated 1.10.1892. See also http://isee.gateshead.gov.uk/detail.php?type=related&kv=2515&t=objects See also http://low-fell.com/remember-when-mawson-and-swan/ See also http://www.nationalarchives.gov.uk/a2a/records.aspx?cat=183-dtmsm&cid=0#0 See also http://en.wikipedia.org/wiki/Joseph_Swan: Mrs. Mawson (?-?), listed in the "Where is it?' address book at Ashfield House, Gateshead on Tyne, was the widow of John Mawson (?-1867), a homeopathic chemist who had this house built. '… Ashfield which is now a nursery but was originally built in the 1860?s for a Newcastle chemist, John Mawson, and his family… [_John Mawson] was in partnership with] Joseph Wilson Swan … [to] became Mawson and Swan. On Kells Lane until the 1920?s was Mawson Swans Dry Plate works. Dry plate photography was invented by Joseph Swan and led to photography becoming much more widely used. But there's another connection between the two as they became brothers in law when Joseph Swan's sister Elizabeth, married John Mawson in 1848. John Mawson became Sheriff of Newcastle and was unfortunately fatally injured when overseeing the disposal of gunpowder on Newcastle's town moor in 1867.  He had just signed the conveyance to buy Ashfield but in the end, it was his widow and her children who eventually moved in_…'
---