John Gutzon de la Mothe Borglum (1867-1941)
November 23, 2013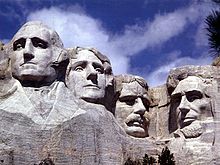 John Gutzon de la Mothe Borglum (1867-1941) '… was a Danish-American artist and sculptor famous for creating the monumental presidents' heads at Mount Rushmore, South Dakota, the famous carving on Stone Mountain near Atlanta, as well as other public works of art including a head of Abraham Lincoln, exhibited in Theodore Roosevelt's White House and held in the United States Capitol Crypt in Washington, D.C…'
Gutzon Borglum was the son of homeopath Jens Borglu (Jens changed his name to James Miller Borglum and practiced in Freemont Nebraska) (Dan Simmons, Black Hills, (Quercus, 1 Jan 2011). Page 211). 
From http://en.wikipedia.org/wiki/Gutzon_Borglum '… *The son of Mormon Danish immigrants, Gutzon Borglum was born in 1867 in St. Charles in what was then Idaho Territory. Borglum was a child of Mormon polygamy. His father, Jens Møller Haugaard Børglum, had two wives when he lived in Idaho—Borglum's mother and his mother's sister, his father's first wife. His father decided to leave Mormonism and to go back to Omaha, where polygamy was illegal and taboo, leaving Gutzon's mother, while taking his first wife with him. *
_His father worked mainly as a woodcarver before leaving Idaho to attend the Saint Louis Homeopathic Medical College in Saint Louis, Missouri. Upon his graduation from the Missouri Medical College in 1874, Dr. Borglum moved the family to Fremont, Nebraska, where he established a medical practice. _
_Gutzon Borglum remained in Fremont until 1882, when his father enrolled him in St. Mary's College, Kansas. After a brief stint at Saint Mary's College, Borglum relocated to Omaha, Nebraska, where he apprenticed in a machine shop and graduated from Creighton Preparatory School. He was trained in Paris at the Académie Julian, where he came to know Auguste Rodin and was influenced by Rodin's impressionistic light-catching surfaces. _
Back in the U.S. in New York City he sculpted saints and apostles for the new Cathedral of Saint John the Divine in 1901; in 1906 he had a group sculpture accepted by the Metropolitan Museum of Art[5]— the first sculpture by a living American the museum had ever purchased—and made his presence further felt with some portraits. He also won the Logan Medal of the Arts. His reputation soon surpassed that of his younger brother, Solon Borglum, already an established sculptor.
In 1925, the sculptor moved to Texas to work on the monument to trail drivers commissioned by the Trail Drivers Association. He completed the model in 1925, but due to lack of funds it was not cast until 1940, and then was only a fourth its originally planned size. It stands in front of the Texas Pioneer and Trail Drivers Memorial Hall next to the Witte Museum in San Antonio. Borglum lived at the historic Menger Hotel, which in the 1920s was the residence of a number of artists. He subsequently planned the redevelopment of the Corpus Christi waterfront; the plan failed, although a model for a statue of Christ intended for it was later modified by his son and erected on a mountaintop in South Dakota. While living and working in Texas, Borglum took an interest in local beautification. He promoted change and modernity, although he was berated by academicians.
*A fascination with gigantic scale and themes of heroic nationalism suited his extroverted personality. His head of Abraham Lincoln, carved from a six-ton block of marble, was exhibited in Theodore Roosevelt's White House and can be found in the United States Capitol Crypt in Washington, D.C. A patriot, believing that the "monuments we have built are not our own," he looked to create art that was "American, drawn from American sources, memorializing American achievement," according to a 1908 interview article. His equation of being "American" with being born of American parents—"flesh of our flesh"—was characteristic of nativist beliefs in the early 20th century. Borglum was highly suited to the competitive environment surrounding the contracts for public buildings and monuments, and his public sculpture is sited all around the United States. *
In 1908, Borglum won a competition for a statue of the Civil War General Philip Sheridan to be placed in Sheridan Circle in Washington. D.C. A second version was erected in Chicago, Illinois, in 1923. Winning this competition was a personal triumph for him because he won out over sculptor J.Q.A.Ward, a much older and more established artist and one whom Borglum had clashed with earlier in regard to the National Sculpture Society…
Borglum was active in the committee that organized the New York Armory Show of 1913, the birthplace of modernism in American art. By the time the show was ready to open, however, Borglum had resigned from the committee, feeling that the emphasis on avant-garde works had co-opted the original premise of the show and made traditional artists like himself look provincial. He lived in Stamford, Connecticut for 10 years.
*Borglum is buried at Forest Lawn Memorial Park, Glendale in California in the Memorial Court of Honor. His second wife, Mary Montgomery Williams Borglum, 1874–1955 (they were married May 20, 1909), is interred alongside him. In addition to his son, Lincoln, he had a daughter, Mary Ellis (Mel) Borglum Vhay (1916–2002)… *
*At Stone Mountain he developed sympathetic connections with the reorganized Ku Klux Klan, who were major financial backers for the monument (Borglum was a member of the Ku Klux Klan. He sat on the Imperial Koncilium in 1923). Lee's head was unveiled on Lee's birthday January 19, 1924, to a large crowd, but soon thereafter Borglum was increasingly at odds with the officials of the organization. His [Lee's] domineering, perfectionist, irascible, authoritarian manner brought tensions to such a point that in March 1925 Borglum smashed his clay and plaster models, and he left Georgia permanently. His tenure with the organization was over. None of Borglum's work remains, as it was all cleared from the mountain's face for the work of Augustus Lukeman, Borglum's replacement, but in his abortive attempt, Borglum had developed necessary techniques for sculpting on a gigantic scale that made Mount Rushmore possible… *
Borglum was an active member of the Ancient Free and Accepted Masons (the Freemasons), raised in Howard Lodge #35, New York City, on June 10, 1904, and serving as its Worshipful Master 1910-11. In 1915, he was appointed Grand Representative of the Grand Lodge of Denmark near the Grand Lodge of New York. He received his Scottish Rite Degrees in the New York City Consistory on October 25, 1907…'
---