Gerard Baldwin Brown (1849-1932)
November 15, 2013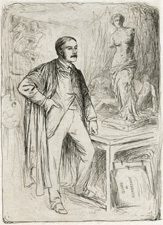 ** Gerard Baldwin Brown (1849-1932) *{::}'… was a British art historian…'  *(picture from http://www.darvillsrareprints.com/University%20of%20Edinburgh%20officers%20William%20Brassey%20Hole%201884.htm)
Gerald Baldwin Brown was a friend of James John Garth Wilkinson, and his name is in James John Garth Wilkinson's address book (Swedenborg Archive * __Address Book of James John Garth Wilkinson dated 1895 _and also in Swedenborg Archive _Address Book of James John Garth Wilkinson 'Where is it' dated 1.10.1892* - listed at 3 Roseberry Crescent Edinburgh in both address books). _See also Elizabeth Baldwin Brown, In memoriam: James Baldwin Brown, _(1884). Page 70).
Gerald Baldwin Brown's father James Baldwin Brown (1820-1884) was a committee member of the Brixton Homeopathic Dispensary (Anon, The Homeopathic Medical Directory of Great Britain and Ireland, and Annual Abstract of British and American Homeopathic Serial Literature, (1873). Page 115). Garth Wilkinson wrote his obituary in 1884, and he said of him: '… In my walks through life, I remember no figure more cheering, brave, and upright. To talk with him was always to quit the world for the time, and to enter upon a freedom that belonged to his spirit. No matter whether we were agreed or not, there was a loving 'gentilelesse' present which made us seem to get the point of agreement out of the conversation. There was an enlargement of love… (Anon, Evangelical Magazine with which is Issued The Missionary Chronicle, Volume 14, (1884). Page 363.'
From http://en.wikipedia.org/wiki/Gerard_Baldwin_Brown **Gerard Baldwin Brown (1849-1932) ** '… Brown was born in London, the son of church minister James Baldwin Brown and his wife, a sister of the sculptor Henry Leifchild. He studied at Oriel College, Oxford and became a Fellow at Brasenose College in 1874. He became the first holder of the Watson-Gordon Professorship of Fine Art at the University of Edinburgh in 1880 and held the chair until his retirement in 1930.
The six-volume The Arts in Early England, which he began publishing in 1903 and which still occupied him at his death, has been regarded as Brown's most important work.
Brown also wrote an early review of historic preservation legislation in various European countries The Care of Ancient Monuments (1905), in which he made unfavourable comparisons between policies in Britain and in other European countries. The book came to the attention of Sir John Sinclair, Secretary for Scotland, and led to the establishment in February 1908 of the Royal Commission on the Ancient and Historical Monuments of Scotland (on which Brown served as one of the first Commissioners), followed by equivalent Royal Commissions for Wales and England.
He was cremated and his ashes interred with his parents at West Norwood Cemetery…'
James Baldwin Brown (1820–1884)
From http://en.wikipedia.org/wiki/James_Baldwin_Brown James Baldwin Brown (1820–1884) '…  was a British Congregational minister.
In 1839 he was one of the first to graduate from London University. He was Minister in Derby, in 1843, at Claylands Chapel, Clapham Road, in 1846, and at Brixton Independent Chapel,Brixton Road, from 1870 until his death.
He was famous at the time for his liberal philosophical views both in the pulpit and in the press, and the numerous religious works that he published.
He lived at 5 The Paragon, in Streatham Hill, and died at Coombe House, Kingston Hill, Surrey, on 23 June 1884. Married to a sister of the sculptor Henry Leifchild, they were parents of Gerard Baldwin Brown, the art historian. He was buried at West Norwood Cemetery, where his memorial was large Celtic cross, listed Grade II…'
---