Joseph Thomas Sheridan Le Fanu (1814-1873)
June 04, 2013
**[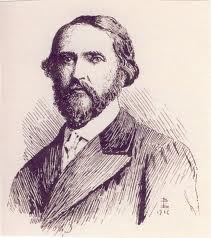 ](http://sueyounghistories.com/wp-content/uploads/2013/06/Joseph-Thomas-Sheridan-Le-Fanu-1814-1873.jpeg)Joseph Thomas Sheridan Le Fanu (1814-1873) **'… was an Irish writer of Gothic tales and mystery novels. He was the leading ghost-story writer of the nineteenth century and was central to the development of the genre in the Victorian era…'
Le Fanu was an advocate (W. J. McCormack, Sheridan Le Fanu, (Sutton Pub Limited, 1997). Page 287) of homeopathy '… You, my dear mother, must consult somebody upon the symptoms which you mention. If you will not, at least apply a wet towel to your head… but you ought to see a homeopathist…' (Letter 22.5.1858 to his mother. Jay B. Losey, William Dean Brewer, Mapping Male Sexuality: Nineteenth Century England, (Fairleigh Dickinson Univ Press, 1 Jan 2000). Page 199). See also '… Le Fanu agonised over the contest between normal and homeopathic remedies as his thirty-five- year old wife lay dying in Merrion Square. Months after she died he wrote: 'I will not trouble myself with the faithless… (Tony Farmar, Patients Potions & Physicians: A Social History of Medicine in Ireland 1654-2004, (A. & A, Farmar in assoc. with the Royal College of Physicians of Ireland, 2004). Page 93)…'
Le Fanu was a follower of Emanuel Swedenborg, and he was the grand nephew of Richard Brinsley Sheridan. He was also a friend of Oscar Wilde's mother Jane Francesca Wilde.
From http://en.wikipedia.org/wiki/Sheridan_Le_Fanu '… _Sheridan Le Fanu was born at 45 Lower Dominick Street, Dublin, into a literary family of Huguenot origins. Both his grandmother Alicia Sheridan LeFanu and his great-uncle Richard Brinsley Sheridan were playwrights (his niece Rhoda Broughton would become a successful novelist). Within a year of his birth his family moved to the Royal Hibernian Military School in the Phoenix Park, where his father, a Church of Ireland clergyman, was appointed to the chaplaincy of the establishment. The Phoenix Park and the adjacent village and parish church of Chapelizod would appear in Le Fanu's later stories. _
_In 1826 the family moved to Abington, County Limerick, where Le Fanu's father Thomas took up his second rectorship in southern Ireland. Although he had a tutor, Le Fanu also used his father's library to educate himself. His father was a stern Protestant churchman and raised his family in an almost Calvinist tradition. _
_In 1832 the disorders of the Tithe War (1831–1836) affected the region. There were about six thousand Catholics in the parish of Abington, and only a few dozen members of the Church of Ireland. (In bad weather the Dean cancelled Sunday services because so few parishioners would attend.) However, the government compelled all farmers, including Catholics, to pay tithes for the upkeep of the Protestant church. The following year the family moved back temporarily to Dublin, to Williamstown Avenue in a southern suburb, where Thomas was to work on a Government commission. _
_Although Thomas Le Fanu tried to live as though he were well-off, the family was in constant financial difficulty. Thomas took the rectorships in the south of Ireland for the money, as they provided a decent living through tithes. However, from 1830, as the result of agitation against the tithes, this income began to fall and it ceased entirely two years later. In 1838 the government instituted a scheme of paying rectors a fixed sum, but in the interim the Dean had little besides rent on some small properties he had inherited. In 1833 Thomas had to borrow £100 from his cousin Captain Dobbins (who himself ended up in the debtors' prison a few years later) to visit his dying sister in Bath, who was also deeply in debt over her medical bills. At his death Thomas had almost nothing to leave to his sons and the family had to sell his library to pay off some of his debts. His widow went to stay with the younger son William. _
_Sheridan Le Fanu studied law at Trinity College in Dublin, where he was elected Auditor of the College Historical Society. Under a system peculiar to Ireland he did not have to live in Dublin to attend lectures, but could study at home and take examinations at the university when necessary. He was called to the bar in 1839, but he never practiced and soon abandoned law for journalism. In 1838 he began contributing stories to the Dublin University Magazine, including his first ghost story, entitled "The Ghost and the Bone-Setter" (1838). He became owner of several newspapers from 1840, including the Dublin Evening Mail and the Warder. _
On 18 December 1844 Le Fanu married Susanna Bennett, the daughter of a leading Dublin barrister. Isaac Butt was a witness. The couple then travelled to his parents' home in Abington for Christmas. They took a house in Warrington Place near the Grand Canal in Dublin. Their first child, Eleanor, was born in 1845, followed by Emma in 1846, Thomas in 1847 and George in 1854.
*In 1847 Le Fanu supported John Mitchel and Thomas Francis Meagher in their campaign against the indifference of the government to the Irish Famine. Others involved in the campaign included Samuel Ferguson and Isaac Butt. Butt wrote a forty-page analysis of the national disaster for the Dublin University Magazine in 1847. His support cost him the nomination as Tory MP for County Carlow in 1852. *
In 1856 the family moved from Warrington Place to the house of Susanna's parents at 18 Merrion Square (later number 70, the office of the Irish Arts Council). Her parents retired to live in England. Joseph Le Fanu never owned the house, but rented it from his brother-in-law for £22 per annum (which he still failed to pay in full).
_His personal life also became difficult at this time, as his wife suffered from increasing neurotic symptoms. She had a crisis of faith and tended to attend religious services at the nearby St. Stephen's Church and discuss religion with William, Joseph's younger brother, as Joseph had apparently stopped attending religious services. She suffered from anxiety after the deaths of several close relatives, including her father two years before, which may have led to marital problems. _
In April 1858 she suffered an "hysterical attack" and died the following day in unclear circumstances. She was buried in the Bennett family vault in Mount Jerome Cemetery beside her father and brothers. The anguish of Le Fanu's diaries suggests that he felt guilt as well as loss. From then on he did not write any fiction until the death of his mother in 1861. He turned to his cousin Lady Gifford for advice and encouragement, and she remained a close correspondent until her death at the end of the decade.
In 1861 he became the editor and proprietor of the Dublin University Magazine and he began to take advantage of double publication, first serializing in the Dublin University Magazine, then revising for the English market. He published both The House by the Churchyard and Wylder's Hand in this way. After lukewarm reviews of the former novel, set in the Phoenix Park area of Dublin, Le Fanu signed a contract with Richard Bentley, his London publisher, which specified that future novels be stories "of an English subject and of modern times", a step Bentley thought necessary for Le Fanu to satisfy the English audience. Le Fanu succeeded in this aim in 1864, with the publication of Uncle Silas, which he set in Derbyshire. In his very last short stories, however, Le Fanu returned to Irish folklore as an inspiration and encouraged his friend Patrick Kennedy to contribute folklore to the D.U.M.
*Le Fanu died in his native Dublin on 7 February 1873, at the age of

Today there is a road and Park in Ballyfermot, near his childhood home in south-west Dublin, named after him*…'
---