Herman Melville (1819-1891)
June 01, 2013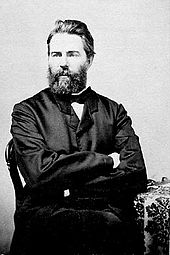 Herman Melville (1819-1891) '… was an American novelist, short story writer, essayist, and poet. He is best known for his novel Moby-Dick…'
Herman Melville was an advocate of homeopathy, and his writings were '… suffused with spiritualist and phrenological concepts…(Robert Baker, The American Medical Ethics Revolution: How the AMA's Code of Ethics Has Transformed Physicians' Relationships to Patients, Professionals, and Society, (JHU Press, 10 Nov 1999). Page 220)…'
Herman Melville's novel Moby Dick would have been lost to posterity altogether if it had not been for homeopath Samuel Arthur Jones (Herman Melville, Moby Dick, Or The Whale: Volume 6, Scholarly Edition, (Northwestern University Press, 9 Sep 1988). Page 1034), who brought his catalogue and preserved his books.
Herman Melville's wife Lizzie took homeopathic remedies (Hershel Parker, Herman Melville: A Biography, Volume 2, (JHU Press, 15 Aug 2005). Page 838. See also Herman Melville, Family Correspondence of Herman Melville, 1830-1904: In the Gansevoort-Lansing Collection, (New York Public Library, 1929). Page 57). I presume this was from her doctor, homeopath Christopher Cox (?-?) (Dana Ullman, Discovering Homeopathy: Your Introduction to the Science and Art of Homeopathic Medicine Second Revised Edition, (North Atlantic Books, 1991). Page 38).
In 1867, his oldest son, Malcolm, shot himself (?accidentally) and died, and was attended by Dr. Gardener, who would subsequently be prosecuted for consulting alongside a homeopath (Jay Leyda, The Melville Log: A Documentary Life of Herman Melville, 1819-1891, Volume 1, (Gordian Press, 1969). Page xxvi).
Herman Melville was a close friend of Ralph Waldo Emerson, Nathaniel Hawthorne,
From http://en.wikipedia.org/wiki/Herman_Melville '… His first three books gained much contemporary attention (the first, Typee, became a bestseller), but after a fast-blooming literary success in the late 1840s, his popularity declined precipitously in the mid-1850s and never recovered during his lifetime. When he died in 1891, he was almost completely forgotten. It was not until the "Melville Revival" in the early 20th century that his work won recognition, especially Moby-Dick, which was hailed as one of the literary masterpieces of both American and world literature. In 1919, the unfinished manuscript for his novella Billy Budd was discovered by his first biographer. He published a version in 1924, which was quickly acclaimed by notable British critics as another masterpiece of Melville's. He was the first writer to have his works collected and published by the Library of America…'
Of interest:
Richard Melville Hall (1965 -) '… *known by his stage name Moby, is an American singer-songwriter, musician, DJ and photographer. He is well known for his electronic music, vegan lifestyle, and support of animal rights. Moby has sold over 20 million albums worldwide. Allmusic considers him "one of the most important dance music figures of the early '90s, helping bring the music to a mainstream audience both in the UK and in America"…' _Moby gained his nickname from his great great grand uncle Herbert Melville who wrote _Moby Dick, is '… *a devout believer in homeopathy and alternative medicine... (Dana Ullman, The Homeopathic Revolution: Why Famous People and Cultural Heroes Choose Homeopathy. (North Atlantic Books, 2007). Page 168)…'
---