Thomas Watson 1st Baronet (1792-1882)
May 23, 2013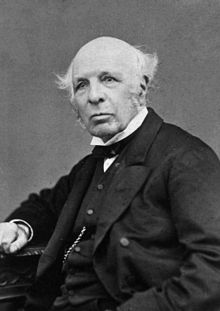 Thomas Watson 1st Baronet (1792-1882) '… was a British physician who is primarily known for describing the water hammer pulse found in aortic regurgitation in 1844. He was President of the Royal College of Physicians from 1862 to 1866…'
Thomas Watson 1st Baronet was greatly influenced by homeopathy and he read Samuel Hahnemann's description of the use of Strychnine in homeopathic doses (Henry Turner, The Homeopathic Medical Directory of Great Britain and Ireland, (1872). Page 355).
Thomas Watson 1st Baronet also picked up the connection between Ipecacuana and asthma, first noticed by homeopaths (Anon, Transactions of the … Session of the American Institute of Homeopathy, (American Institute of Homoeopathy, 1854). Page 20).
Thomas Watson 1st Baronet also understod the principles of homeopathy '… Herein we are guilty of homeopathy; to prevent bleeding, we draw blood…' (Thomas Watson, David Francis Condie, Lectures on the Principles and Practice of Physic: Delivered at King's College, London, (Blanchard and Lea, 1854). Page 167).
On the 2nd July 1869, at a meeting of the Ladies Sanitary Association, Miss Griffiths (wife of John Gibbs (1811-1875)), Thomas Watson 1st Baronet (1792-1882), the Comtesse Helena de Noailles (?1826-1908), Lady Georgiana Tollemache Mount Temple (?-1901), and James John Garth Wilkinson, attended a lecture by Alfred Joseph Haviland (1824-1903) entitled *Sea Air and Heart Disease _(Anon, *The British Medical Journal: Volume 2, No. 446: Sea Air and Heart Disease: A J Haviland_, (Assoc, 17.7.1869). Page 70).
In Anon, The North American Journal of Homeopathy, Volume 17, Admission and confessions of a Great Allopathic leader: an address delivered at the opening meeting of the Clinical Society of London. The present state of therapeutics, (American Medical Union, 1869). Pages 233-236 (abridged version = fuller version reported in Various authors, Pamphlets - homoeopathic, Volume 7, (1848 onwards). Page i onwards. ), Thomas Watson despaired at the:
'… The greatest gap in the science of medicine is to be found in its final and supreme stage - the stage of therapeutics… we want to learn distinctly what is the action of drugs… it is only bu controlling or directing the natural forces of the body that we can reasonably hope to govern or guide its diseased actions. To me it has been a life long wonder how vaguely, how ignorantly, how rashly drugs are often prescribed. we try this, and not succeeding, we try that, and, battled again, we try something else, and it is fortunate if we do no harm in these our tryings. Now this random and haphazard practice, whenever and by whomsoever, is both dangerous in itself and discreditable to medicine as a science. Our profession is continually fluctuating on a sea of doubt about questions of the gravest importance… Full and faithful descriptions [of medicinal substances] …  brought before … [the Clinical Society] … by competent and accurate observers, of the symptoms, circumstances, and progress of disease in the living body, and of its behaviour under treatment by medicines prescribed… must lead at length… to rules… by which our practice should be guided…'
Thomas Watson attached great importance to: '… t_he observation of symptoms, circumstances, and progress of disease in the living body; to the singleness and simplicity and the necessity of having a definite aim and object in prescribing he enjoins; the importance he attaches- to employing medicinal forces in the treatment of disease; and the value he places upon trials with medicinal substances inn the healthy body. Dr Ryan [John Ryan] _shows that in each particular Sir Thomas advocates methods of study and practice which have always been followed by homeopathic practitioners (Anon, The Homeopathic Medical Directory of Great Britain and Ireland, (1869). Page 165))…'
On his retirement from the Presidency of the Clinical Society in 1869, Thomas Watson 1st Baronet reiterated his advice to study remedies, advice which would be studiously ignored by his allopathic colleagues (Anon, The British Homeopathic Review, Volume 43, (1899). Pages 68-69)!
From [http://en.wikipedia.org/wiki/Sir\_Thomas\_Watson,*1st\_Baronet\](http://en.wikipedia.org/wiki/Sir\_Thomas\_Watson,\_1st\_Baronet) '… _He was born in 1792, the son of Joseph Watson, in Kentisbeare, near Honiton, East Devon, and educated at Bury St Edmunds Grammar School. He entered St John's College, Cambridge, graduating in 1815. He was elected a fellow of the Royal College of Physicians in 1826 and delivered the Gulstonian Lecture in 1827 and the Lumleian lecture in 1831. He studied medicine at St Bartholomew's Hospital and Edinburgh and graduated M.D. from Cambridge University in 1825. He was appointed physician to the Middlesex hospital in 1827 and was professor of clinical medicine at the University of London for a year before transferring to King's College as professor of Forensic Medicine and later professor of Principles and Practice of Medicine. In 1833, Dominic Corrigan, a British physician, first described the visible abrupt distention and collapse of carotid arteries in patients with aortic insufficiency. Watson went on to investigate the palpable pulse in these patients and, following his elaboration, the clinical sign is also referred to as Watson's pulse. He resigned his chair at King's College in 1840 and his post in the Middlesex hospital in 1843 and in 1859 was appointed physician extraordinary to the queen. He was created a baronet in 1866 and in 1870 was appointed physician in ordinary to the queen. In 1857 he was elected to serve for two years as President of the Pathological Society and in 1859 was elected a Fellow of the Royal Society. In 1868 he was elected President of the Clinical Society of London*…'
---