Victor Cecil Froggatt Clark 1908-2006
March 24, 2013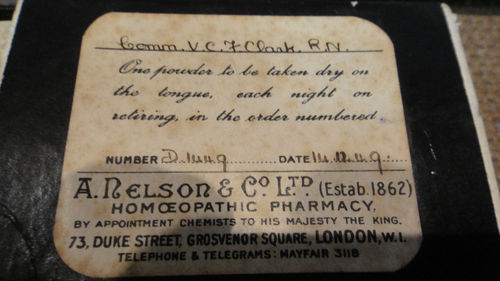 **Victor Cecil Froggatt Clark 1908-2006 DSC **was a British Navy hero in World War II_, _Lieutenant-Commander in Singapore in 1941. Victor Clark selflessly rescued many people before the Japanese advance, during a series of daredevil commando raids before being captured and suffering in a Japanese prisoner of war camp until 1945. After the war, he continued with his navy career as a captain and training officer, circumnavigating the Globe between 1953-1939, before finally retiring in 1974.
Victor Cecil Froggatt Clark was a fan of homeopathy, which was helpful to him when he returned home from the Japanese concentration camp, and he brought his remedies from Nelson's Homeopathic Pharmacy.
With thanks to The Telegraph 13.1.2006:
From http://www.telegraph.co.uk/news/obituaries/1507671/Lt-Cdr-Victor-Clark.html '… Lieutenant-Commander Victor Clark, who has died aged 97, played a dashing role in the defence of Singapore as the Japanese closed in on the British garrison in 1941.
After surviving the sinking of the battlecruiser Repulse on December 10, Clark became naval air liaison officer at the combined headquarters in Singapore. Gloomily studying maps showing the enemy's advance, he and Major Angus Rose of the Argyll and Sutherland Highlanders proposed commando raids behind enemy lines.
Within a week, Clark was commanding the Straits Steamship Company's Kudat as well as a flotilla of gunboats, with 40 Royal Marines and 50 Australian volunteers. In their joint Boxing Day raid at Temerloh, on the west coast, Rose ambushed and destroyed a Japanese column, including a staff car containing a general.
Six days later Kudat was sunk, and with his remaining motor launches under mortar fire, Clark moved south to Batu Pahat.
There he volunteered to take the river gunboats Dragonfly and Scorpion to rescue 2,000 Australian, British and Indian troops who were cut off at a swampy inlet overlooked by the encircling Japanese.
For four nights Clark swam and waded to lead his men in hauling native craft through the mud to bring the exhausted soldiers out to waiting ships.
Lt-Gen Arthur Percival, GOC Singapore, described Clark's feat as "a most difficult operation reflecting the greatest credit on the Royal Navy", but one of Dragonfly's seamen was overheard to say, "Too bloody brave for my liking!"
Two days before the surrender of Singapore, Clark was sent to Java in a motor launch with 60 troops to continue guerrilla operations; but at daylight on February 15 he found the Durian Strait, off Sumatra, guarded by a large Japanese destroyer.
Closing the range to 400 yards, he aimed his four-pounder gun and every rifle and Lewis gun at the enemy's bridge, hoping to kill the captain. But several accurate rounds from the ship soon reduced his launch to a shambles, with fires in the fo'c'sle and engine room.
The gun was knocked off its mounting, and the rudder jammed hard astarboard; the scuppers ran with blood, and she finally sank.
Despite a broken wrist, Clark lashed other survivors to planks, and told those who had not been wounded to swim towards the mangrove. Soon he was alone and, taking an empty ammunition box as support for his useless arm, he started to swim towards a distant lighthouse.
After spending a night in a fishing hut, he went ashore at Sumatra some 36 hours later. He then stole a canoe to go upriver with a small party of other escapees who had rallied to him.
After six weeks in the deep jungle they were betrayed by natives to the Japanese for 40 silver guilders each. By Clark's own account this did not make "a very heroic story, but I did at least make as big a nuisance of myself as I could for the next three and a half years!"
Clark was awarded a Bar to his earlier DSC, though he found out only when a rare Red Cross parcel arrived from his mother, with his latest decoration underlined on the address label.
Victor Cecil Froggatt Clark was born at Dover on May 24 1908, the son of the vicar of Bromley-by-Bow. He was educated at Haileybury and crewed in Lowestoft fishing smacks without engines during the holidays.
During the 1930s he served in the battleships Valiant and Warspite and the destroyer Anthony in the Mediterranean fleet. Despite being a self-proclaimed mechanical dunce, he owned a succession of motorbikes, including a Norton on which he explored the Holy Land.
In 1938 Clark stood by the Tribal-class destroyer Punjabi, building at Greenock, and was her first lieutenant during the Second Battle of Narvik on April 13 1940, when Warspite and her consorts destroyed eight German warships and a U-boat: Punjabi suffered more casualties than any other British ship, but was repaired in time for the evacuation of troops from St Nazaire. Clark was awarded his first DSC.
A brief period of command of his previous ship, Anthony, ended when she was damaged in rough weather, and Clark was sent to Repulse, which was sunk with the battleship Prince of Wales when they were sent to deter Japanese aggression at Singapore.
Clark's action station on Repulse was "A" turret, whose 15-in guns were not used. He found himself sucked down from the bridge into the froth several times before managing to swim to a raft, where he helped Repulse's captain, William Tennant, haul others from the water.
The end to Clark's prison term was signalled in January 1945 when his camp was overflown during an attack on the oil depots at Palembang: Clark was cheered to see an aircraft with "Royal Navy" emblazoned on its underside. A few weeks later he was transferred to Changi prison, at which he said the food and conditions were luxurious compared to Palembang.
Clark's postwar command of the frigate Loch Tralaig ended when he ran her aground off the Isle of Arran. Passed over for promotion to commander, he spent five years as chief training officer to the Sea Cadets, all the while reading and planning a circumnavigation, then bought the nine-ton ketch Solace through Captain OM Watts's chandlery in Albemarle Street.
His 48,000-mile voyage between 1953 and 1959, with his West Indian crewman Stanley Mathurin, included nine months shipwrecked on the coral atoll of Palmerston in the Cook Islands in the empty Pacific.
Undaunted, and with the help of the descendants of William Marsters, a cooper who had colonised the atoll with his three Polynesian wives in the 19th century, Clark rebuilt his boat well enough to continue sailing her for the next 20 years. In return for the islanders' help he taught navigation, reading and Sunday School.
In 1962 Clark took command of the 160-ton Outward Bound schooner Prince Louis. With Kurt Hahn, five years later he enlisted Prince Philip's aid in finding sponsorship for a new youth-training ship, the 380-ton topgallant schooner Captain Scott, and then skippered her until 1974. He finished his long sailing career by teaching a new generation of sailors at the Emsworth Sailing School.
Clark wrote two books: an account of his voyage, On the Wings of a Dream (1960); and an outline of his life story, Triumph and Disaster (1994).
He underwent a religious experience while reading Bunyan's Pilgrim's Progress in 1941, and was sustained by Christian's quotation from Isaiah: "When thou passest through the Waters I will be with thee; and through the Rivers, they shall not overflow thee."
Victor Clark, who died on December 14, married Danae Stileman when he was 67 and she 34: she survives him with their two daughters…'
---