John Everett Millais 1st Baronet (1829-1896)
February 15, 2013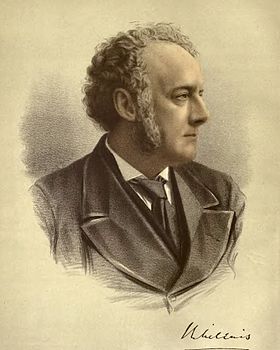 John Everett Millais 1st Baronet (1829-1896) was an English painter and illustrator and one of the founders of the Pre-Raphaelite Brotherhood.
John Everett Millais was the brother in law of James Key Caird 1st Baronet (1837-1916), a prominent supporter and advocate of homeopathy, who was married to his muse Sophy Gray (1843-1882), the sister of his wife Effie Millais (1828-1897).
Sophy Gray became far too close to** John Everett Millais, such that it was rumoured that Effie had to send Sophy away because of concerns that she and John Everett Millais were growing too close. In 1868, Sophy was ill, probably suffering from anorexia, and she was eventually sent to the Manor Farm House asylum in Homerton (moved to Chiswick in 1893) under the care of [Thomas Harrington Tuke (1826-88)**](http://brentfordandchiswicklhs.org.uk/local-history/people/the-tuke-family-and-their-chiswick-asylums/), a leading practitioner in lunacy (http://en.wikipedia.org/wiki/Sophy_Gray_(Pre-Raphaelite_muse).
Thomas Harrington Tuke had studied under John Conolly (1794-1866) at Hanwell Lunatic Asylum, and Thomas Harrington Tuke married John Conolly's elder daughter, Sophia Jane, in 1852 (http://www.citizendia.org/John_Conolly). John Conolly** *was a friend and supporter of homeopathy, and John Rutherford Russell wrote a moving Obituary tribute to John Conolly (John James Drysdale, Robert Ellis Dudgeon, Richard Hughes, John Rutherford Russell, [The British journal of homoeopathy, Obituary of John Conelly, Volume 24,* ](http://books.google.co.uk/books?id=0LP_RhAVucIC&pg=PA342&dq=hanwell+The+British+Journal+of+Homeopathy&hl=en&sa=X&ei=54AJUPu2DMXH0QXImdXMCg&sqi=2&redir_esc=y#v=onepage&q&f=false)(Maclachlan, Stewart, & Co., 1866). Pages 342-343) in which he praised John Conolly for his 'unusual liberality' towards homeopathy. 
Thomas Harrington Tuke had previously treated John Everett Millais' friend Edwin Henry Landseer, who was an advocate and supporter of homeopathy (Anon, The journal of the British Homeopathic Society, Volume 9, (1882). Page 97), a patient of Frederick Hervey Foster Quin, and a friend of William Hering. (http://groups.google.com/group/alt.health/browse_thread/thread/9086b56aad29c969/c7f801f22e0e6e3f?lnk=raot&pli=1, A History of Homeopathy in Britain by Peter Morrell, Honorary Research Associate in the History of Medicine, Staffordshire University, UK).
On 16 July 1873 Sophy married James Key Caird 1st Baronet (1837-1916), who was a staunch advocate of homeopathy, and in 1866, James Key Caird 1st Baronet was  the Vice Chairman of the Association for the Trial of Preventative and Curative Treatment in the Cattle Plague by the Homeopathic Method, and on 17.10.1866 (Anon, The Journal of the British Homeopathic Society, Volume 4, (1866). Page 305), he wrote to The Times from the Hague to draw attention to the Association, and to the benefits of homeopathy. James Key Caird 1st Baronet was the chief sponsor of Ernest Henry Shackleton's Antarctic expedition of 1914 to 1916 on the Endurance, and Ernest Henry Shackleton's open boat the James Caird (Ernest Henry Shackleton's father was a homeopath (Roland Huntford, Shackleton, (Atheneum, 1986). Page 11)). In 1902, James Key Caird gave £90,000 to erect a cancer hospital in Dundee, and in 1914, James Key Caird 1st Baronet donated £30,000 to an extension to the Asylum in Wiltshire, his donations totalled £270,000 – equivalent to £20 million.
Nonetheless, the rumours are that James Key Caird 1st Baronet, who had courted her for several years before 1873, was disliked by Sophy's family, possibly because he tried to keep her away from the Millais family?
John Everett Millais painted Sophy again in 1880, which showed how close these two people had remained all their lives. Sophy died at Thomas Harrington Tuke's asylum in 1882, from '… exhaustion and atrophy of nervous system, 17 years…' (http://en.wikipedia.org/wiki/Sophy_Gray_(Pre-Raphaelite_muse))
From http://en.wikipedia.org/wiki/John_Everett_Millais Millais was born in Southampton, England in 1829, of a prominent Jersey-based family. The author William Makepeace Thackeray once asked him "when England conquered Jersey." Millais replied "Never! Jersey conquered England."…
His prodigious artistic talent won him a place at the Royal Academy schools at the unprecedented age of eleven. While there, he met William Holman Hunt and Dante Gabriel Rossetti with whom he formed the Pre-Raphaelite Brotherhood (known as the "PRB") in September 1848 in his family home on Gower Street, off Bedford Square…
Millais' … style was promoted by the critic John Ruskin, who had defended the Pre-Raphaelites against their critics. Millais's friendship with John Ruskin introduced him to John Ruskin's wife Effie. Soon after they met she modelled for his painting The Order of Release. As Millais painted Effie they fell in love. Despite having been married to John Ruskin for several years, Effie was still a virgin. Her parents realized something was wrong and she filed for an annulment. In 1855, after her marriage to John Ruskin was annulled, Effie and John Millais married. He and Effie eventually had eight children: Everett, born in 1856; George, born in 1857; Effie, born in 1858; Mary, born in 1860; Alice, born in 1862; Geoffroy, born in 1863; John in 1865; and Sophie in 1868. Their youngest son, John Guille Millais, became a notable naturalist and wildlife artist.
Effie's younger sister Sophy Gray sat for several pictures by Millais, prompting some speculation about the nature of their apparently fond relationship…
Millais was also very successful as a book illustrator, notably for the works of Anthony Trollope and the poems of Alfred Lord Tennyson…
Millais was elected as an associate member of the Royal Academy of Arts in 1853, and was soon elected as a full member of the Academy, in which he was a prominent and active participant. He was created a Baronet, of Palace Gate, in the parish of St Mary Abbot, Kensington, in the county of Middlesex, and of Saint Quen, in the Island of Jersey, in 1885, the first artist to be honoured with a hereditary title. After the death of Lord Leighton in 1896, Millais was elected President of the Royal Academy, but he died later in the same year from throat cancer. He was buried in St Paul's Cathedral.
Of interest:
Thomas Harrington Tuke was apparently not related (http://www.citizendia.org/John\_Conolly) to Quaker William Tuke (1732-1822) of the famous York asylum, who was also a staunch advocate of the non restraint of asylum patients (http://en.wikipedia.org/wiki/William_Tuke. See also http://en.wikipedia.org/wiki/The_Retreat), and the York asylum offered a range of treatments, including homeopathy (Thomas J. Brown, Dorothea Dix: New England Reformer, (Harvard University Press, 1998).Page 107), and simple kindness.
---