Brian Inglis 1916 - 1993
August 09, 2012
[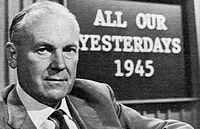 ](http://sueyounghistories.com/wp-content/uploads/2012/08/Brian-Inglis-1916-1993.jpeg)Brian Inglis (1916-1993) '… was an Irish journalist, historian and television presenter. He was born in Dublin, Ireland, and retained an interest in Irish history and politics. Inglis joined the staff of The Spectator in 1954, and became editor in 1959, soon afterwards hiring the young Bernard Levin to write for the magazine. He continued as editor until 1962…'
Brian Inglis was interested in alternative medicine and homeopathy, a subject he researched extremely well. He was also fascinated with the paranormal and worked alongside Arthur Koestler, with whom he co-founded the KIB Foundation which supported research into paranormal phenomena.
From Wikipedia http://en.wikipedia.org/wiki/Brian\_Inglis:  '… Brian Inglis was born into a middle-class professional Church of Ireland family (his father was an hydraulic engineer) in the closed society of Malahide, north County Dublin. He was a grandson of J. R. Blood and thus a likely descendant of Thomas Blood, stealer of the Crown Jewels. He found the life he was born into oppressive in its obsession with custom, style, privilege, respectability, and ostracism. Since the people around him were regarded as English invaders by the local Irish Catholics, and as Irish by society over in Britain, he felt alienated from, or was rejected by, everyone to whom he might claim a connection.
He attended the Dragon School in Oxford, Shrewsbury School, Trinity College, Dublin, and Magdalen College, Oxford. After service in the RAF during World War 2, he studied for a PhD in History at Trinity College, Dublin. His thesis was the basis for his first book, Freedom of the Press in Ireland (1954).
*He married Ruth Woodeson, the writer, in 1958, and they had one son, later separating. In 1962 he published his first memoir West Briton (an antiquated reference to theAnglo-Irishupper classes in Ireland, from whose cultural influence Inglis never entirely escaped). He was a founding member of the British-Irish Association, which became the British Association for Irish Studies.*
In 1975 he wrote and narrated a unique sound archive of World War 2 for record label Cameo Classics, entitled "Sounds of All Our Yesterdays". It was researched by his close friend Bill Grundy, a Producer of the Granada TV series "All Our Yesterdays", which Brian had presented for 10 years.
His interest in the paranormal began while working at The Spectator. In 1978 he published Natural and Supernatural. With Arthur Koestler he co-founded the KIB Foundation which supported research into paranormal phenomena. He published a work on people who enter trance states (Trance: A Natural History of Altered States of Mind) and his last work, written as a tribute to Koestler and the Koestler Foundation, dealt with a subject dear to his late friend's heart. It was entitled Coincidence: A Matter of Chance or Synchronicity? He was a consultant on the 1981 Thames Television programme Mind Over Matter.
He published his final memoir, Downstart, in 1990. The title is taken from George Bernard Shaw, and is a play on the word Upstart, as in one who pretends to a higher station in life than is merited…'
Inglis wrote The alternative health guide 1983, Natural medicine 1979, The diseases of civilization 1981, A history of medicine 1965, Fringe Medicine 1964, The book of the back 1978, and many other books on paranormal phenomena.
---