Richard Rawlinson Vyvyan 8th Baronet 1800 - 1879
February 12, 2012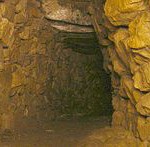 Richard Rawlinson Vyvyan 8th Baronet 1800-1879 was an English landowner and Tory politician who sat in the House of Commons variously between 1825 and 1857.
From Noodles & Knaves: Dr. Charles Thomas Pearce (1815-1883) 'Martyr of Homœopathy' _by David Charles Manners (his 3rd great grandson) – Charles Thomas Pearce was an ironmonger who became a philosophical instrument maker. In 1841, his 1s born child Charles died, having suffered 16 days of 'old system medical practice' and eventually dying a terrible death, probably from meningitis aged 18/12. Shortly afterwards, Charles Thomas Pearce was struck down by a dreadful sciatica that became chronic and lasted 5 years. In 1843, Charles Thomas Pearce began work as a Secretary to Richard Rawlinson Vyvyan 1800-1849, and they conducted research on magnetism and Charles Thomas Pearce became very interested in medicine. Richard Rawlinson Vyvyan published two anonymous works on transcendentalism and mysticism, _Researches on light, heat, and magnetism of the Moon's rays *(1842) and *The Harmony of the Comprehensible World Two volumes (1845) books that Charles Thomas Pearce and Richard Rawlinson Vyvyan spent many hours discussing together. Under Richard Rawlinson Vyvyan's guidance, Charles Thomas Pearce began an increasingly fruitless search for a cure for his 'hip joint affection', and consequent unendurable 'old system practice', and then he met John Epps, a homeopath who cured him. Obviously, the next step was to become extremely interested in homeopathy! When Charles Thomas Pearce's daughter Lydia aged 2 1/4 years developed meningitis, Charles Thomas Pearce and  John Epps got her through this frightening illness, and Charles Thomas Pearce sent a very detailed case history of this cure to the Journal of Homeopathy Volume 1 pages 184-9 on 14th November 1845. Aged 31, Charles Thomas Pearce entered UCL medical school and qualified as a doctor in 1848, his studies sponsored by Richard Rawlinson Vyvyan, and he began to lecture in physical sciences at UCL. In 1849, he issued a patent for an electric carbon light, 32 years before Thomas Edison invented the light bulb, and he then became a practicing homeopath at the St. John's Wood Homeopathic Dispensary. In this same year, his brother Richard succumbed to the cholera epidemic, in which 14,000 Londoners died that year…
David Charles Manners suspects that Vyvyan supported Charles Thomas Pearce both financially and in many other ways for the duration of his successful medical career.
From http://en.wikipedia.org/wiki/Sir_Richard_Vyvyan,_8th_Baronet   '… Vyvyan was born at Trelowarren, Cornwall, the son of Sir Vyell Vyvyan, 7th Baronet and his wife Mary Hutton Rawlinson, daughter of Thomas Hutton Rawlinson of Lancaster. He was educated at Harrow School and at Christ Church, Oxford but did not take a degree. In 1820, he succeeded to the baronetcy and Vyvyan family estates on the death of his father. He became a lieutenant-colonel commandant in the Cornwall yeomanry cavalry on 5 September 1820.
In 1825, Vyvyan was elected Member of Parliament for Cornwall. He held the seat until 1831. From 1831 he represented Okehampton, but upon the passage of the Reform Act 1832, he moved to Bristol, serving until 1837. He later served as Member for Helston from 1841 until 1857. Vyvyan wasHigh Sheriff of Cornwall in 1840. In 1826, Vyvyan was made a Fellow of the Royal Society for his "considerable literary and scientific acquirements especially in the Philosophy of Natural Science., previously having being a Fellow of the Geological Society.
Vyvyan wrote:
An Essay on Arithmo-physiology, privately printed, 1825.

Psychology, or a Review of the Arguments in proof of the Existence and Immortality of the Animal Soul, vol. i. 1831; called in immediately after publication.

The Harmony of the Comprehensible World (anon.), 1842, 2 vols.

The Harmony of the Comprehensible World (anon.), 1845.
He also published several letters and speeches. His letter 'to the magistrates of Berkshire' on their practice of 'consigning prisoners to solitary confinement before trial, and ordering them to be disguised by masks,' passed into a second edition in 1845. His account of the 'fogou' or cave at Halliggye, Trelowarren, is in the Journal of the Royal Institution of Cornwall (1885, viii. 256-8).
---