Alexander John Scott 1805 - 1866
February 11, 2012
**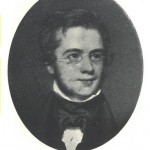 Alexander John Scott (1805–1866) **was a Scottish dissident theologian, who became the first principal of Owens College.
Scott was a friend of Thomas Erskine of Linlathen and  James John Garth Wilkinson.
On 15th April 1848,  James John Garth Wilkinson wrote to his wife Emma (Swedenborg Archive Family Register A148b Temple Bar loose leaf Documents and Summary Enclosed):  '… I heard Mr. Scott last night. He is a fluent and collected speaker, but I don't like his voice or care for his matter much. He is well represented by those dry affairs which we read from the Manchester reports. It is all Middle Ages with him, and no ends of beginnings, but infinity and eternity, which is, in finite subjects, nothing at all… Mr. S seems to know so little about Associations that I wonder how he should choose the subject. He seems to think it is impossible before men become angels, while the Associationists think we shall not be angelic without Association first. A very pretty little discord of opinion… Emma and Florence spent the day at the Scotts on Thursday and were very good and happy; they met there the little Wedgwoods…'
From http://en.wikipedia.org/wiki/Alexander_John_Scott_(principal)  '… The son of Dr. John Scott (died 1836), minister of the Middle Church, Greenock, by his wife Susanna, daughter of Alexander Fisher of Dychmount, he was born on 26 March 1805. He was educated at the local grammar school and at the University of Glasgow, which he entered at the age of fourteen, remaining there until he was twenty-one. Having graduated M.A. in 1827, he was around the same time licensed by the presbytery of Paisley to preach in the Church of Scotland. He had previously obtained a tutorship in Edinburgh, where he attended medical classes at the university.
His first sermon after he was licensed was preached for the Rev. John McLeod Campbell, who heard him 'with very peculiar delight.' In the following year (1828) he made the acquaintance of Thomas Erskine of Linlathen, afterwards one of his closest friends, and of Edward Irving, who invited him to be his assistant in London. He accepted the invitation, without committing himself to Irving's doctrinal views. He spent the winter months in preaching and teaching among the poor of Westminster.
Towards the close of 1829 he went to preach for McLeod Campbell at Row, and also at Port Glasgow, where his sermons on the Charismata or 'spiritual gifts' of 1 Corinthians xii. led to an exhibition of speaking with tongues and prophesying in the church. The movement and the manifestations accompanying it had great influence on Irving, more than on Scott himself, who never felt the utterances to be proofs of any inspiration. The connection between the two preachers was soon afterwards severed, though their friendship continued.
In the summer of 1830 Scott received an invitation to the pastorate of the Scottish church at Woolwich, but the necessary ordination involved subscription to the Westminster Confession of Faith. This he could not give, and he put his objections in a letter to the moderator of the London presbytery, in which he stated his inability to assent to the doctrine that 'none are redeemed by Christ but the elect only,' as well as his conviction that the 'Sabbath and the Lord's day were not, as stated in the catechism, one ordinance, but two, perfectly distinct, the one Jewish and the other Christian.' He also mentioned doubts as to the validity of the presbytery's powers in ordination.
On 27 May 1831 he was charged with heresy before the presbytery of Paisley, and deprived of his license to preach, a sentence which was confirmed by the general assembly. Scott then remained at Woolwich until 1846, as minister of a small congregation.
In November 1848 he obtained the chair of English language and literature in University College, London, and in 1851 was appointed principal of Owens College, Manchester, then recently established. With this post he held the professorship of logic and mental philosophy, of comparative grammar, and of English language and literature. Soon after his appointment he took part with the Rev. William Gaskell and others in starting the Manchester Working Men's College, later merged in the evening classes at Owens College. He resigned the principalship in May 1857, being succeeded by Joseph Gouge Greenwood, but continued to act as professor until his death.
His health, always delicate, grew weaker in his later years. With the hope of gaining strength he went to Switzerland in the autumn of 1865, but died at Veytaux on 12 January 1866, and was buried in the cemetery at Clarens.
---