Henry Bateman 1806 - 1880
January 24, 2012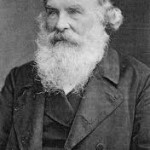 Henry Bateman 1806 - 1880 LSA 1828, and MRCS 1829 at St. Bartholomew's Hospital, was an orthodox Physician and Surgeon, Surgeon to the Islington Dispensary, Surgeon to the Islington Cholera Hospital, who was also a supporter of homeopathy (George E Shipman (Ed.), The Northwestern journal of homeopathy. Volume first-IV, no. 8. April 1889-November 1892, Volumes 3-4 (Chicago, 1850). Page 262). Bateman was appointed Treasurer to the Swedenborg Society in 1838 and held the post for 10 years (Richard Lines, A History of the Swedenborg Society 1810-2010, (www.lulu.com, 2012). Page 34). Bateman also wrote several hymns (Samuel Willoughby Duffield, English Hymns: Their Authors and History, (reprinted by Kessinger Publishing, 2003). Page 190).
Bateman was the founder of the New Church College in Islington (originally a boy's school, but later a training college for New Church ministers).  The building has been a Roman Catholic (Polish church) since the 1930s.  The New Church College moved to Woodford, Essex and later to Radcliffe, Manchester.  It still exists, but is now known as the Swedenborg Open Learning Centre and concentrates on adult education in Swedenborg's doctrines for lay people, as well as trainee ministers (email from Richard Lines 24.1.12).
Bateman attended the Annual Festival in aid of the funds of the Charity of the London Homeopathic Hospital in 1851 ( S R Kirby (Ed.), The American journal of homoeopathy, Volumes 5-6, (New York, C. G. Dean., 1851). Page 116):
The Annual Festival in aid of the funds of the Charity, and in commemoration of the opening of the London Homeopathic Hospital established in London, will be held at the Albion Tavern, Aldersgate Street, on Thursday, the 10th of April 1851, the anniversary of the birth of Samuel Hahnemann:
Henry Charles FitzRoy Somerset 8th Duke of Beaufort in the chair.
STEWARDS: Henry William Paget Marquess of Anglesey, George Stanhope 6th Earl of Chesterfield, Arthur Algernon Capell 6th Earl of Essex, John Robert Townshend 1st Earl Sydney, John Gray 15th Lord Gray, Arthur de Vere Capell Viscount Malden, Francis Arthur Gordon, Lord Clarence Paget, Lord Alfred Paget, Culling Charles Smith, Marmaduke Blake Sampson, Frederick Hervey Foster Quin, Nathaniel Barton, J. Askew, Henry Banister, H Bateman, Capt. Branford, F Blake, Hugh Cameron, Captain Chapman, H Cholmondeley, John Burgh Crampern, Edward Cromwell Disbrowe, W. Dutton, Edward Esdaile, W. M. Fache, Fr. Fuller, H Goez, John Gosnell, George Hallett, Edward Hamilton, J Huggins, P Hughes, John Peake Knight, Joseph Kidd, Thomas Robinson Leadam, Thomas Mackern, Victor Massol, J Mayne, Jas Bell Metcalfe, C T P Metcalfe, Samuel Thomas Partridge, T Piper, W Piper, R Pope, Henry Reynolds, A Robinson, Henry Rosher, C J Sanders, W Scorer, Rittson Southall, T Spicer, J Smith, Charles Snewin, Charles Trueman, Thomas Uwins, W. Watkins, J Wisewould, David William Witton, Stephen Yeldham, J G Young,
The responsibility of Stewards is limited to the dinner ticket, 21s., and gentlemen who will kindly undertake the office are respectfully requested to forward their names to any of the Stewards; or to the Hon. Secretary at the Hospital. 32. Golden-square.  Ralph Buchan, Hon. Sec.
From The Royal College of Surgeons web site http://livesonline.rcseng.ac.uk/biogs/E000787b.htm quoting Plarr's Lives of the Fellows: Henry Bateman was '… Born at Burton-on-Trent, and after education at the Grammar School was apprenticed for five years to Septimus Allen. Entered St Bartholomew's Hospital in October, 1825, dissected, with Richard Owen (Richard Owen 1804-1892), a fellow-student, and attended the lectures of John Abernethy (John Abernethy 1764-1831). He was appointed Librarian of the Medical School. After acting as assistant to Mr Jones for two years at Henley-in-Arden he returned to St Bartholomew's to qualify as LSA in 1828, and MRCS, in 1829. He attended the Moorfields Eye Infirmary, the École de Médecine in Paris, and Dupuytren's lectures at the Hôtel Dieu.
He was appointed Surgeon to the Islington Dispensary in Jan, 1830, and began the practice which he carried on for the ensuing fifty years. During the epidemic of cholera in 1832 he acted as Surgeon to the Islington Cholera Hospital in River Lane. The general belief in infection through the air from dead bodies involved the belief in the danger of making post-mortem examination. Having first made his will, Bateman examined post mortem every patient who died under his charge.

He married three years later, resigned the active post at the dispensary for the appointment of Consulting Surgeon, and then started what became well known afterwards, the practice of seeing patients gratuitously from 6 o'clock in the morning, or even earlier in summer time, until 9 o'clock, when the door of his room at the end of his garden was closed with severe punctuality. As many as fifty to a hundred patients attended of a morning, who preserved his prescriptions with a reverence that testified to their utility. For eight years he continued this course daily, and subsequently three times weekly until a few years before his death.
He was a most ardent believer in the mystical doctrines of Swedenborg, and was one of the mainstays of the 'New Church', Devonshire Street, Islington, in which he used to preach on Sundays. This and his large private practice absorbed his time, so that he said he never dined out except on the occasion of the Hunterian Festival at the College. In middle life he had an attack of haemoptysis, but continued active work until the long and trying illness from which he died on Nov 21st, 1880, at 13 Canonbury Lane, N. He left a son in the medical profession, Alfred G Bateman, who was secretary of the Medical Defence Union.
---