Frederika Bremer 1801 - 1865
December 22, 2011
**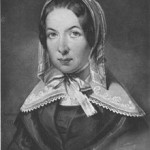 Frederika Bremer 1801 - 1865 **was a Swedish writer and a feminist activist. She had a large influence on the social development in Sweden, especially in feminist issues.
Frederika Bremer was an advocate of homeopathy, and a patient of Beal P Downing and David Osgood (Laurel Ann Lofsvold, Fredrika Bremer and the writing of America, (Lund University Press, 1 Jan 1999). Page 144).
Frederika was also a close friend of James John Garth Wilkinson - On 16th October 1851, James John Garth Wilkinson wrote to his father:  '… *Miss Frederika Bremer, the Swedish novelist, is coming to spend an hour with us on Tuesday evening… She is one of the few literary ladies I have seen, who is even still more interesting as a woman. She has just returned from a two year visit to America…' (__Swedenborg Archive Family Register A148a Temple Bar loose leaf Documents and Summary Enclosed English Documents from 1662 (Latin documents begin 1621)). *
'… When, therefore, I now felt my hands burning as in fever, I recollected some homeopathic globules which my friend Downing (Beal P Downing), who is himself a homeopathist, had given me when I was very much excited, and which had calmed me wonderfully..' (Frederika Bremer, Homes of the New World, (1853). Page 150).
'… Thanks to homeopathy and my good watchful doctor, I am now again in better health ; but the malady which I have endured, and still endure, is like the old witch who could trip up even Thor…' (Frederika Bremer, Adolph Benson, Carrie Catt (Eds), America of the 50s, letters of Frederika Bremer, (Applewood Books, 1 Jan 2007). Page 85).
'… as possible the following day I went out among my acquaintances in Boston, inquiring after a homeopathic physician…' (Eliakim Littell, Robert S. Littell (Eds), The Living Age Volume 39, Making of America Project, (Littell, son & company, 1853). Page 217).
From http://en.wikipedia.org/wiki/Fredrika_Bremer Fredrika Bremer was born in Åbo (Turku) in Finland, then a Swedish province, as the daughter of Karl Fredrik Bremer (1770-1830) and Birgitta Charlotta Hollström (1777-1855). Her father, a descendant of an old German family, was a wealthy iron master and merchant. The family left Finland when Fredrika was three years old, and after a year's residence in Stockholm, purchased Årsta Castle, about 20 m. from Stockholm.
Her father was described as somewhat of a house tyrant, and her mother was a socialite. She and her sisters where brought up to marry in to the aristocracy; a trip on the continent in 1821-22 was the finishing touch of her upbringing before her social debut.
Bremer was not comfortable with this role, and was inflicted by a crisis, which she overcame by charitable work in the country around Årsta Castle. In 1828, she debuted as a writer, anonymously, with a series of novels published until 1831, and was soon followed by others. Her novels were romantic stories of the time and concentrated on women in the marriage market; either beautiful and superficial, or unattractive with no hope of joining it, and the person telling the story and observing them is often an independent woman. She wanted a new kind of family life, one not focused only on the male members of the family, but one which would give a larger place for women to be in focus and develop their own talents and personality.
By the 1840s, she was an acknowledged part of the cultural life in Sweden and her writing was translated into many languages. Politically, she was a liberal, who felt sympathy for social issues and for the working class movement. In 1854, she co-founded the Women Society for the Improvement of Prisoners (Fruntimmersällskapet för fångars förbättring) together with Mathilda Foy, Maria Cederschiöld , Betty Ehrenborg and Emilia Elmblad. The purpose was to visit female prisoners to provide moral support and improve their character by studies of religion.
Her novel Hertha (1856) remains her most influential work. It is a dark novel about the lack of freedom for women, and it raised a debate in the parliament called "The Hertha debate", which contributed to the new law of legal majority for adult unmarried women in Sweden in 1858, and was somewhat of a starting point for the real feminist movement in Sweden. Hertha also raised the debate of higher formal education for women, and in 1861, the University for Women Teachers, Högre lärarinneseminariet, was founded by the state after the suggested woman university in Hertha.
In 1859, Sophie Adlersparre, founded the paper Tidskrift för hemmet inspired by the novel. This was the starting point for Adlersparre's work as the organizer of the Swedish feminist movement.
In 1860, she helped Johanna Berglind to fund Tysta Skolan, a school for the deaf and mute in Stockholm. At the electoral reforms regarding the right to vote of 1862, she supported the idea to give women the right to vote, which was talked about as the "horrific sight" of seeing "crinolines at the election boxes", but Bremer gave the idea her support, and the same year, women of legal majority were granted suffrage in municipal elections in Sweden.
The first real Women's rights movement in Sweden, the Fredrika Bremer Association (Fredrika Bremer Förbundet), founded by Sophie Adlersparre in 1884, was named after her. Bremer was happy to mention and to recommend the work of other female professionals. She mentioned both the doctor Lovisa Årberg and the engraver Sofia Ahlbom in her work.
From 1849 to 1851 Bremer traveled by herself in the United States. Many of her works had been translated into English by the noted poet and author Mary Howitt. In the novel Little Women by Louisa May Alcott, Mrs. March reads from Fredrika Bremer to her four daughters. She was disappointed in what she had heard to be a `promised land,' particularly in the institution of slavery. She also visited Switzerland, Italy, Palestine, and Greece between 1856 and 1861, and wrote popular accounts of her travels.
Fredrika Bremer never married. She got to know Per Böklin, a principal at a school in Kristianstad in the 1830s, who gave her private lessons and became her friend. He asked her to marry him but, after several years consideration, she declined. She died at Årsta Castle outside of Stockholm, Sweden.
---