William Gwillim 1799 - 1881
November 03, 2010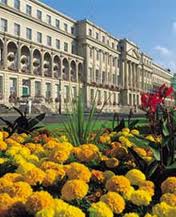 William Gwillim 1799 - 1881 LSA London 1819, MRCS England 1821, MD Erlangen 1831, was a Britishh orthodox physician who converted to homeopathy,
In 1855, William Gwillim was living at Berbice Villa, Hereford and he was a member of the British Institute of Homeopathy. In 1868, he was a Medical officer at the Cheltenham Homeopathic Dispensary alongside Arthur Grattan Guinness, in 1869, he was retired and living at 8 Paragon Hackney, and in 1872 he was living at The Cedars, Chertsey, he was living in Burton on Trent in 1881, and he died at Dalton House, Beckford, Gloucestershire in 1881.
On March 6 1872, at Chertsey, H. Watson, Esq., of Hackney, (was married) to Selina Waring, youngest daughter of William Gwillim, MD.
---