Rustum Roy 1924 - 2010
August 27, 2010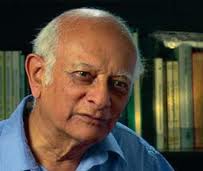 Rustum Roy 1924 - 2010 was an American materials scientist who held visiting professorships in materials science at Arizona State University and in medicine at the University of Arizona, as well as an emeritus position at Pennsylvania State University in three departments. He described himself as a science policy analyst, advocate of interdisciplinary education and alternative medicine, and science and religion.
Dana Ullman writes:
Dear Friends,
It is with a heavy heart that I convey to you that Rustum Roy, PhD, Professor emeritus in material sciences at Penn State University, has passed away at 86 years of age. Dr. Roy was a highly regarded professor of material sciences who had an appreciation for alternative medicine and homeopathic medicine.  Dr. Roy created the Material Sciences Lab at Penn State, and this laboratory and his department at Penn State has consistently been recognized as one of the best in the world.
One personal story with Dr. Roy comes immediately to mind…
Just after Dr. Roy published one of his important articles on homeopathy, he participated in a press conference sponsored by the National Center for Homeopathy.
One of the reporters at this press conference was from the respected scientific magazine, The New Scientist.  This reporter initially startled all of us by asserting that he previously worked and wrote for Nature magazine, but then, he noted that in order to get that job, one of the editors at Nature posed a difficult technical question to him for which he was required to read one of Dr. Roy's articles.
The reporter noted that Dr. Roy solved a very complex question in a sophisticated fashion, and because this reporter was able to convey Dr. Roy's wisdom to his interviewer at Nature, he got the job.
This reporter told Dr. Roy that he had followed his career ever since and has been consistently impressed by his scholarship and inventive thinking.  The reporter wrote an impressively positive article about homeopathy and the work of Dr. Rustum Roy, entitled Water: The Quantum Elixir (see also).
For those of us involved in homeopathy, it is impressive that the editors at Nature had enough respect for Dr. Roy that they used some of his work in material sciences to determine whether to employ science writers (sadly but predictably, the editors at Nature have changed their attitudes towards Dr. Roy even since he expressed special appreciation and respect for homeopathic medicine, once again proving the problems inherent in fundamentalism of various sorts, including scientific fundamentalism).
Despite Dr. Roy's advancing age, he maintained strong and sharp intellectual capacities to the very end…
Evidence of his mental acuity is the fact that for the past couple of years he has co-hosted an truly excellent internet radio show with Huffingtonpost blogger Alison Rose Levy called Whole Person Healing via Body Mind Spirit.  The list of guests that he and Alison interviewed on this show represent a who's who in "whole person healing."
Rustum Roy's website is full of useful information and links.
As a material scientist, he understood that it is not simply necessary to understand the chemical composition of a substance but to understand its structure.  He commonly noted that the strongest mineral in the world is the diamond, which is made of pure carbon.
He then also notes that the weakest mineral in the world is graphite, which is also made out of pure carbon.  His lesson here is that the structure of a substance is critical.  Dr. Roy then asserts that the bubbles and nano-bubbles that occur from the shaking of double-distilled water charges the water pressure in glass vials to attain 10,000 atm (atmospheres).  Making a homeopathic medicine in this highly pressurized water is NOT the same thing as simple water.
Dr. Roy was known to call people who deny the wide variety of scientific evidence for homeopathy to be "homeophobes."  He laughed at their ignorance about homeopathy and about real science, though he was saddened by their extreme arrogance.
Rustum Roy was born in Ranchi, Bihar Province, India. In 1942 he received BS in Physical Chemistry from Patna University and in 1944 his MS from the same university.
He earned a Ph.D. in ceramics at Penn State in 1948, and became an American citizen in 1961. He had a long career at Penn State in geochemistry and materials science. He founded the Materials Science Laboratory at Penn State and authored hundreds of technical papers.
Roy was a member of the National Academy of Engineering. Publishing in a journal for which he was editor-in-chief, he wrote about the relevance of the structure of water to homeopathy which he defended from 'Homeophobia' by letter to The Guardian.
Awards and Honours
Evan Pugh Professor of the Solid State Emeritus

Professor of Geochemistry Emeritus

Professor of Science, Technology, and Society Emeritus

Honorary Member, Ceramic Society of Japan 1991

Foreign Member, Royal Swedish Academy of Engineering Sciences, elected 1977

Foreign Fellow, Indian National Science Academy, elected 1984

Honorary Fellow, Indian Academy of Sciences, 1990

Foreign Associate, Engineering Academy of Japan, Foreign Associate 1991

Foreign Member, Academy of Russian Sciences Foreign Member; elected 1999

Ceramic Society of Japan (Centennial) International Award, 1991

Mineralological Society of America Award 1957

Federation of Materials Societies, National Materials Advancement Award 1991

American Chemical Society DuPont Award in Chemistry of Materials, 1993

American Society for Engineering Education, Centennial Medal, 1993; Installed in Hall of Fame, 1993 (one of 43 in 100 years).

Order of the Rising Sun, 3rd Class, Gold Rays with Neck Ribbon, 2002.
Roy served as a Visiting Fellow at the Institute for Policy Studies (1980–85) and Senior Policy Fellow at the Brookings Institution (1982–83). He was on the Planning and Strategy Committee of the National Council of Churches from 1964–70. He worked with Andrew Weil's program in integrative medicine and whole person healing at the University of Arizona.
---