Francois Joseph Victor Broussais 1772 -1838*
July 24, 2010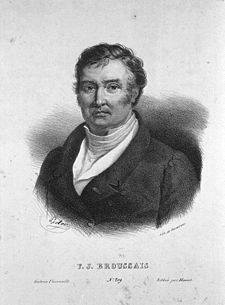 Francois Joseph Victor Broussais 1772 -1838 was a French orthodox physician who championed the use of leeches in Paris, and who became an advocate of homeopathy in his last days.
Broussais eventually became an advocate and a patient of homeopathy, receiving treatment from the homeopath Frapart, after declaring that orthodox medicine was 'more harmful than useful to humanity'.
Broussais was a French physician. From his father, who was also a physician, he received his first instructions in medicine, and he studied for some years at a college in Dinan.
At the age of seventeen he entered one of the newly formed republican regiments, but ill-health compelled him to withdraw after two years.
He resumed his medical studies, and then obtained an appointment as surgeon in the navy. In 1799 he proceeded to Paris, where in 1803 he graduated as M.D. In 1805 he again joined the army in a professional capacity, and served in Germany and the Netherlands.
Returning to Paris in 1808 he published his Histoire des phlegmasies ou inflammations chroniques; then left again for active service in Spain. In 1814 he returned to Paris, and was appointed assistant-professor to the military hospital of the Val-de-Grace, where he first promulgated his peculiar doctrines on the relation between life and stimulus, and on the physiological interdependence and sympathies of the various organs. His lectures were attended by great numbers of students, who received with the utmost enthusiasm the new theories which he propounded.
In 1816 he published his Examen de la doctrine médicale généralement adopte, which drew down upon its author the hatred of the whole medical faculty of Paris; but by degrees his doctrines triumphed, and in 1831 he was appointed professor of general pathology in the academy of medicine. In 1828 he published a work De l'irritation et de la folie, and towards the end of his life he attracted large audiences by his lectures on phrenology.
---