St. Lawrence Homeopathic Convalescent Home for Children Slough
June 25, 2010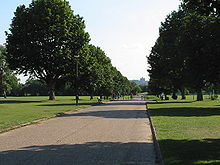 The St. Lawrence (Laurence) Homeopathic Convalescent Home for Children in Slough was founded in 1882, at Fair View, in Albert Street, Upton, Slough, Buckinghamshire by Ms. Ethel Forsyth, with 10 beds, to care for children aged 3 - 11,
1882 - A suitable house has been selected at Slough, where six patients can be received. Mr. Deane Butcher has kindly promised to become Honorary Secretary, and Mr. Craske, London and County Bank Treasurer, Slough, has kindly promised to receive remittances…
1884 - the home opened (Anon, Homœopathic League Tracts, (Homœopathic League). Page 41),
1884 - the Convalescent Home at Fair View, Slough, Bucks had space for 16 children in the winter and 24 in the summer,
1884 - the 1st Annual Report of the home was published in the Monthly Homeopathic Review Vol. xxviii,
Of interest:
Ethel Forsyth was the daughter of Sir Thomas Douglas Forsyth 1827 - 1886,
From [http://yourarchives.nationalarchives.gov.uk/index.php?title=Forsyth,Sir_Thomas_Douglas%281827-1886%29*Knight_Indian_Administrator\](http://yourarchives.nationalarchives.gov.uk/index.php?title=Forsyth,_Sir_Thomas_Douglas*%281827-1886%29_Knight_Indian_Administrator) Thomas Douglas Forsyth was an Anglo Indian civilian born at Birkenhead (10th child and 3rd son of his parents - he went to Rugby School where he was taught by Thomas Arnold). He entered the East India Company's service in 1848, and distinguished himself at Umballa during the mutiny (1857), and as special commissioner at Delhi.
From 1860-8172 he was commissioner of the Punjab and did much to stimulate trade with Turkestan, and succeeded in settling the long-standing territorial dispute between Russia and the Emir of Kabul.
He led, in 1871 and 1874 two expeditions to East Turkestan, and concluded a treaty with Yakub Beg, the ruler of that region.
Forsyth's Mission to Yarkand (1871), and Report of a Mission to Yarkand (1875), are of great value. He rendered much service to India during the misunderstanding with Burma over the Karen-ni states (1875).
The fact that the Aga Khan I had a large following outside India was brought to light by Sir Thomas Douglas Forsyth (1827-1886) in Report on a Mission to Yarkand, Calcutta, 1875, who in the time of Lord Richard Southwell Bourke Mayo (1822-1872), had led a deputation from Lahore to Yarkand in 1869, and he was also sent to the mission of Kashgar in 1873.
The members of Sir Douglas Forsyth's mission ascertained that these Ismailis formed the whole of the sparse population in many of the valleys leading down from the Pamir, the elevated "roof of the world", on the banks of the higher Oxus, and its affuents - in Chitral, Gilgit, and in remote valleys between Kafristan and Badakhshan.
Ethel Forsyth wrote Autobiography and reminiscences of Sir Douglas Forsyth, C.B., K.C.S.I., F.R.G.S. in 1887,
Thomas Douglas Forsyth's Obituary is in the Journal of the Royal Geographical Society in 1887,
Upton Court was rented by Thomas Douglas Forsyth when he lived in Slough, Albert Street was close by, and Ethel Forsyth opened the St Lawrence Homeopathic Convalescent Home in honour of her father,
Ethel Forsyth was the Honorary Secretary and Treasurer of the Esoteric Christian Union in 1891, alongside Edward Maitland (Anon, The Appeal of the Esoteric Christian Union to the Churches and People of Christendom, (Esoteric Christian Union, 1893). Page 7. '… THE ESOTERIC CHRISTIAN UNION FOUNDED NOVEMBER 1891.  President-Founder – EDWARD MAITLAND, B.A. Hon. Sec. & Treasurer – ETHEL FORSYTH 37, Chelsea Gardens, S.W. THE ESOTERIC CHRISTIAN UNION shall consist of all persons who, being in sympathy with the aims and methods, intimate their desire to belong to it, and to assist in promoting its objects, whether or not they be contributors to its funds. For, while pecuniary aid is invited as indispensable to any large scale of operations and a corresponding measure of success, it is NOT required as a condition of membership. Nor will membership be regarded as committing individuals to any particular tenet or view, but only to a general approbation of the Society's principles. Nor, again, will it be required of members that their names appear in the Society's published lists, this being left optional.A printed form of membership will be supplied to applicants, which, when filled up, will be submitted to the President-Founder in Council. The Council shall consist of members appointed by the President-Founder, upon whom, or any number of whom, he may call to assist him with their advice, the responsibility of the action taken resting with him. The scheme of the Society's methods, to be carried out according to the means placed at its disposal, comprises: (1) The circulation of a statement setting forth its origin, objects, basis, method, and scope, the derivation of, and authority for its teaching, and an abstract of its doctrine (as contained in its chief text-books). (2) The recommendation of the books deemed the best exponents of such teaching, and their presentation, loan, or sale at reduced prices, to free public libraries, private circles or readers or individuals, as may be advisable. (3) The holding of meetings public and private, for exposition; the publication of new, and republication of old books distinguished for their soundness of doctrine and lucidity of statement; the establishment of periodicals, and the encouragement and aid of branch or corresponding societies at home and abroad, irrespective of race, nation, or creed; and whatever else may serve to realise the endeavour of the Society to constitute itself a highly vitalised centre of spiritual energy from which to radiate effectually of such vital truths as are essential to true religion and morality. All Communications respecting Membership, etc., to be addressed to the Hon. Secretary, Miss ETHEL FORSYTH, 37 Chelsea Gardens, S.W., to whom all Cheques and Postal Orders may be made payable, crossed "London and County Bank, South Kensington Branch"…').
---