The Buchanan Homeopathic Ophthalmic and Cottage Hospital St. Leonard's on Sea
June 09, 2010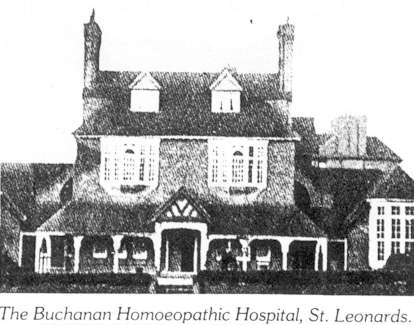 The Buchanan Homeopathic Ophthalmic and Cottage Hospital (photo used courtesy  of Homéopathe International) was founded in 1880, and located in Southwater Road, St. Leonard's on Sea between 1881 - 1884, and then relocated to Springfield Road, St Leonard's on Sea,
1880 - the Hospital was established in 1881 as a voluntarily supported eye hospital to meet a need for in-patient accommodation for the poor, identified at the dispensary, on land donated by C G Eversfield. W Hay Murray was the architect, and the hospital was for people who required eye surgery, and it cost about £3,000 to construct and contains 17 beds.
Joanna Buchanan, the benefactor, who gave her name to what was called The Buchanan Ophthalmic and Cottage Hospital, did not live to see it open, but her niece, Miss Elizabeth (Buchanan) Mirrlees, took up the cause and provided the 6-bed hospital with temporary premises at Southwater Road.
A permanent site in Springfield Road was provided by the Eversfield Estate and the Hospital was transferred there in 1884, opening with 15 beds and two private wards. Patients were admitted on the recommendation of subscribers and donors, with fees being charged to private patients. The Hospital was a general one, taking medical and surgical cases and offering in and out patient treatment
1882 - the 2nd Annual Report of the hospital was published in the Monthly Homeopathic Review, which included a review of cases treated at the hospital,
1894 - \James Edward Liddiard* was the Secretary at the hospital,
1901 - *Frank Shaw was a Surgeon at the hospital,
1905 - the hospital hosted the International Homeopathic Congress,
1907 - Alexander Richard Croucher, Edwin Awdas Neatby and William Clowes Pritchard worked at the hospital,
1907 - the Elizabeth Mason Wing was added to the hospital, architect Henry Ward,
1908 - G H Gowan of Calne in Wiltshire who trained at the Buchanan on the advice of Florence Nightingale c1908-1943,
1908 - a new wing to house children's services was completed at the hospital,
1948 - the hospital was incorporated into the NHS,
1981 - celebration of the centenary of the hospital,
1983 - the hospital closed,
1990 - the Buchanan Hospital St.Leonard's on Sea was an old cottage hospital shut down and part demolished in the late 90's. The main building was built in Victorian times and had become derelict since the hospital had been shut down.
The National Archive houses the annual reports of this hospital from 1881 to 1947, and the general reports and papers of the hospital from 1881 - 1946 etc,
Of interest:
Joanna Buchanan's father was alcoholic?
*James Edward Liddiard ?1863 - ?1923, FRGS, was a British orthodox physician, Member of the Royal Geographical Society, Member of the London Missionary Society, Member of the Royal Commonwealth Society, Member of the British Association for the Advancement of Science, who converted to homeopathy to become Physician at the London Homeopathic Hospital, Secretary at the Buchanan Homeopathic Ophthalmic and Cottage Hospital, Physician at the Folkestone Homeopathic Dispensary, Liddiard lived at Rosemont, North Finchley North, and at Rodborough Grange, Westcliffe Road, Bournemouth West,
*Frank H Shaw ?1873 - ?1939, was a British orthodox physician who converted to homeopathy to become a Surgeon at the Buchanan Homeopathic Ophthalmic and Cottage Hospital, President of the International Homeopathic Congress in 1905, Physician at the Southsea Homeopathic Dispensary,
---