Newton John Lane 1800 - 1869
May 31, 2010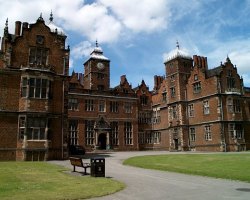 Newton John Lane 1800 - 1869 was a British gentleman and Sheriff of Staffordshire, who was on the Management Committee of the Hahnemann Convalescent Home Bournemouth,
Newton John Lane lived at Aston Hall, Warwickshire, at King's Bromley Manor, Staffordshire, and at Elmhurst Hall, Staffordshire, and at The Firs, Bournemouth,
From http://thepeerage.com/p8083.htm#i80830John Newton Lane  was born on 4 December 1800 at Aston Hall, Warwickshire, England. He was the son of John  Lane and Sarah  Lloyd. He married Hon.  Agnes Bagot, daughter of William Bagot 2nd Baron Bagot of Bagot's Bromley and Lady  Louisa Legge, on 8 January 1828.
He died on 13 October 1869 at age 68.
John Newton Lane lived at King's Bromley Manor, Staffordshire, England. Child of John Newton Lane: Very Rev. Ernald Lane. Children of John Newton Lane and Hon. Agnes Bagot: Isabel Emma Beatrice Lane d. 1 May 1876; Edith Emeline Mary Lane d. 12 Mar 1929; Lt.-Col. John Henry Bagot Lane 1829 - 1886; Sidney Leveson Lane b. 13 Apr 1831; Cecil Newton Lane 1833 - 1897; Maj.-Gen. Sir Ronald Bertram Lane 1847 - 1937,
From http://www.british-history.ac.uk/report.aspx?compid=42359John Smith, sheriff of Staffordshire in 1816, built a new hall at Elmhurst, and died there in 1840. (fn. 66) Later the same year his widow Elizabeth and their son Charles let the hall for five years to Isabella, widow of John Campbell, Baron Cawdor. (fn. 67) Charles Smith was living at Elmhurst in 1848. (fn. 68) In 1856 he sold the estate to Newton John Lane, then living at the hall. (fn. 69) Lane died in 1869, and in 1874 his trustees sold Elmhurst to George Fox, a retired Manchester businessman (d. 1894).
Of interest:
In 1854, John Lane Newton of Elmhurst Hall, ?relative, married Maryanne Emily, only daughter of Henry Martin Blair, and they had 3 children, Arthur Lister Newton Lane born 1858 - who died in 1867 aged 8 years, Minnie Florence Newton, and Menina Mary Newton,
---