Charles Hills MacKintosh 1808 - 1893
April 30, 2010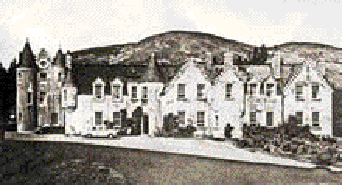 Charles Hills MacKintosh 1808 - 1893 LSA 1829, LRCP London 1841, MD St. Andrews 1863, MBHS, MRCSE 1850, 10th Laird of Dalmunzie 1867, was a British orthodox physician who converted to homeopathy, Physician at the Torquay Homeopathic Dispensary, Member of the Medical Committee of the British Homeopathic Association, Member of the British Homeopathic Society, Member of the Hahnemann Publishing Society, Sponsor of the Hahnemann Monument (see illustration below),
Charles Hills MacKintosh practiced at Morden Hall, Warren Road, Torquay, and at 3 Higher Terrace, Torquay,Charles Hills MacKintosh was a contributor to the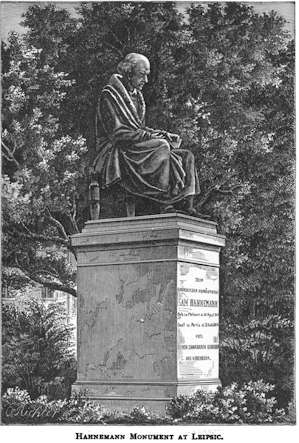 Hahnemann Monument (see illustration) in 1845,
Charles Hills MacKintosh was born in Dalmunzie in Perth, and he married Henrietta Vallack of Kingsand, Cornwall (daughter of Jack),
Charles Hills MacKenzie, third son (of Charles Hills), b. 14 Feb. 1808, who became (owner) of (the) Dalmunzie (estate) in 1867, m. Henrietta, dau. of John Vallack, Kingsand, Cornwall, and d. 13 March 1893, leaving three daughters Helen Galloway, Marion Murray, and Cecilia Eliza. At his death the representation devolved on his nephew…
Dalmunzie castle itself had fallen into ruins and an L shaped hunting lodge was built on the present site of the Dalmunzie hotel in 1874 by Dr Charles Hills Mac(K)intosh 10th Laird of Dalmunzie.
A larger L shaped lodge was built over this in 1884, a Victorian wing added in the 1890's and the building and estate leased for shooting parties.
Hugh Richard Duncan MacKintosh, 11th Laird of Dalmunzie was the last MacKintosh, dying childless in London in 1916. It was over this period that the Gaelic language which had been in use for thousands of years in Glenshee finally disappeared.
Over three hundred and fifty years of ownership by the Mac(K)intoshes came to an end when Dalmunzie was purchased in 1920 by Sir Archibald Birkmyre who had leased the property as a shooting retreat since 1907.
Of interest:
Charles MacKintosh, father of Charles Hills MacKintosh senior,  married a Ms. Hills, daughter of Charles Hills in 1801, (Charles Hills MD was the owner of the Dalmunzie estate),
Charles Hills MacKintosh junior, nephew of Charles Hills MacKintosh senior, took over the family sheep farm in Dalmunzie in 1908,
Richard Duncan MacKintosh MD Edinburgh 1799, RCGP, was a British orthodox physician, Member of the Royal College of Medicine Edinburgh, Member of the Royal Medical and Chirurgical Society London, Physician at Essex and Colchester Hospital, President of the Colchester Literary and Philosophical Society, Member of the Liverpool Literary and Philosophical Society, who converted to homeopathy,
Richard Duncan MacKintosh practiced at 11 Dix Field, Exeter,
---