James Gay Sawkins 1806 - 1878
April 08, 2010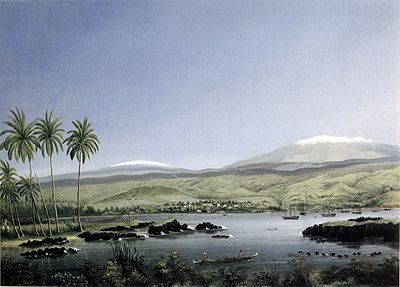 James Gay Sawkins 1806 - 1878, was a British artist, who lived in America, Cuba, and Australia, he returned to Britain in 1855 and became a Member of the Management Committee of the East End Homeopathic Dispensary,
Sawkins lived at 85, St. George's Street, East London, and in addition to producing many wonderful paintings, he also wrote many books on geology, history and archaeology,
James Gay Sawkins was an artist who was born in 1806 in Yeovil, Somerset, England.
At the age of 14, he moved to Baltimore, Maryland with his family, where he made his living painting miniature portraits on ivory. He lived in Cuba from 1835 to 1845 and visited Hawaii from January, 1850 to June, 1852.
After working in Australia, he returned to England in 1855.
Sawkins died in 1878 in Turnham Green (near London), England.
The Honolulu Academy of Arts, Mission House Museum (Honolulu, Hawaii) and the National Library of Australia (Canberra) are among the public collections holding works by James Gay Sawkins.
---