James Cornelius Madge 1826 - 1904
April 06, 2010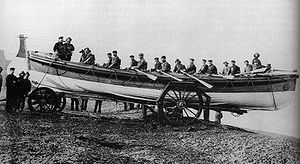 James Cornelius Madge ?1826 - 1904, was a British orthodox chemist, Member of the Pharmaceutical Society, who converted to homeopathy, to become a Chemist at the North Wilts Homeopathic Dispensary,
James Cornelius Madge conducted provings and wrote an article for _The Lancet_ in 1864 on Vinum (wine),
James Cornelius Madge lived in Sheringham in Norfolk, and Devises, Holywood Cottage in Hampshire, and he came from Southampton (Allert Road, Hill Lane, North side),
In 1904, James Cornelius Madge left a bequest for a lifeboat named Sheringham Lifeboat J C Madge ON 536:
J C Madge was built at the Thames Ironworks and Shipbuilding Company in Blackwall in 1903 at the cost of £1,436 16s 6d. She was paid for from a legacy of £2,000 left to the RNLI by a Mr James C Madge, a chemist, of Southampton… J C Madge (ON 536) was a Liverpool class, non-self righting lifeboat stationed at Sheringham in the English county of Norfolk from December 1904 until June 1936 during which time she was launched on service 34 times and saved 58 lives. (sold out of service, repurchased for restoration in 1989, Now Displayed in Sheringham Museum),
Of interest:
Archibald George Mervyn Madge - 2003, FPS, FI Pharm, MCDD, FRSH, was a homeopathic chemist and Chair of the British Homeopathic Association, President of the British Society of the History of Pharmacy, Editor of the Pharmacy Management Manual, and homeopathic practitioner,
Mervyn Madge left a Fund for the naming of a Section of the British Homeopathic Association Library, or for an article on homeopathic pharmacy, which still operates today (in honour of Christine Brenda Madge), and he also left a bequest to the League of Friends of the Plymouth Royal Eye Infirmary,
Mervyn Madge's Obituary is in _ The Pharmaceutical Journal Vol 271 No 7258 p99 19 July 2003](http://www.pharmj.com/editorial/20030719/society/obits.html), and in the [_Journal of the Royal Pharmaceutical Society Volume 271 5.7.03:
In a tribute to the late Archibald George Mervyn Madge (PJ, 5 July, p32), PHILIP PAUL writes: Mervyn was a benign and avuncular "character". As a member of the Royal Pharmaceutical Society's Council, he was very helpful to me during my eight years' incumbency as director of public relations there.
Above all, Mervyn was a kind man who never spoke derogatively of anyone — a remarkable characteristic in the frequently stressful world of professional administration.
As fellow Freemasons, members of the Chartered Institute of Journalists and the Medical Journalists' Association, we shared several interests. I shall miss him.
NICHOLAS WOOD, general secretary, Institute of Pharmacy Management International Ltd, writes:
Members of the institute will be saddened to hear of the death of Mervyn Madge, a former chairman of the institute. Mervyn was a familiar figure in pharmacy, endowed with boundless energy, and the institute was just one of his many active interests.
At the time of his death, he held the position of one of the institute's Vice Presidents. Although the post was largely advisory, he continued to take an active interest in the institute and its council, corresponding by means of comments and suggestions through the medium of his uniquely idiosyncratic typewriter.
He regretted that he was unable to travel to meetings in latter times but in the past he had for many years organised an IPMI reception at the British Pharmaceutical Conference.
It was held at the beginning of the conference and invitations were keenly sought — you knew the conference had only truly begun after Mervyn, sherry in hand, had stood on a table, welcomed all comers and extolled the virtues of institute membership.
He was himself a Fellow of the Institute and one of the few remaining founder members from 1964. His huge enthusiasm for pharmacy and his contribution to many organisations will be the thing for which he will most be remembered. The Institute has been fortunate over the years to have had the unswerving support of such a unique gentleman of pharmacy and his passing will be much mourned.
MARGARET MARTIN writes:
I was saddened to read of the death of Mervyn Madge. He seemed immortal. I remember him well from meetings in Plymouth, and when I did a locum at the Co-operative Chemists in St Budeaux. He did much work in promoting homeopathy.
Mervyn Madge lived at Chelfam Houe, 1 Saltburn Road, St. Budeaux, Plymouth,
Mervyn Madge wrote History of Pharmacy JRSH 5 1987, Alternative or Complimentary Medicine, Murders and the detection of arsenic, The Tamerton Treacle Mines and other tales of Cornwall and the West Country,
---