William Hempson Denham 1807 - 1891
April 05, 2010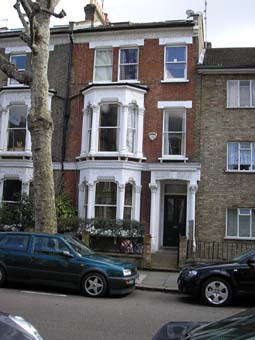 William Hempson Denham 1807 - 1891 LSA England 1828, MRCS England 1829, Memorialist, Assistant Surgeon at Dartmoor Prison, was a British orthodox physician who converted to homeopathy, Physician to the Westbourne Union Workhouse, House Surgeon at the St. James Hospital in Doncaster,
Denham was a student of Astley Cooper, and one of the oldest physicians on the Medical Register.
Denham practiced at Willow Lane, Norwich, and in Portsmouth, and in Doncaster, and at 4 Gloucester Terrace, King's Road, Southsea, and at Upper Farm House Wonsersh, and at 23 Cromwell Grove, Shepherd's Bush, West London,
In 1836, Denham wrote to _____The Lancet _to defend himself from an attack by a Mr. Charles Robert Bree of Stowmarket, because Denham criticised 'medical humbug clubs' (for the poor and their medics to become independent of the Poor Law Union) at the Woolpit Swan pub,
In 1845, Denham wrote to _The Lancet_ to congratulate a colleague for his support of a Charter granted to the College of Surgeons,
In 1855, Denham's appointment as Physician to the Westbourne Union Workhouse caused a letter of complaint to _The Lancet_ by a Dr. Hector Helsham, who explains that Denham produced testimonials from Astley Cooper, Bransby Cooper 1792 - 1853, Charles Aston Key, and other 'prominent men', and that the Poor Law Commission refused to 'deny the poor' treatment by the homeopathic method by Denham. Dr. Helman urged _____The Lancet_ to cancel Denham's Diplomas and censure the Poor Law Commissioners, and Helman enclosed Denham's testimonials, a statement from Denham explaining his conversion to homeopathy, and a copy of a lecture on homeopathy he gave to the Westbourne Union Workhouse as evidence, backed up by a letter from the Secretary of the Westbourne Union Workhouse requesting Denham's dismissal. The Guardians of the Westbourne Union Workhouse eventually refused Denham his appointment (Anon, The Lancet, Vol. II, (Elsevier, 1855). Page 638).
In 1856, Denham was charged with some deaths at the Poor Law Union, a tramp with a heart condition to whom he gave aconite, another man with choleric diarrhoea to whom he gave aconite, belladonna and sepia, another case of inflammation of the pleura to which he gave aconite, bryonia, colycinth and hyoscymus, and Denham was suspended from the Poor Law Board.
In 1871, Denham was a member of the National Rifle Association,
In 1876, Denham brought an Action against the Registrars of Portsmouth City Court to recover a sum of £1000 by way of reparation for losses - ?details,
Denham's Obituary is in the British Medical Journal Vol. 2, No. 1604 (Sep. 26, 1891), p. 718, he left a widow, Harriet Elizabeth Kemball (married 1838) and 'numerous children',
Denham wrote The Folly and Mischief of Using Purgative Medicines, Improved Disposal of Sewage, Verba consilii; or, Hints to parents who intend to bring up their sons to the Medical Profession, The use and action of stays and corsets, on disease & developement of the female figure, The extinction of small-pox and diseases of vaccination by a practical process, The Queen, the parliament, and the people, A Letter to Mr. Garrington, Surgeon … on Honesty, Consistency, and Truth; or, Insolence to homeopathy, etc, The Law of God and the Law of Man with reference to the punishment of death, Essays on health. Nos. 1 and 2, Death from nitrous oxide at Exeter,
---