John Wilton Frankland Blundell 1820 - 1883
April 02, 2010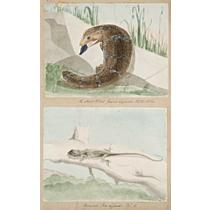 John Wilton Frankland Blundell 1820 - 1883 MD Glasgow 1851, LRCP Edinburgh 1859, was a British orthodox physician who converted to homeopathy, Medical Officer at the Tunbridge Wells Homeopathic Dispensary, Member of the British Homeopathic Society, and he was also a practitioner of the Swedish Movement Cure (based on the work of Per Henrik Ling) which he studied in Giessen,
Blundell practiced in London, in Forres in Scotland, in Tunbridge Wells, and in Malvern,
Blundell took over the Swedish Movement Cure practice of John Govart In de Betou, and the orthodox physicians rose up to denounce Swedish Massage as quackery, though _The Lancet _gave his book a good review,
Blundell visited Queensland Australia for three years aboard the barque Ganges in 1844, to serve as company book keeper and general clerk to Frederick Mangles and Co (ship owners and merchants), where in addition to writing, he produced a series of water colours later published in England (these artworks were purchased by the Battye Library from Sotheby's Auction in 2007). Blundell returned to Australia permanently in 1870:
Blundell and his wife Eliza Davies who came out to Queensland as Saloon Passengers on the Indus in 1870. John was a doctor and derived from the Blundell lineage of Tiverton Devon, a (descendant of the brother?) of Peter Blundell, founder of Blundell's School there. A son of theirs was Peter Arthur Blundell who married Evangeline Barbara Lucretia King (2nd marriage to them both). Peter was a former Auditor General of Queensland.
I well remember Dr. John W F Blundell because he was a leader writer for the Courier and for the Telegraph, and contributed to other papers; but I did not know him at all intimately.
As a fact, Dr. Blundell, though gentle by nature, and entirely without assertiveness, was temperamentally exclusive. He was a son of Thomas Leigh Blundell MD, who was rather an eminent physician in his day. The records show that he was consulting physician to the Duke of Cambridge (Adolphus Duke of Cambridge), and honorary physician to the Royal Maternity Charity in the early Victorian days – the Queen Victoria days.
When Dr. John Blundell came to Queensland he devoted himself rather to literature than to the practice of his profession, though he was an MD, and LRCP of Edinburgh. He was the author of several medical works, and had a very wide knowledge of contemporary as well as earlier writers.
It was interesting 45 years ago, when we were nearer early Australian history, and to a great tragedy of the Arctic, to know that Dr. Blundell was a relative of John Franklin. He had his home and clinic – though we did not speak of clinics in those days – over in Vulture Street, and had a quiet practice, but very few knew of his fine qualifications or of his contributions to the passing literature of those long ago days.
A son of Dr. Blundell is well known in Queensland, Mr. Peter Arthur Blundell, the Managing Director of the Queensland Trustees Ltd., who had his younger training in finance and business, and perforce had to stand up to the world and his fellows, but who, nevertheless, has much of a literary, and particularly of an artistic, taste. That, of course, is an inheritance.
Blundell wrote The muscles and their story: from the earliest times, including the whole text of Mercurialis, and the opinions of other writers ancient and modern, on mental and bodily development, Medicina mechanica: or the theory and practice of active and passive exercises and manipulations, considered as a branch of therapeutics, and as adapted both to the treatment and cure of many forms of chronic disease (published by John Spriggs Morss Churchill), Therapeutic manipulation, or, Medicina mechanica: a successful treatment of various disorders of the human body, by mechanical application, Cases of scrofula, neuralgia, rheumatism, obstinate & habitual constipation, &c. successfully treated by the Swedish mode of practice, and he submitted cases and articles to various homeopathic publications, including A few Remarks on the Uses and Effects of Alcohol, On the Principles of Hydropathy, On Excitation and Friction as aids to Medicine,
Of interest:
Blundell's School is a co-educational independent boarding school (public school) located in Tiverton in the county of Devon, England. The school was founded in 1604 by the will of Peter Blundell, one of the richest men in England at the time, and relocated to its present location on the outskirts of the town in May 1882.
Peter Blundell ?1520 – 1601
was a prosperous clothier, trading between Tiverton and London. He died in April 1601, never having married and with no known issue[1]. On his death, he left over £32,000 cash to fellow clothiers and their families, his employees, created several charitable trusts, and gave £2400 to build Blundell's School, to be a free grammar school.
Blundell also left £2000 in his will for the endowment of six scholars from The School in Divinity at the Universities of Oxford and Cambridge; arrangements were made for Blundell Scholars to enter Balliol and Sidney Sussex colleges respectively.
He was buried on the 9th May 1601 at St Michael Paternoster Royal in London.
Blundell Park, the current ground of Grimsby Town Football Club since 1899, is named after Peter Blundell whose money enabled Sidney Sussex College to buy the land in 1616.
---