Joseph Wippell 1810 - 1884
March 11, 2010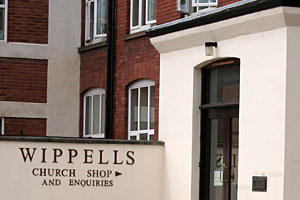 Joseph Wippell 1810 - ?1884, was a British Grocer, Member of the Medical Committee of the Exeter Homeopathic Dispensary,
Joseph Wippell was the seventh child of a long established farming family from Thorverton, north of Exeter.
He married his cousin Jane in 1802, and the couple made their way to Exeter, for Joseph to pursue a career in trade. He decided that as woollen exports were in a slump due to the Napoleonic Wars, he would go into the grocery trade.
An astute move, for even in bad times people have to eat. An advert in Trewman's Exeter Flying Post, 27th May 1802 wrote:
'Joseph Wippell (senior), grocer and tea dealer, begs to inform his friends and the public that he has taken Mr Thos Bickham's Grocery trade and continues to carry it on in the same house nearly opposite Milk Lane, further he assures them that the orders they may favour him with will be executed on the most reasonable terms. Joseph Wippell has just received a fresh assortment of genuine teas and new sugars well worth the attention of the public.'
The new enterprise was at 175 Fore Street, roughly where British Home Stores is now. Joseph and Jane produced six children, moving his family to St David's Hill as business prospered. Drapery is the future, son Their eldest son Joseph Wippell Junior, married Elizabeth Pearse and was set up in a drapery business by his father.
Trewman's Exeter Flying Post, 7th August 1834 announced:
'Woollen Draper, 219 High Street, Exeter, 1st August 1834—Wm Arden respectfully announces his retirement from the above business and takes this opportunity of expressing his best acknowledgements to the Nobility, Gentry and Public for the distinguished patronage with which he has been liberally honoured and solicits continuance of the same for Mr. Joseph Wippell Jnr whom he with confidence recommends as his successor.'
New enterprises, new opportunities Business was good, but the young Joseph wanted to grow the business, so he decided that the best way to do that was to develop new enterprises.
He quickly established himself in tailoring, as a funeral director and a decorator of churches. He was described as a 'mercer and church decorator' in 1847.
Joseph Wippell developed links with the Royal Worcester Company so that he could offer encaustic tiling and marble work. It was in 1851, that Wippell's displayed their services at the Great Exhibition.
Soon after, the business was renamed, J Wippell and Company, and continued to operate from the High Street.
When Joseph Wippell Junior retired in 1879, one of his nine children, Henry Hugh took over the business. (This company is still trading today). (There is a branch of Wippells at J. Wippell & Co, Tufton Street SW1),
Of interest:
---
Rev. W Wippell was also a Member of the Medical Committee of the Exeter Homeopathic Dispensary,
---