George Chaplin Holroyd 1790 - 1871
February 27, 2010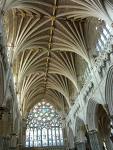 George Chaplin Holroyd 1790 - 1871 was a British soldier who served in the British East India Military Service, a Banker on his return to England, and an advocate of homeopathy, he was on the Management Committee of the Exeter Homeopathic Dispensary,
George Chaplin Holroyd was born on 9 September 1790, the son of Sir George Sowley Holroyd and Sarah Chaplin, at Bloomsbury, London, Middlesex. He served in the British East India Military Service.
On 3 July 1810, he was wounded in an engagement between the Ceylon, Windham, and the Astell, and two large French frigates and a corvette, which ended in the capture of the Ceylon and Windham, and an escape of the Astell, on which last-mentioned vessel he was appointed captain of two guns on the gun deck.
George Chaplin Holroyd married Mary Virginie Mottet de la Fontaine in India and they had children, including John Holroyd Doveton 1823 - 1874,
George Chaplin Holroyd was an agent of the Exeter Branch of the Bank of England, and he joined Cole, Holroyd & Co in Exeter in 1833 (with William and John Cole, Holroyd also ran the Devon County Bank):
This private bank was established in Exeter in 1807 as Russell, Brooke, Green, Cole, Perring & Co. Its founding partners were Robert Russell, a local carrier, John Cole, from a local merchant family, and Joseph Green, Philip Perring and Charles Brooke, who lived in London.
By 1817 Russell and Cole were the sole remaining partners, trading under the name of Russell, Cole & Co. In 1822 Russell died and John Cole was joined by his nephew William Cole Dicker. The partnership, known as John Cole, William Cole Dicker & Co, also took the name Devon County Bank.
Cole and Dicker were joined by Henry Collins by 1825 and George Holroyd, formerly agent of the Exeter branch of Bank of England, joined the partnership in around 1833. At this time John Cole had died and Henry Collins had left the partnership.
William Cole was joined in the partnership by George Chaplin Holroyd and William Cole's son, John, joined the partnership in 1835. In 1842 the business was sold to National Provincial Bank of England for £13,000 and amalgamated with the business of their Exeter branch.
Of interest:
Abraham Holroyd 1815 – 1888 was a Bradford Poet, born to a family of hand loom weavers, who knew Charlotte Bronte, and he was a friend of John Preston,
Born at a time of industrial unrest and the collapse of the centuries old wool trade, Holroyd self educated himself and became a radical intellectual. Eventually, he was forced to join the Military and went to Canada, he suffered terribly, but married in America, and managed to study the ancient Mounds of the Indians before returning to England in 1851.
Holroyd started a book shop in his now thriving home town of Bradford, and within a short time Holroyd's shop had become a centre for Bradford cultural  life. Holroyd became an important figure in John Preston's Swedenborgian congregation (based on the work of Emanuel Swedenborg),
Sir Edward Dundas Holroyd, QC 1828 – 1916, nephew of George Chaplin Holroyd, was a judge, active in Australia.
Holroyd was born in Surrey, England, the second son of Edward Holroyd, senior commissioner of the London bankruptcy court, and his wife Caroline, née Pugsley. Edward Dundas Holroyd was also grandson of Sir George Sowley Holroyd, an English judge. Holroyd was educated at Winchester College, where he twice won the Queen's medal for Latin and English essays.
In 1846 went to Trinity College, Cambridge where he graduated B.A. in 1851, M.A. in 1854, and was called to the bar at Gray's Inn in June

Holroyd practised in London and was also a free-lance journalist. Holroyd decided to migrate to Australia, and arrived in Melbourne in 1859.
George Sowley Holroyd 1758-1831,
George was born on 31 October 1758, the son of George Holroyd and Eleanor Sowley. George was one of the justices of the Court of King's Bench. He was raised to the bench on 14 February 1816, and he resigned on 17 November 1828
T Holroyd was on the Management Committee of the at the Birmingham Homeopathic Hospital and Dispensary in 1872,
---