John Addington Symonds 1807 - 1871
January 31, 2010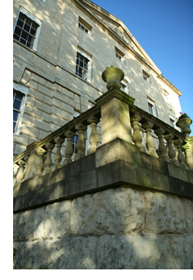 John Addington Symonds senior 1807 - 1871, MD Edinburgh 1828, FRCP, FRSE, was a British orthodox physician, Vice President and President of the British Medical Association, Physician at the Bristol General Hospital, Secretary to the Cholera Commission in Bristol, Lecturer in Forensic Medicine at Bristol Medical School, President of the Public Health Section of the Social Science Congress in Bristol in 1853, and a prolific medical writer, and a major figure in medicine at this time,
At a time when orthodox physicians were proclaiming they would not be seen even talking to a homeopath,  Symonds was a 'secret' patient of homeopath James Manby Gully,
Symonds was the father of John Addington Symonds, and he was a friend of Alfred Lord Tennyson (who also a patient of James Manby Gully and a friend of homeopath Robert Masters Theobald), Henry Charles Keith Petty Fitzmaurice 5th Marquess of Lansdowne (who was a staunch advocate of homeopathy, as was his wife, Lady Maud Evelyn Hamilton  Marchioness of Lansdowne), Jenny Lind (who also a patient of James Manby Gully),
Ralph Barnes Grindrod, an allopathic physician who worked in Malvern nearby to James Manby Gully's establishment, wrote to the British Medical Journal on 12.10.1861 to express his surprise to see allopathic physicians turn up for treatment at James Manby Gully's establishment, and to consult with James Manby Gully over 'difficult cases', and to bring and send their own patients to see James Manby Gully, all the while protesting against homeopathy…
Ralph Barnes Grindrod mentions the following allopaths by name – Booth Eddison, the President of the British Medical Association (a patient of James Manby Gully's), Benjamin Vallance of Brighton (President of the Medico Chirurgical Society, Surgeon at the Sussex County Hospital), Thomas Spencer Wells, Symonds of Bristol, Robert Lee and Sutherland (?George Granville William Sutherland Leveson Gower 3rd Duke of Sutherland) – and he says there were a great many more….
In 1851, Clifton Hill House was bought by Dr Symonds, a well-known Bristol physician, who was famous not only for his medical proficiency, but also for his gift at entertaining the literary and artistic elite of his time.
As his son quoted:  "He was open at all pores to culture, to art, to archaeology, to science, to literature".
The house was filled with many distinguished and talented people, like Henry Charles Keith Petty Fitzmaurice 5th Marquess of Lansdowne, the great classical scholar Benjamin Jowett, John Percival, the first Headmaster of nearby Clifton College, and Jenny Lind, the celebrated Victorian singer, known as 'the Swedish Nightingale'.
Jenny Lind sang several times at the Victoria Rooms and, in 1862, stayed at Clifton Hill House and sang in what is now the Symonds Music Room.  The pitch of her exceptional voice was such that it broke a fine crystal glass that was on the mantelpiece of the marble fireplace (p. 18, Vaughan).
Others who stayed at the house were John Masefield, the Poet Laureate, and Clara Butt who, in 1921, gave a concert in the house to launch a fund for the construction of Manor Hall.
When Dr Symonds died in 1871, the house passed on to his son, John Addington Symonds, the poet, historian, literary and art critic.
Of interest: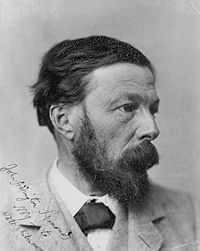 John Addington Symonds Junior 1840 - 1893, was an English poet and literary critic.
Symonds Junior was the father in law of Edward Strachey (who was an advocate of homeopathy), and he was also a friend of Alfred Lord Tennyson (a patient of James Manby Gully), George Granville William Sutherland Leveson Gower 3rd Duke of Sutherland (a friend and patient of Frederick Hervey Foster Quin), Havelock Ellis (who was a student and advocate of homeopathy), Edmund William Gosse (was married to Ellen Nellie Epps whose brother Washington Epps was a famous homeopath), he was also distantly related by marriage to William Laidler Leaf (who instituted a small hospital at homeopath Paul Francois Curie's house
Symonds' daughter, Madge Vaughn, was a lesbian lover for a time to writer Virginia Woolf (whose servants Nellie Boxall and Lottie Hope were patients of James Johnstone, surgeon at the London Homeopathic Hospital),
Symond's daughter Katharine Furse was the sister in law and a friend of Walter Leaf, grandson of William Laidler Leaf, and she was the founder of the English Voluntary Aid Detachment, and Director of the Women's Royal Naval Service. She received the order of the Royal Red Cross in 1916, and the Order of the British Empire in 1917, and she formed the Association of Wrens, which led to her becoming head of the Sea Rangers, and for ten years, from 1928 to 1938, she was director of the World Association of Girl Guides and Girl Scouts whose constitution she drafted
---