George Granville William Sutherland Leveson Gower 3rd Duke of Sutherland 1828 – 1892
January 16, 2010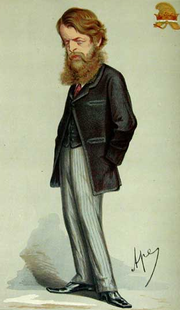 George Granville William Sutherland Leveson Gower 3rd Duke of Sutherland 1828 – 1892, styled Viscount Trentham until 1833, Earl Gower in 1833 and Marquess of Stafford between 1833 and 1861, was a British politician.
Sutherland was a friend and patient of Frederick Hervey Foster Quin, and he offered Frederick Hervey Foster Quin accommodation at Stafford House,
Sutherland was also a friend of John Stuart Blackie,
Richard and Robert Verity were homeopaths attached to the Leveson Gower family,
Sutherland was the father in law of Hugh Lupus Grosvenor 1st Duke of Westminster, and a relative of Frederick Ponsonby 3rd Earl of Bessborough, Francis Egerton 1st Earl of Ellesmere, Granville Leveson Gower 1st Earl Granville, Richard Grosvenor Earl Grosvenor 2nd Marquess of Westminster,
We have as yet said nothing of Dr. Quin's  private practice. From the first it was most extensive, while his patients went almost exclusively drawn from the very highest class of society.
From Arlington Street he moved to Mount Street, where his health began to fail, and compelled him to retire to a considerable extent; so that from the time he left Mount Street he never laid himself out for practice, albeit he continued to see those patients who would consult no one but himself, seeing such an one but a few days before his last illness.
On leaving Mount Street, Granville Leveson Gower 1st Earl Granville, who entertained the warmest friendship and admiration for Frederick Hervey Foster Quin, invited him to live at his lordship's house in Brunton Street; after residing there a short time, and during a very severe illness, he removed to Belgrave Mansions; here he remained till his lease expired. While looking for other quarters, Alfred Duke of Edinburgh, then abroad, wrote to him, begging him to occupy apartments at Clarence House.
The Duke of Sutherland made a similar offer of Stafford House for his use; he accepted the gracious offer of Alfred Duke of Edinburgh, and resided at Clarence House till the Duke and Duchess returned to town, when, although pressed to remain, he took a suit of rooms in Queen Anne's Mansions, where he died at the advanced age of seventy nine.
The fact that this aristocratic patronage of homeopathy in the UK extended well into the 1940's, and beyond, can be easily demonstrated…. the British and Foreign Homeopathic Directory lists the patrons of the dispensaries and hospitals. It reads like an extract from Burke's or Debrett's.
Some examples include: The Duke of Beaufort, Duke of Cambridge, Marquesses of Anglesey, Arthur Algernon Capell 6th Earl of Essex, John Gray 15th Lord Gray, Arthur de Vere Capell Viscount Malden, Richard Walter Hely Hutchinson 6th Earl of Donoughmore, Lord Ernle, Earl of Kintore, Arthur, Arthur Fitzgerald, 10th Lord Kinnaird, Duchess of Hamilton and Brandon, Francis Richard Charteris 10th Earl of Wemyss Lord Elcho, the Lords Paget, Dukes of Sutherland, Earls of Dudley, George Wyndham 1st Baron Leconfield, Thomas Egerton 2nd Earl of Wilton, William Coutts Keppel Viscount Bury 7th Earl of Albemarle, John Robert Townshend 1st Earl Sydney, Lady Radstock, ** **Mary Adelaide of Cambridge Duchess of Teck, Duke of Northumberland, Earl of Scarborough, Earl of Dysart, Marchioness of Exeter, Sarah Waldegrave, Countess of Waldegrave, Countess of Crawford and Balcarres, Lord Headley, Earl of Plymouth, Lord Calthorpe, Earls of Shrewsbury, Lord Horder, Lord Gainford, Lord Moynihan, Lord Ernle, Lord Ampthill, Lord Home, Viscount Elibank and the Earls of Lichfield.
And to this list we can also add numerous knights, barons, Army officers and clerics (and politicians and Members of Parliament Bankers and Industrialists)…. [this data extracted from the Homeopathic Medical Directories 1867, 1874, 1895, 1909, 1931; see also Nicholls, 1988 and 1998 op cit.; see also London Homeopathic Hospital, Sixty Five Years Work: A History of the London Homeopathic Hospital, London, 1915; for Earls of Shrewsbury see also Hobhouse, op cit., p.247; re Lord Donoughmore, see his Obituary, Health Through Homeopathy, BHA, 7:11, Nov. 1948, p.250; also his Obituary, Daily Telegraph, London, 19 Oct. 1948; re Lords Ernle, Gainford and Ampthill, and Viscount Elibank, see Heal Thyself 1935; re Lord Home see Heal Thyself _1931-2; re Pagets see _Heal Thyself 1938; re Lord Horder Heal Thyself 1937; re Duchess of Hamilton and Brandon see Heal Thyself 1932, 1933 and 1938].
Sutherland was the son of George Sutherland Leveson Gower 2nd Duke of Sutherland. He was educated at Eton College and King's College London. Sutherland was Member of Parliament for Sutherland from 1852 until he succeeded his father as Duke in 1861.
He married, firstly, Anne Hay Mackenzie, later created Countess of Cromartie in her own right, on 27 June 1849, at Cliveden House in Buckinghamshire. They had five children:
George Granville Sutherland Leveson Gower (27 July 1850 – 5 July 1858), died young.

Francis Mackenzie Sutherland Leveson Gower 2nd Earl of Cromartie 1852 – 1893

Lady Alexandra Sutherland Leveson Gower (died 16 April 1891), died unmarried.
Sutherland married, secondly, Mary Caroline Blair nee Michell, widow of Captain Arthur Kindersley Blair of the 71st Highland Light Infantry (died in a hunting accident in 1883 near Pitlochry) and daughter of Rev. Richard Mitchell, DD , Principal of this marriage caused a scandal because it took place less than four months after his first wife died, and the lady had been living with the Duke before marriage.
At the time of the marriage, the Duke had been living quietly in Tampa, Florida, for two months with Mrs Blair. At his death in 1892, the 3rd Duke tried to leave all his money to his second wife, who was later found guilty of destroying documents and was imprisoned for six weeks.
The family later made a substantial settlement in her favour, enabling her to build Carbisdale Castle between 1906 and 1917. Her first husband was apparently a dependent of the 3rd Duke, and was accidentally shot by him in 1883.
Sutherland died at Dunrobin Castle, and was buried on 29 September 1892 at Trentham in Staffordshire.
His widow, known as Duchess Blair, married thirdly on 12 November 1896 (sep 1904) as his second wife Albert Kaye Rollit, MP for South Islington. She enjoyed an income of 100,000 pounds until her death according to one source.
Of interest:
Charles Leveson Gower was a patient of Allan Broman,
George Granville Sutherland Leveson Gower 2nd Duke of Sutherland KG 1786 – 1861, styled Viscount Trentham until 1803, Earl Gower between 1803 and 1833 and Marquess of Stafford in 1833, was a British peer.
Sutherland was a friend of Frederic Chopin, Queen Victoria and Prince Albert, Arthur Wellesley 1st Duke of Wellington,
Lord Ronald Charles Sutherland Leveson Gower 1845 – 1916 was a British aristocrat, Liberal politician, sculptor and writer.
Ronald Gower was an advocate of homeopathy, and a patient of Frederick Hervey Foster Quin, and he thanked Frederick Hervey Foster Quin for 'saving him from the blue pills',
The youngest son of George Granville Sutherland Leveson Gower 2nd Duke of Sutherland and the former Lady Harriet Howard, daughter of the 6th Earl of Carlisle, he was educated at Eton and at Trinity College, Cambridge.
He was a Liberal Member of Parliament for Sutherland from 1867-1874, and was succeeded as MP by his nephew Cromartie, Marquess of Stafford (the elder surviving son of his eldest brother the 3rd Duke of Sutherland).
He was a Trustee of the National Portrait Gallery, and of the Birthplace and Shakespeare Memorial Building at Stratford on Avon.
He never married, and was well known among the homosexual community of the time. Oscar Wilde's story The Portrait of Mr W H has been interpreted as a comment on Gower's social circle, and Gower is generally identified as the model for Lord Henry Wotton in The Picture of Dorian Gray.
In 1879 hints of his homosexual liaisons published in the journal Man of the World led Gower to sue the paper, but later in the year Albert Victor Prince of Wales sent him a letter accusing him of being "a member of an association for unnatural practices", to which Gower wrote an angry reply.
John Addington Symonds, who stayed with him once, stated that Gower "saturates ones spirit in Urningthum [homosexuality] of the rankest most diabolical kind".
Gower's most notable lover was the journalist Frank Hird, a relationship that lasted to the end of his life. Gower adopted Frank Hird as his son, leading Oscar Wilde to remark on one occasion, "Frank may be seen, but not Hird."A sculptor, he also published a number of works on the fine arts. His most important sculpture was the statue of Shakespeare and four of his principal characters, erected in Stratford upon Avon. He also created a sculpture depicting Marie Antoinette on her way to the scaffold and another of a member of the Old Guard at Waterloo.
He also wrote biographies of Marie Antoinette and Joan of Arc, and a history of the Tower of London.
---