Princess Mary Adelaide of Cambridge Duchess of Teck 1833 - 1897
January 15, 2010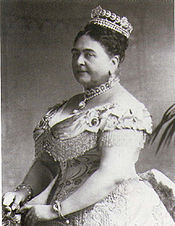 Princess Mary Adelaide of Cambridge (Mary Adelaide Wilhelmina Elizabeth) 1833 - 1897 was a member of the British Royal Family, a granddaughter of George III. She later held the title of Duchess of Teck by marriage. Princess Mary was the daughter of Augusta Duchess of Cambridge, the mother of Mary of Teck, and the mother in law of George V,
The Duchess was a staunch advocate of homeopathy (Sir Clement Kinloch-Cooke, A Memoir of Her Royal Highness Princess Mary Adelaide, Duchess of Teck, Volume 2, (Charles Scribner's Sons, 1900). Page 366), and a Patron (Anon, The Journal of the American Institute of Homeopathy, Volume 15, (Board of Trustees of the American Institute of Homœopathy, 1922). Pages 926 and 968) of the London Homeopathic Hospital (as her mother had been before her), attending many fund raising events for the hospital (Anon, The Hahnemannian Monthly, Volume 32, (LaBarre Printing Company, 1897). Page 51). In 1893, she laid the foundation stone for the new extension (Anon, The North American Journal of Homeopathy, Volume 53, (American Medical Union, 1905). Page 240) at the London Homeopathic Hospital, and in 1895, she opened the new extension of 100 beds at the London Homeopathic Hospital.
The Duchess attended a fund raising Bazaar on 11-12th June 1855 for the London Homeopathic Hospital at the Riding School of the Cavalry Barracks in Kensington,
From Peter Morrell, British homeopathy during two centuries. (Staffordshire University, 1999).  The fact that this aristocratic patronage of homeopathy in the UK extended well into the 1940's, and beyond, can be easily demonstrated…. the British and Foreign Homeopathic Directory lists the patrons of the dispensaries and hospitals. It reads like an extract from Burke's or Debrett's.
Some examples include: The Duke of Beaufort, Duke of Cambridge, Marquesses of Anglesey, Arthur Algernon Capell 6th Earl of Essex, John Gray 15th Lord Gray, Arthur de Vere Capell Viscount Malden, Richard Walter Hely Hutchinson 6th Earl of Donoughmore, Lord Ernle, Earl of Kintore, Arthur, Arthur Fitzgerald, 10th Lord Kinnaird, Duchess of Hamilton and Brandon, Francis Richard Charteris 10th Earl of Wemyss Lord Elcho, the Lords Paget, George Granville William Sutherland Leveson Gower 3rd Duke of Sutherland, Earls of Dudley, George Wyndham 1st Baron Leconfield, Thomas Egerton 2nd Earl of Wilton, William Coutts Keppel Viscount Bury 7th Earl of Albemarle, John Robert Townshend 1st Earl Sydney, Lady Radstock, Duchess of Teck, Duke of Northumberland, Earl of Scarborough, Earl of Dysart, Marchioness of Exeter, Sarah Waldegrave, Countess of Waldegrave, Countess of Crawford and Balcarres, Lord Headley, Earl of Plymouth, Lord Calthorpe, Earls of Shrewsbury, Lord Horder, Lord Gainford, Lord Moynihan, Lord Ernle, Lord Ampthill, Lord Home, Viscount Elibank and the Earls of Lichfield.
And to this list we can also add numerous knights, barons, Army officers and clerics (and politicians and Members of Parliament Bankers and Industrialists)…. [this data extracted from the Homeopathic Medical Directories 1867, 1874, 1895, 1909, 1931; see also Nicholls, 1988 and 1998 op cit.; see also London Homeopathic Hospital, Sixty Five Years Work: A History of the London Homeopathic Hospital, London, 1915; for Earls of Shrewsbury see also Hobhouse, op cit., p.247; re Lord Donoughmore, see his Obituary, Health Through Homeopathy, BHA, 7:11, Nov. 1948, p.250; also his Obituary, Daily Telegraph, London, 19 Oct. 1948; re Lords Ernle, Gainford and Ampthill, and Viscount Elibank, see Heal Thyself 1935; re Lord Home see Heal Thyself _1931-2; re Pagets see _Heal Thyself 1938; re Lord Horder Heal Thyself 1937; re Duchess of Hamilton and Brandon see Heal Thyself 1932, 1933 and 1938].
Mary Adelaide was born on 27 November 1833 in Hanover, Germany. Her father was Prince Adolphus Duke of Cambridge, the youngest surviving son of George III and Queen Charlotte. Her mother was Princess Augusta of Hesse Cassel, the daughter of Prince Frederick of Hesse Cassel.
The young princess was christened on 9 January 1834 at Cambridge House, Hanover by Rev John Ryle Wood, Chaplain to the Duke of Cambridge. Her godmother and paternal aunt The Landgravine of Hesse Homburg was only godparent who was present. The rest (who were absent, possibly represented by proxies) were The King and Queen (her paternal uncle and his wife), Mary Duchess of Gloucester (her paternal aunt), The Grand Duchess of Mecklenburg Strelitz (her maternal aunt) and Princess Frederick Augustus of Anhalt Dessau (her first cousin). She was named Mary Adelaide Wilhelmina Elizabeth for her aunt Mary Duchess of Gloucester, the Queen, the King and her aunt the Landgravine respectively.
Mary Adelaide spent the early years of her life in Hanover, Germany, where her father acted as viceroy in place of her uncles George IV and later William IV. Her love of food and tendency to overeat led her to become seriously overweight, and to her subsequently being nicknamed "Fat Mary."
After the death of William IV, Mary Adelaide's cousin, Princess Victoria of Kent ascended the throne in 1837. However Salic law prevented Victoria from ascending the throne of Hanover, which instead passed to Prince Ernest Augustus Duke of Cumberland.
Thus, the Duke of Cambridge was no longer needed in Hanover, and returned to London with his family, setting up residence in Kensington Palace.
By the age of 30, Mary Adelaide was still unmarried. Her unattractive appearance and lack of income were contributing factors, as was her advanced age. However, her royal rank prevented her marrying someone not of royal blood. Her cousin Queen Victoria took pity on her, and attempted to arrange pairings.
Eventually a suitable candidate was found in Wurttemberg, Prince Francis of Teck. The Prince was of lower rank than Mary Adelaide, and was also the product of a morganatic marriage and had no succession rights to the throne of Wurttemberg, but was at least of princely title and of royal blood. With no other options available, Mary Adelaide decided to marry him. The couple were married on 12 June 1866, at Kew Church, Surrey.
Mary Adelaide requested that her new husband be promoted to the rank of Royal Highness but was refused by Queen Victoria. He was, however, promoted to the rank of Highness in 1887 to celebrate Queen Victoria's golden jubilee.
The Duke and Duchess of Teck chose to reside in London rather than abroad, mainly because Mary Adelaide was the only breadwinner for the Tecks. She received £5,000 per anum as a Parliamentary annuity for carrying out Royal duties. Her mother, Augusta Duchess of Cambridge, also provided her with supplementary income. Requests to Queen Victoria for extra funds were generally refused. However, Queen Victoria did provide the Tecks with apartments at Kensington Palace and White Lodge in Richmond Park as a country house.
Despite their modest income, Mary Adelaide had expensive tastes and lived an extravagant life of parties, expensive food and clothes, and holidays abroad. The debts soon built up and the Tecks were forced to flee the country in 1883 to avoid their creditors.
They travelled to Florence, Italy, and also stayed with relatives in Germany and Austria. Initially they travelled under the names of the Count and Countess von Hohenstein. However, Mary Adelaide wished to travel in more style and reverted to her royal style, which commanded significantly more attention and better service.
The Tecks returned from exile in 1885 and continued to live at White Lodge in Richmond Park. Mary Adelaide began devoting her life to charity, serving as patron to Barnardo's and other children's charities.
In 1891, Mary Adelaide was keen for her daughter, Princess Victoria Mary of Teck (known as "May") to marry one of the sons of the Prince of Wales, the future Edward VII. At the same time, Queen Victoria wanted a British born bride for the future king, though of course one of royal rank and ancestry – not some "lowly" noblewoman – and Mary Adelaide's daughter fulfilled the rank criteria.
After Queen Victoria's approval, May became engaged to the second in line to the British throne, Prince Albert Victor Duke of Clarence and Avondale. The death of Prince Albert Victor, Duke of Clarence and Avondale only six weeks later looked like a cruel blow. However, Queen Victoria was fond of Princess May and persuaded the Prince Albert Victor, Duke of Clarence and Avondale's brother, and next in the line of succession, the future George V, to marry her instead.
The marriage of May into the top rankings of the royal family led to a dramatic revival in the fortunes of the Tecks, with their daughter one day to be queen consort.
Mary Adelaide never saw her daughter crowned queen, as she died on 27 October 1897 at White Lodge, Richmond Park, Surrey, and was buried in the royal vault at St. George's Chapel, Windsor.
Of interest:
Mary of Teck (Victoria Mary Augusta Louise Olga Pauline Claudine Agnes) 1867 – 1953 was Queen consort of the United Kingdom and the British Dominions and Empress of India as the consort of George V.
Mary of Teck accompanied her mother when she opened the new extension of 100 beds at the London Homeopathic Hospital in 1895, Mary of Teck was the figurehead for the fundraising to move and expand the London Homeopathic Hospital (Anon, The Clinique, Volume 16, (Authority of the Hospital Board, 1895). Page 383. See also Anon, Physician and Surgeon, Volume 17, (Keating & Bryant, 1895). See also Dana Ullman, The Homeopathic Revolution: Why Famous People and Cultural Heroes Choose Homeopathy, (North Atlantic Books, 2007). Page 272-274).
Mary of Teck was the mother of George VI,
---