Henry Pelham Pelham Clinton 5th Duke of Newcastle under Lyme 1811 - 1864
January 13, 2010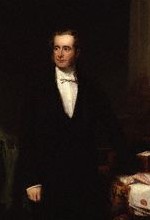 Henry Pelham Pelham Clinton 5th Duke of Newcastle under Lyme KG, PC 1811 - 1864, styled Earl of Lincoln before 1851, was a British politician.
Pelham was an advocate and a patient of homeopathy, and his wife was a patient of Samuel Hahnemann in Paris, and he was a sponsor of Mary Jane Seacole,
Pelham served under George Hamilton Gordon 4th Earl of Aberdeen, Henry Palmerston, Robert Peel, and he was a colleague of Laurence Oliphant, the private secretary to Lord Elgin (who was also patient of Samuel Hahnemann),
Newcastle was the son of Henry Pelham Clinton 4th Duke of Newcastle under Lyme, by his wife Georgina Elizabeth, daughter of Edward Miller Mundy. He was educated at Eton and Oxford.
Newcastle was returned to Parliament for South Nottinghamshire in 1832, a seat he held until 1846, and then represented Falkirk Burghs until 1851, when he succeeded his father in the dukedom.
Initially a Tory, he served under Robert Peel as First Commissioner of Works from 1841 to 1846 and as Chief Secretary for Ireland in 1846. He was admitted to the British Privy Council in 1841 and to the Irish Privy Council in 1846.
Newcastle joined the Peelite's in 1846 and held office in George Hamilton Gordon 4th Earl of Aberdeen's coalition government as Secretary of State for War and the Colonies between 1852 and 1852 and as Secretary of State for War and Secretary at War between 1854 and 1855, when he resigned over the Crimean War.
From 1859 to 1864 he served as Secretary of State for the Colonies in Henry Palmerston's Liberal administration. Apart from his political career he also held the honorary posts of Lord Lieutenant of Nottinghamshire from 1857 to 1864 and Lord Warden of the Stannaries from 1862 to 1864. He was made a Knight of the Garter in 1860.
Newcastle married Lady Susan (9 June 1814 – 28 November 1889), daughter of Alexander Hamilton 10th Duke of Hamilton, on 27 November 1832. They had five children:
Lord Edward William Pelham Clinton (11 August 1836 – 9 July 1907), who married Matilda Jane Cradock Hartopp (died 23 October 1892) on 22 August 1865.

Lady Susan Charlotte Catherine Pelham Clinton (died 6 September 1875), who married Lord Adolphus Vane Tempest (2 July 1825 – 11 June 1864) on 23 April 1860.

Lord Albert Sidney Pelham Clinton (22 December 1845 – 1 March 1884), who married Mrs Frances Evelyn Stotherd on 17 November 1870; they were divorced in 1877.
The marriage was unhappy and the Duke and Duchess were divorced in 1850, after a considerable scandal in which the Duchess eloped with Horatio Walpole 3rd Earl of Orford, and had an illegitimate child by him.
Newcastle died in October 1864, aged 53, and was succeeded in the dukedom by his eldest son, Henry.
His papers are now held at Manuscripts and Special Collections, The University of Nottingham.
---