John Towne Danson 1817 - 1898
January 12, 2010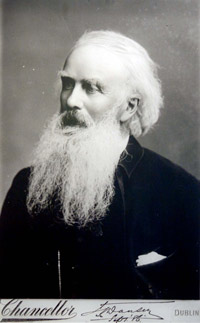 John Towne Danson 1817 - 1898 was a British  journalist under Charles Dickens at The Daily News, Editor of The Globe, and a leading figure in the history of Liverpool, he was Secretary and Underwriter of The Thames & Mersey Marine Insurance Company, he collected a famous archive, now housed at the National Archives,
Danson was interested in homeopathy, and a book entitled British and Asiatic Cholera, its homeopathic treatment (1846) was found in his archives,
Danson rented property from John Talbot 16th Earl of Shrewsbury (who brought Francesco Romani to Alton Towers in 1839, the very first homeopath to enter Britain), and it is most likely that Danson would have known Peter Stuart, a Liverpool shipowner, merchant, he laid the foundation for a vast Imperial trade for the British Empire, and as a lay homeopath, he devoted one afternoon a week for forty years to dispense homeopathic medication to the poor.
Also, Danson worked for Charles Dickens, who was a close friend of John Epps, James Manby Gully,William Hering, Frederick Hervey Foster Quin, Marmaduke Blake Sampson and Robert Masters Theobald,
From the National Archives - The Danson Family Archive: This collection is a rare example of a complete middle class archive. It begins in 1779 with the apprenticeship of John Danson to a Liverpool barber and peruke-maker. John became Liverpool's leading barber and perfumer. He charged 1/- for a haircut in 1823!
His son, William Danson, became rather an unsuccessful lawyer. Grandson, John Towne Danson, with whom the bulk of the archive begins had four distinct careers - journalist under Charles Dickens at the office of The Daily News, editor (briefly) of the Globe, farmer, barrister, marine insurance underwriter.
He was born in 1817, and from about 1852 until his death in 1898, kept copies of all his letters. He kept original letters received, too, of course! He kept a diary, accounts, day books, all bills, took photographs and sketched. He was interested in every issue - philosophy, economics, statistics, politics and science.
His first book was a joint effort, The Inventor's Manual, 1843. Other titles followed: The Wealth of Households, reprinted by Oxford University Press in 1886, Our Commerce in War, Our Next War and a heavy share in the compilation of Reverend John Owen's The Sceptics of Renaissance, along with a continuous stream of pamphlets and articles.
Like the typical Victorian, he loved to moralise; he occupied every minute in 'profitable' mental or physical activity, and sought to leave a full record of it all to posterity.
His son, Francis, by his local political and professional activity (as an average adjuster), along with consistent patronage of Liverpool University, the School of Tropical Medicine, the Institute of Archaeology and other good causes achieved much greater popularity. He was knighted on account of his work for the Admiralty in the First World War. His famous collection of antiquities has come to the National Museums Liverpool by bequest.
Much significant material relating to journeys abroad or residence abroad by members of the family has been found, including Australia, Burma, Canada, Middle East (1st World War and Egypt), France, Germany and Italy and the Low Countries.
JOHN TOWNE DANSON (1817-1898) STATISTICIAN, ENTREPRENEUR & UNDERWRITER John Towne Danson, son of an unsuccessful lawyer, was brought up in Liverpool, with strong seafaring connections on his mother's side. His uncle, James Towne, was the Captain of an African trader, owned by Sir John Tobin. He went to London to seek his fortune and had four distinct careers - journalist under Charles Dickens at the office of The Daily News (and editor (briefly) of The Globe), farmer, barrister, marine insurance underwriter.
In 1859 he wrote a pamphlet which showed that Liverpool handled 50% in value of Britain's exports, and that some 4,451,000 tons of shipping had used the port in 1858-59. This made Liverpool unquestionably the world's greatest port, yet the local marine underwriting market was quite inadequate. Danson therefore proposed the formation of a joint stock marine insurance company.
Thus on 23 June 1860, the first provincial joint stock Marine Insurance Company was set up in Liverpool, styled 'The Thames & Mersey Marine Insurance Company', with separate boards for Liverpool (the biggest), London and Manchester. John Towne Danson was appointed Secretary. In 1866 he became its underwriter, only to retire in 1880, in disgust at the growing practice of dealing with brokers.
His second home, Dry Close in Grasmere, became his main residence, and there the archives accumulated…
Though 'autocratic, argumentative and dogmatic' according to the official history of the company, he had an amazing grasp of facts and figures. He was occasionally wrong, as where he prophesied the downfall of Lloyds.
The family archives are, not surprisingly, vast - a unique mirror of the Victorian era and are held by the Archives Department. They contain very many items of maritime and social interest.
Of interest:
SIR FRANCIS DANSON Kt. (1855-1926) UNIVERSITY PATRON, AVERAGE ADJUSTER AND CONNOISSEUR: Sir Francis Chatillon Danson was an original member of the University Court and Council from 1903, and Deputy Treasurer from 1903-1914.
From 1902 he was a member of Committee of the Liverpool School of Tropical Medicine, becoming Chairman in 1913, retaining this office till his death. He was also Chairman of the Governors of the Liverpool Institute Schools, a Governor of Sedbergh School, a keen member of the Committee of the University Institute of Archaeology, as well as being President of the Liverpool Chamber of Commerce, 1896-99, Chairman of Birkenhead Conservative Party, 1896-1904, a JP, serving from 1909 on the Mersey Docks and Harbour Board (being Chairman of the Finance Committee from 1914 on), Chairman of the Liverpool Shipwreck & Humane Society and President of the Liverpool Philomathic Society, 1913-14.
In between a full time career as head of the firm which he himself founded in 1879, FC Danson & Co., probably Liverpool's leading firm of Average Adjusters, he found time to serve on the Admiralty Transport Arbitration Board from 1914, and as Government Representative on the Liverpool and London War Risks Association from 1915 and to be a member of the International Law Association.
He was also an active member and sometime Chairman of his own national professional association, as well as of the Liverpool Association of Average Adjusters which existed from 1882 to 1916. He was knighted in 1920.
Sir Francis was only 71 when he died. He was never able to retire from business owing to the large number of claims dating back to the 1914-18 War. He was clearly a man with many times the mental and physical energy of most men. Yet 'his active, cheery and kindly disposition endeared him to all', said the Chairman of the Dock Board, on the news of his death.
Sir Francis had always been a worker. So hard had he worked at business prior to 1898, when he took his first partner, that he had a complete nervous breakdown. Advised by his doctors to take a complete rest, he merely changed the emphasis of his activities.
From this period dates his wider involvement in public work and his lifelong interest in antiquities and archaeology. His recuperative trip to Egypt is well covered by the archives. The ephemera of his voyage down the Nile include bills from Shepherd's Hotel, Cairo, and the card of Ahmed Whaba, 'Drogman and Contractor for Cairo, up the Nile, Syria and Palestine'. From this point on he found release in building the extremely fine collection of Egyptian and classical antiquities which have now joined the collections in the Antiquities Department of the National Museums Liverpool.
Sir Francis' own letters survive in 11 wet - copy letter - books covering 1884-1911 and 1925-1926. Letters received date from 1872 - the first item being a letter of advice from his father, John Towne Danson, which has been favourably compared to that of Lord Chesterfield!
From 1890 the series is almost continuous, containing over 6,000 letters. Some distinct bundles are labelled 'Association of Average Adjusters', 'Chamber of Commerce' and 'Archaeology'.
An index has been compiled. Among the correspondents are Professors Sir William Mitchell Banks (Anatomy); D B Blacklock (Tropical Diseases of Africa, Parasitology, Tropical Hygiene); R C Bosanquet (Classical Archaeology); A B Boswell (Russian History, Language and Literature); Sir Rubert Boyce (Pathology, Dean of School of Tropical Medicine, 1899-1911); F S Carey (Mathematics); Richard Caton (Physiology); Sir Alfred Dale (last Principal of the University College and first Vice Chancellor of the University); John Garstang (Methods and practice of Archaeology); Ernest E Glynn (Pathology); R Harvey Gibson (Botany); P Hebblethwaite (Registrar); Sir William A Herdman (Natural History, Oceanography); E W Hope (Hygiene); Sir Oliver Lodge (Physics); Kuno Meyer (Teutonic Languages, Celtic); Ramsay Muir (Modern History); Sir John L Myres (Greek); R Newstead (Entomology); Bernard Pares (Russian History, Language and Literature); A M Paterson (Anatomy); Sir Charles Reilly (Architecture); Sir Ronald Ross (Tropical Medicine and Sanitation); Sir Charles Sherrington (Physiology); J M W Stephens (Tropical Medicine); J A Twemlow (School of Local History and Records); W O Williams (Veterinary Medicine); Warrington Yorke (Parasitology, Tropical Medicine); also the second Vice Chancellor, Dr. J G Adami; Pro Chancellor, T W Alsop; Pro Chancellor, Sir Edward Lawrence; Registrar, Dr. E Londini and Mr. Keith W Monsarrat (Dean of Faculty of medicine).
Letters from University benefactors include those of Robert Gladstone, Treasurer of University College; Sir Alfred Lewis Jones of West Africa and Canary Islands (bananas) fame; Sir W H Lever (later Lord Leverhulme); John Rankin and Pro Chancellor, H R Rathbone.
The correspondence relating to archaeology and the School of Tropical Medicine is especially useful, as one would expect, since they were Sir Francis' major interests. Professor Garstang was clearly a family friend…
The correspondence as a whole reflects vividly, the many commitments of Sir Francis and leaves one with a feeling or breathlessness. His political activity coincided with the rise to power of Sir Archibald Salvidge, probably Liverpool's greatest political 'boss' of any party. A number of letters from Salvidge are present. The MP for Birkenhead sponsored by Sir Francis, Sir Elliott Lees, achieved some notoriety by representing his constituency while fighting in the Boer War.
The letters of Sir Elliott are valuable source material regarding the War. Sir Francis was also a pioneer motorist, hence the considerable correspondence with early motor companies.
THE THIRD AND LAST GENERATION Sir Francis' two sons left no issue. Rudolph was killed at the Dardanelles in 1915. Raymond, b.1893, a confirmed bachelor, died in 1976 aged 82.
The School of Tropical Medicine was one of the three residuary legatees of his estate, the others being the Old Sedberghians Trust Fund and Trinity College, Oxford, which received his magnificent library, including Caxton first editions. He served with some distinction in both World Wars, earning the M C in the 1st and as Lieutenant Colonel, commanding the Fourth Battalion Cheshire Regiment at Dunkirk in the 2nd.
Not only letters but an interesting variety of other military documents and relics are in the Colonel's section of the archives. Other documents relate to the study and exhibition of the antiquities his father and he collected.
He continued his father's patronage of the School of Tropical Medicine, becoming its Chairman and giving some £20,000 towards a new clinic (which he intended to be an anonymous gift!).
In 1953 he retired, aged 60 and also retreated to Dry Close, the house at Grasmere, which his grandfather had built when he retired in 1880. There among the books and antiquities, which had all been moved in 1940 or thereabouts from the family house, 'Rosewarne', in Bidston Road, Birkenhead (now an old people's home), when it was sold, the Colonel devoted himself mainly to his world renowned collection of Egyptian and Sudanese stamps. Numerous letters have been preserved relating to this activity.
---