James Gambier 1st Baron Gambier 1756 - 1833
January 04, 2010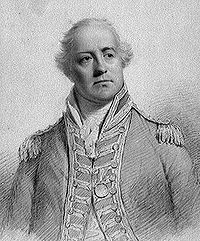 Sir James Gambier 1st Baron Gambier, GCB, 1756 - 1833, was an Admiral of the Fleet of the Royal Navy, who served as Governor of Newfoundland, and as a Lord of the Admiralty, was a Patron of the homeopathic hospital in Smyrna,
The homeopathic hospital in Smyrna, was also supported by: Arthur Algernon Capell 6th Earl of Essex, Lord Lovaine MP (Algernon George Percy 6th Duke of Northumberland), Admiral Gambier, George Wyndham 1st Baron Leconfield, Colonel Taylor, Edmund Gardiner Fishbourne, Robert Grosvenor 1st Baron Ebury, Richard Whately Archbishop of Dublin, Henry Charles FitzRoy Somerset 8th Duke of Beaufort, Arthur Wellesley 1st Duke of Wellington, James Hamilton 1st Duke of Abercorn, and 18 other members of the House of Lords, 43 Peer's sons, Baronets and Members of Parliament, 17 Generals, 33 Field Officers, 43 other Officers of the Army, 2 Admirals, 15 Captains of the navy, 65 Clergymen, 45 Justices of the Peace, Barristers and Solicitors, and 314 Bankers, Merchants and others.
Gambier was born on 13 October 1756 in New Providence the Bahamas, the second son of John Gambier, the Lieutenant Governor. His mother, Deborah Nee Stiles was Bermudian, and he remained the patron of an extended, but impoverished, Bermudian family throughout his adult life. Gambier was a nephew of Vice Admiral James Gambier and of Admiral Sir Charles Middleton Lord Barham.
He entered the Navy in 1767 as a midshipman on board the HMS Yarmouth, commanded by his uncle, which was serving as a guardship in the Medway, and followed him to server onboard HMS Salisbury (60)in 1769 where he served on the North American station. He transferred to HMS Chatham (50) under Rear Admiral Parry, in 1772, in the Leeward Islands. Gambier was placed on HMS Spy sloop, and he was posted to England to serve on HMS Royal Oak (74), a guardship at Spithead.
He was commissioned as a Lieutenant on 12 February 1777, where he served in a successively in the Shark sloop, the frigate Hind (24), then HMS Sultan under ViceAdmiral Lord Shuldham in 1777, and in HMS Ardent (64) under his uncle's flag. Lord Richard Howe promoted Lieutenant Gambier to Master & Commander on 9 March 1778, commanding the bomb ship Thunder, which was promptly dismasted and surrendered to the French. He was taken prisoner for a short period and when he was exchanged he was made a Post Captain on 9 October 1778, at the age of 22, and appointed to the 32-gun frigate HMS Raleigh.
He served under his father and under Vice Admiral Mariot Arbuthnot. In 1780 he was appointed commander of HMS Endymion, cruising in British waters.
In 1783, at the end of the American War of Independence, he was placed on half pay, and married in July 1788.  In February 1793 following the declaration of war with France, Captain Gambier was appointed to command the 74 gun HMS Defence under Lord Richard Howe. As captain of the Defence Gambier saw action at the battle of the Glorious First of June in 1794, gaining the distinction of being the first ship to break through the enemy line. He subsequently received the Naval Gold Medal and was appointed Colonel of Marines (a sinecure involving no duties, but excellent pay).
In 1795, he was promoted to rear admiral and appointed as one of the Lords of the Admiralty. He gained promotion to vice admiral in 1799, and in 1801, was appointed commander of the 98 gun HMS Neptune and third in command of the Channel Fleet under Admiral William Cornwallis.
From 1802-04, he served as Governor of Newfoundland and Commander in Chief of all ships appointed there. He then returned to the Admiralty, and was promoted to full Admiral in 1805.
In 1807 Gambier volunteered to command the naval forces sent as part of the campaign against Copenhagen. He saw action in the 2nd Battle of Copenhagen in flagship HMS Prince of Wales. Together with General Lord Cathcart, he oversaw the bombardment of Copenhagen from 2nd September until the Danes capitulated after three days (an incident that brought Gambier some notoriety in that the assault included a bombardment of the civilian quarter). Prizes included eighteen ships of the line, twenty one frigates and brigs and twenty five gunboats together with a large quantity of naval stores, for which he received official thanks from Parliament, and on 3 November 1807 a peerage, becoming Baron Gambier of Iver.
---