Henry Edmund Gurney 1821 - 1905
January 03, 2010
**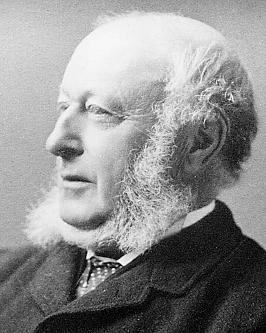 Henry Edmund Gurney **1821 - 1905 was a British banker in the bank Overend, Gurney and Company, which went spectacularly bankrupt in 1866, the only other comparable bank run was the recent Northern Rock debacle in 2008,
Henry Edmund Gurney and his wife were advocates of homeopathy,
Henry Edmund Gurney offered to fund clinical trials into homeopathy at St. George's Hospital, which was turned down out of hand (Anon, The Lancet, Rapport du Comité consultatif: Report of the Advisory committee, International Financial Conference, League of Nations, (Imprimé pour la Société des nations, Harrison & sons, 1860). Page 611) by an allopathic establishment.
The Gurney family included Harriet Alicia Gurney (1825-1843), the first wife of William Francis Cowper Temple 1st Baron Mount Temple (1811-1888), who was a niece of Elizabeth** Fry** (1780-1845).
In 1860, homeopath David Wilson wrote to the Editor of The Morning Advertiser offering to assist St. George's hospital in its desperate financial troubles by offering homeopathy instead of the very expensive allopathic regime.
David Wilson offered to conduct clinical trials into homeopathy at St. George's Hospital over a three year period, funded by Henry Edmund Gurney - all expenses would be met by his bank, using 50 beds at St. George's hospital for this said trial, and should these trials be successful, Henry Edmund Gurney offered to fund a further 30 beds at St. George's Hospital.
David Wilson explained that a similar offer had been made by Henry Peter Brougham 1st Baron Brougham and Vaux to University College Hospital, who had 70 beds standing empty for lack of funds. _The Lancet _commented pithily that this offer would not even have been published were it not for the use of the name Henry Edmund Gurney associated with it.
When the offer was refused, David Wilson approached St. Mary's Hospital with a similar offer, which was also refused. Mrs. Gurney then increased her offer of help from £1000 to £6000 (Hugh Hastings, A retrospect of allopathy & homoeopathy: for the last thirty years, with cases, (Homoeopathic Pub. Co., 1883). Pages 79-80), if David Wilson could have access to only 10 beds for his clinical trials, but even this generous offer was still refused.
Henry Edmund Gurneywas the son of Samuel Gurney who was also an ardent supporter of homeopathy, (as was was his wife) who made the bank Overend, Gurney and Company:
Overend, Gurney and Company was for about forty years the largest discounting house in the world. At first only discounting bills, it soon came to lending money on all sorts of securities.
In the panic of 1825, the firm were able to lend money to many houses to tide them over their difficulties; this brought them into even greater favour. Samuel Gurney became known as "the bankers' banker", and many firms who had previously dealt with the Bank of England now commenced depositing their surplus cash in his hands.
At the time of Samuel Gurney's death in 1856, it was calculated that this house held deposits amounting to eight million pounds sterling…
Samuel Gurney was a Quaker, related to Elizabeth Fry, and he was actively involved in the campaigns for Penal reform and criminal justice, anti slavery, and many other philanthropic and important causes… (Henry Edmund Gurney and presumably his brothers continued this good work),
… The directors of the company were tried at the Old Bailey for fraud based on false statements in the prospectus for the 1865 offering of shares. However, the Lord Chief Justice Sir Alexander Cockburn said that they were guilty only of "grave error" rather than criminal behaviour, and the jury acquitted them.
The advisor was found to be guilty. Although some of the Gurneys lost their fortunes in the bank's collapse, the Norwich cousins succeeded in insulating themselves from the bank's problems, and the Gurneys Bank (run by Samuel Gurney's brother Joseph John Gurney), escaped significant damage to its business and reputation.
… Henry Gurney's only involvement in the financial world after the crash of Overend and Gurney was as the director of a number of insurance companies…
Henry Edmund Gurney lived at Nutfield Priory and afterwards at 'Nutwood', Reigate. Partner in Overend, Gurney &  Co., Billbrokers of Lombard Street, London. Married Jane, eldest daughter of Henry Birkbeck. She died 24th November 1888; he died 24th November 1905.
Henry Edmund Gurney and his brothers were subscribers to the Roman Wall Antiquities Society,
Of interest:
Ernest Bunsen, one of the sons of Christian Karl Josias Bunsen, was married to a Miss Gurney ?a relative? in 1848. Christian Karl Josias Bunsen was a patient of Johann Wilhelm Wahle in Rome, and in London, he was a patron of the Hahnemann Hospital at 39 Bloomsbury Square in 1850, Christian Karl Josias Bunsen was treated with homeopathy in 1857, and his wife Frances Waddington Bunsen was also a 'resolute' advocate of homeopathy.
Elizabeth Fry 1780 - 1845 was a Gurney, and Gurney's bank sponsored much of her philanthropic work in prisons, on anti slavery and on other social reforming projects.
Edmund Gurney 1847 - 1888 was an English psychologist and psychical researcher, and a distant relative of the banking Gurneys. Edmund Gurney was associated with the Society for Psychical Research, and a friend of Frank Podmore, the case of the Rev. T H Morgan was recorded in Phantasms of the living by Edmund Gurney (a relative of Katherine Maria Routledge), Frederic William Henry Myers, Frank Podmore, and in Enigmas of psychical research by James Hervey Hyslop, (Rev. T H Morgan was on the Management Committee of the Birmingham Homeopathic Hospital),
… John Henry Gurney, of Keswick Hall, Norwich, born at Easton 31st July, 1848; married, 25th October, 1876, Margaret Jane, 2nd daughter of Henry Edmund Gurney, Esq. of Nutwood, Surrey, and has a son and 3 daughters…
Sir Goldsworthy Gurney 1793 - 1875 was a surgeon, chemist, lecturer, consultant, architect, builder and prototypical British gentleman scientist and inventor of the Victorian period. A member of the Norwich Gurney family, Goldsworthy Gurney experimented with homeopathic remedies, producing noticeable results on homeopathic remedies by the application of chemical substances to produce the effect of heat.
Joseph John Gurney 1788 – 1847 was a banker in Norwich, England and an evangelical Minister of the Religious Society of Friends (Quakers), whose views and actions led, ultimately, to a schism among American Quakers. Joseph John Gurney was an associate of John Epps and James John Garth Wilkinson from the time when they were all fellow lecturers on the campaign circuit in 1848 (Mabel Phythian Tylecote, The Mechanics' Institutes Of Lancashire And Yorkshire Before 1851, (Manchester University Press ND, 1957). Page 151).
Marion Gurney was also a supporter of homeopathy,
Marian Gurney was the daughter of Henry Edmund Gurney. She married Rev. Hon. William Talbot Rice, son of Francis William Rhys 5th Baron Dynevor and Harriet Ives Barker, on 10 November 1887. She died on 17 April

Reigate. Surrey. Her married name became Rice. She lived Nutwood. Children of Marian Gurney and Rev. Hon. William Talbot Rice: Mervyn Talbot Rice; Winifred Marian Rice b. 21 Sep 1888; Francis Edmund Talbot Rice b. 30 Dec 1889, d. 2 Feb 1890; Dorothy Jean Rice b. 22 Aug 1891, d. 20 Dec 1974; Katheryn Cecil Rice b. 30 May 1893; Muryell Gladys Rice b. 26 Mar 1895, d. 1989; Victoria May Rice b. 9 May 1897; Mervyn Gurney Talbot Rice b. 4 Jul 1899, d. 7 Nov 1979; Lettice Evelyn Rice b. 6 Jul 1901.
Overend, Gurney & Company was a London wholesale discount bank, known as "the bankers' bank", which collapsed in 1866 owing about 11 million pounds, equivalent to £981 million at 2008 prices. Until events at Northern Rock in September 2007, it was the last run on a British bank.
Russell Gurney, judge and politician,was a patient of John Moorhead Byres Moir, (his wife, was also an ardent supporter of homeopathy),
---