John Peake Knight 1828 - 1886
December 18, 2009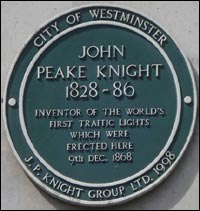 John Peake Knight 1828 -  1886 was a British railway engineer, who invented the original traffic light in 1868.
John Peake Knight was a member of the Management Committee (George Atkin, The British and Foreign Homeopathic Medical Directory and Record, (Groombridge & Sons, 1853). Page 37) of the London Homeopathic Hospital, a member of the Management Committee (Anon, The British Journal of Homeopathy, (1847). Page 550) of the British Homeopathic Association, a Sponsor of homeopathy, and a Steward of the 1851 Annual Festival in aid of the London Homeopathic Hospital (Marmaduke Blake Sampson, The concluding task of the disciples of homœopathy, an address by M.B. Sampson delivered at a general meeting of the British Homeopathic Association, together with a report of the proceedings of the meeting__, (1849). Frontispiece British Homeopathic Association member, page 47 sponsor, page 86 Committee member). ** **
From http://www.icevirtuallibrary.com/content/article/10.1680/imotp.1887.21323;jsessionid=dcvbvjqx9ay.z-telford-01 John Peake Knight was born in Nottingham on the 13th of January, 1828, and was educated at the local Grammar School, the Rev. W. Butler being then head master.
He left school in 1841, and commenced his business life in the Parcel and Telegraph Offices of the Midland Railway a t Derby Station, where his elder brothers, William and Sam, were likewise then employed.
He was also for a short time engaged with Mr. Peter Clarke on the York and North Midland line at York Station, acting in the capacity of private secretary to that gentleman…
From http://www.bbc.co.uk/nottingham/content/articles/2009/07/16/john_peake_knight_traffic_lights_feature.shtml Engineer John Peake Knight was a railway manager. He specialised in designing signalling systems for Britain's growing railway network. He saw no reason why these couldn't be adapted for use on the road.
Knight's love of trains dates back to when he was only 12. He dropped out of his Nottingham grammar school and joined his two brothers in the parcel room of the Midland Railway.
Before long he'd left the East Midlands to work in the Brighton area. By the time he was 25 he was Superintendent of the South Eastern Railway. He continued to rise through the railway ranks until a stroke cut his life short at the age of 59.
John Peake Knight wasn't really an inventor but he could spot a good idea and use it. He's credited as being one of the first to introduce emergency brake cords in trains.
In 1865 he pproached the Commissioner of the Metropolitan Police with an idea to use a railway signalling system on the roads of London. At the time there were no cars on the road but there was growing concern at the number of horse drawn carriages and danger to pedestrians.
Knight's proposal was to use a semaphore system - a method where an arm was either in a horizontal position or at an angle. This determined whether a train could pass or not. The Notts engineer decided to treat main roads and side roads as if they were main and branch railway lines. The semaphore method would be used during the day and at night red and green lights would be operated instead. These would be powered by gas.
It would take three years before the plan was implemented but on 9 December 1868 the world's first traffic lights were installed at the junction of Great George Street and Bridge Street in the London borough of Westminster, close to Westminster Bridge. Policemen would stand next to the signals all day in order to operate them. It was an immediate success.
Knight confidently predicted more signals would appear in the centre of London. But a month into the project disaster struck. One evening a leaky gas mains resulted in one of the traffic lights exploding in the face of the policeman who was operating them. He was badly burnt.
The project, so enthusiastically greeted, was immediately dropped. It would be 40 years before traffic lights reappeared and this would be in America.
They would only become a common sight in London in 1929 when the first electric signals were introduced. But it was a Nottingham man who had the inspiration.
From http://en.wikipedia.org/wiki/J._P._Knight This was not the traffic light we know now, but was a revolving gas powered lantern with a red and a green light.
Knight's invention was similar to the railway signals of the time. The traffic light was originally placed near London's House of Commons, at the intersection of George and Bridge Streets (SW1). The lights exploded during use in 1869 and were removed by 1870.
For his secondary education, he attended Nottingham High School. In 1910, Earnest Sirrine improved the light by adding automatics. He also changed the red and green lights to words that read proceed and stop.
In 1912, Lester Farnsworth Wire opted to go back to the red and green lights. However, this time, electric lights were used instead of the original gas powered lanterns.
Of interest:
Arthur Knight was a British homeopath in 1873,
John Peake Knight 1890 - 1916, grandson of John Peake Knight, was killed in WW1:
To The Glory of God And In Honoured and Loving Memory of Captain John Peake Knight, D.S.O. Royal Horse Artillery aged 26, The Eldest Son of James Percy and Ellen Gray Knight, Husband of Phllis Olivia Knight and father of Anne Peake Knight. He served with the First Seven Divisions from Mons to the Somme and was Killed in Action near Montauban France on August 311916 whilst commanding the 35th Battery Royal Field Artillery. He received the Distinguished Service Order from His Majesty King George Vth on the Battlefield at Haazebrucke on Dec. 3 1914 and was twice Mentioned in Dispatches. He Gave his pure soul unto his Captain Christ under whose colours he had fought so long. This Window Was Erected By His Parents 1917.
James Percy Knight was the son of John Peake Knight who it is claimed whilst living at 1 Bridge Street, London opposite the House of Parliament had noticed the congestion of traffic, he came up with the idea of traffic lights.
James Percy had followed his father into the London Brighton and South Coast Railway, Newhaven Packet Port and also ferry maintenance. Here he noticed a need for tug support and started the company J P Knight in 1892 with 3 tugs.
This business became very successful and James and Ellen funded the window in St Augustine's church. John Peake Knight [1890-1916] had married Olive Grey O'ey 21 November 1914 and they had the following children Anne Peake Knight and John Knight. Anne Married Alan George Bazell who later was a POW in Java in WW2, she divorced him in 1942. Olive married Howard George Edwin Wall Row in 1919 and had a son Hugh [1923 - 1993].
---