Nathaniel Barton 1799 - 1867
December 17, 2009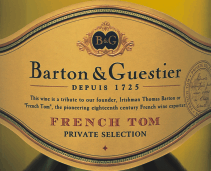 Nathaniel Barton 1799 - 1867 (for photo see the website of Homeopathe International by Peter Morrell and Sylvain Cazalet), was an Irish High Sheriff, a Deputy Lieutenant, and Justice of the Peace, and a partner in the firm of Barton and Guestier, which still operates today, the Barton dynasty is believed to be the longest period of single family ownership of any vineyard in Bordeaux.
Nathaniel Barton was on the Management Committee, a Treasurer and a Trustee of the London Homeopathic Hospital, a Steward at the 1851 Annual Festival in aid of the London Homeopathic Hospital,
Nathaniel Barton was a friend of Washington Irving, the brother in law of Henry van Wart (a Trustee of the Birmingham Homeopathic Hospital),
Member of the Board of Management 1849-1856. Trustee of the Hospital 1859-1866. One of the most liberal and devoted of the early supporters of the Hospital.
Nathaniel Barton resigned from his posts at the London Homeopathic Hospital in 1860 to move abroad for the health of some members of his family,
Nathaniel Barton, the son of Hugh Barton, was a young friend of Washington Irving's. He later became a partner in the firm of Barton and Guestier, wine merchants…
Nathaniel Barton was born on 7 September 1799. He was the son of Hugh Barton and Anne Johnston. He married Mary Susanna Scott (daughter of the British Consul to Bordeaux), daughter of Harry Harmood Scott and Anne Ogle, on 12 July 1823. He died on 29 November 1867 at age 68. (Mary died in Nice in 1867),
Nathaniel Barton held the office of High Sheriff in 1850. He held the office of Deputy Lieutenant (D.L.). He held the office of Justice of the Peace (J.P.). He lived at Straffan House, Straffan, County Kildare, Ireland.
Children of Nathaniel Barton and Mary Susanna Scott: Mary Esther Isabella Barton d. 11 Jan 1844; Anna Susan Frederica Barton; Isabel Charlotte Barton; Alice Catherine Harriet Barton d. 17 Apr 1867; Major Hugh Lynedoch Barton b. 30 Aug 1824, d. 23 Feb 1899;  Harry Fitzgerald Barton b. 21 Aug 1826, d. 17 May 1848; Bertram Francis Barton  b. 19 Mar 1830, d. 11 Sep 1904; Charles Thomas Hugh Barton  b. 23 Nov 1834, d. 11 Sep 1871; Francis Savile Barton b. 23 Nov 1836, d. 3 Jan 1860;
Hugh Barton (1766-1854) purchased and built a new house (1828-31, designed by Frederick Darley) slightly downriver from the Henry's burned out home. Twenty years later an attic added and a distinctive mansard roof, the stacks raised and embellished in French style.
An Italian style campanile tower with gilded vane was added later. The refurbished house was based on a chateau at Louveciennes.
Hugh Barton (1766-1854) was in turn succeeded by Nathaniel Barton (1799-1867), Hugh Lyndoch Barton (1824-1899), Bertram Francis Barton (1830-1904), Bertram Hugh Barton (1858-1927) and Capt Frederick (Derick) Barton (1900-1993).
The first five generations of Bartons owned both the estate at Straffan and the family's 37-hectacre vineyard in St Julien near the Gironde north of Bordeaux, producers of Chateau Leoville Barton and Chateau Langoa Barton.
On his death Bertram Barton left the Straffan estate to his eldest son Derrick and the Bordeaux estate to his second son Ronald Barton. Anthony Barton moved to St Julien in 1951 and took over the vineyard on the death of Ronald in 1986.
The Barton dynasty is believed to be the longest period of single family ownership of any vineyard in Bordeaux.
With almost three centuries of experience in the wine business, the Barton & Guestier name is known to millions of consumers worldwide. The brand's expertise guarantees quality of rare regularity, and reassures the consumers in an increasingly complicated market.
Barton and Guestier is always attuned to the needs of consumers in different markets and therefore constantly innovates. The company not only sells wine, but also conveys a message of quality via its wines, its packaging, its distribution, as well as its communication and promotional tools.
The company's founder, Thomas Barton, left his native Ireland and emigrated to Bordeaux when he was just 30 years old. He was a true adventurer, looking to make his fortune, and founded a shipping company in 1725.
The first barrels of wine were naturally exported to Ireland, which, along with Holland, was the biggest market for Bordeaux in the early 18th century. Very quickly, his efforts brought an unbelievable level of prosperity. He was the first shipper to have his own wine estates.
By 1747, Thomas Barton was considered Bordeaux's number one shipper. His loyal clients nicknamed him "French Tom". His family, his associates and his successors followed his example.
In 1802, his grandson, Hugh Barton, teamed up with his friend Daniel Guestier, a French shipowner, to create Barton and Guestier. Both men's children and grandchildren went into the business, until the mid 20th century.
Today, a dedicated team and over a hundred distributors continue to develop the Barton and Guestier brand worldwide.
Of interest:
Joseph Barton was on the Management Committee of the British Homeopathic Association in 1847,
---