Edward Charles Blount 1809 - 1905
December 12, 2009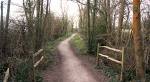 Sir Edward Charles Blount 1809 - 1905, Legion of Honour, Knight Commander, Order of the Bath, was a British Member of Parliament for Steyning, Consul to Paris in 1871, second son of the sixth Baronet, was an English banker in Paris, and Chairman of the Ouest railway
Edward Blount was a Patron (George Atkin, The British and foreign homœopathic medical directory and record, (Groombridge & Sons, 1855). Page 77) of the Kidderminster Homeopathic Dispensary, and a member of The Holland House set,
Edward Blount lived at Imberhorne Farm in East Grinstead, and he had a policy of looking after his staff so well that they were cared for throughout their retirement and never forced out of their homes when they became too old to continue working.
Edward Charles Blount was born on 14 March 1809. He was the son of Edward Blount and Frances Wright. He married Gertrude Frances Jerningham, daughter of William Charles Jerningham and Anne Wright, on 18 November 1834. He died on 15 March 1905 at age 96. Sir Edward Charles Blount was Consul to Paris in 1871. He was decorated with the award of Legion of Honour. He was invested as a Knight Commander, Order of the Bath (K.C.B.). He lived at Imberhorne, Sussex, England. He has an extensive biographical entry in the Dictionary of National Biography. Children of Sir Edward Charles Blount and Gertrude Frances Jerningham: Alice Mary Blount d. 9 May 1873; Mary Frances Gertrude Blount d. 13 Jun 1871, Nellie Blount d. 1860, Herbert Aston Edward Blount b. 22 Apr 1837, d. 21 Jul 1878; Henry Edmund Blount b. 16 Dec 1844, d. 10 Jan 1911,
Edward Blount was a British banker who became President of the Societe Generale in Paris. In later years Henry Blount was to be a leading figure in a Parisian tragedy.
In May 1897 he was chief organiser of a Grand Charity Bazaar that was held annually in the Rue Jean Goujon.
Usually Emile Waldteufel and his orchestra performed at the bazaar, but on this occasion the organising committee introduced a new attraction - the kinematograph. At 4 p.m. on the first day of the bazaar a fire broke out, started by lamps used in connection with the kinematograph and fuelled by the tarpaulin above the apparatus.
The flames spread rapidly, and there was panic in the crowded arena as everyone pressed for the exit. Some 120 people died in the disaster, with many others burned - among them Henry Blount, the younger son of Edward Blount.
Edward Blount an English banker in Paris, who was afterwards for thirty years chairman of the Ouest railway.
After the rejection in 1838 of the governments proposals for the construction of seven trunk lines to be worked by the state, he obtained a concession for that piece of line on the terms that the French treasury would advance one third of the capital at 3% if he would raise the remaining two-thirds, half in France and half in England.
The Holland House set (act. 1797–1845) was a brilliant circle of whig politicians and men of letters which flourished around Henry Richard Fox, third Baron Holland, and his remarkable wife, Elizabeth Vassall Fox, Lady Holland, at their magnificent Jacobean mansion at Kensington, two miles west of Marble Arch… (Mary Augusta Fox Holland, the daughter in law of Elizabeth Vassall Fox and Henry Richard Fox lived in Naples and knew the Countess of Blessington and Frederick Hervey Foster Quin),
---