The de Selincourt Family and homeopathy
December 06, 2009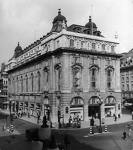 The de Selincourt Family were advocates and supporters of homeopathy in the mid 19th Century, the family wives and daughters taking part in fundraising events to support homeopathy, alongside Robert Grosvenor 1st Baron Ebury, and the wives and daughters of George Calvert Holland, Henry William Paget Marquess of Anglesey, Alfred Crosby Pope, The Rosher Family, Charles Edwin Wheeler, James John Garth Wilkinson, Stephen Yeldham, and many others,
The father Martin was a successful businessman, owning the Swan & Edgar store in London.
The Selincourt Family were related to Alan Alexander Milne, and knew William Wordsworth and Dorothy Wordsworth,
Aubrey de Selincourt 1894 – 1962 was an English writer, classical scholar and translator,
Educated at the Dragon School and Rugby School, he won an open classical scholarship to University College, Oxford. He is best known for his translations (all for Penguin Classics) of Livy's The Early History of Rome (Books I to V) and The War with Hannibal (Books XXI to XXX), Herodotus's Histories, and Arrian's The Campaigns of Alexander.De Selincourt served with the North Staffordshire Regiment at Gallipoli and later as a pilot in 25 Squadron RFC. On 28 May 1917, he was shot down, while flying an FE2d, by Werner Voss, becoming the latter's 31st victory and a prisoner of war for the remainder of the First World War (Diggens 2003:57).
Aubrey de Selincourt taught as a master at the Dragon School, Oxford, then as Headmaster at Clayesmore School, Dorset, followed by master at Bryanston School, Dorset. He also wrote for the Manchester Guardian and the English Review.
After retiring in 1947, de Selincourt settled in the Isle of Wight, and devoted himself to writing. He died there in 1962.
De Selincourt's father Martin was a successful businessman, owning the Swan & Edgar store in London. de Selincourt was brother in law to Alan Alexander Milne, who married his sister Dorothy.
In 1919, de Selincourt married the English poet Irene Rutherford McLeod from Croydon, Surrey.
Their daughter Lesley married Christopher Robin Milne. He had another daughter, Anne.
His uncle, Henry Fieness Speed, was the author of 'Cruises in Small Yachts and Big Canoes', first printed in 1883.
He suffered from some degree of ill health, not ameliorated by Clayesmore School's financial difficulties. At Clayesmore, his brother Guy was Bursar. Both had sailing among their recreations.
Basil de Selincourt 1877 - 1966 was a British essayist and journalist.
In 1902 he married the orientalist Beryl de Zoete, but the marriage failed, and in 1908 he married the writer Anne Douglas Sedgwick.
Ernest de Selincourt 1870 - 1943 was a British literary scholar and critic.
He is best known as an editor of William Wordsworth and Dorothy Wordsworth. He was Oxford Professor of Poetry from 1928 to 1933 and a Fellow of University College, Oxford.
His Papers are held at the University of Birmingham Special Collections.
A little known fact about Ernest De Selincourt is that he went to France in March 1917 as a Professor with the YMCA and this service is duly recorded in the First World War medal rolls.
Hugh de Selincourt 1878 - 1951 was an English author and journalist, Hugh de Selincourt wrote about homeopathy in his book The Way Things Happen, which he dedicated to  '…to C. E. Wheeler, [Charles Edwin Wheeler] a little monument of a great affection…'
… chiefly remembered today for his timeless tale of village cricket, The Cricket Match (1924). He studied at Dulwich College before going on to University College, Oxford. During the 1910s, he worked as a journalist, initially as drama critic of the Star and later as literary critic of the Observer. He continued to write book reviews for the Observer long after quitting his official post in 1914.He had also published a few light-hearted novels - the first of these, A Boy's Marriage, came out in 1907 - but after the Great War broke out, his literary output took on a more serious note. As war ended in 1918, his writings too resumed their former gaiety, in novels such as Young Mischief and Young 'Un. In 1924, The Cricket Match was published.
This novel stands alongside A G Macdonell's England, Their England as one of the classic accounts of village cricket in English literature. The fictional village of Tillingfold was a recurring element in de Selincourt's work, and was based on his own village of Storrington at the foot of the South Downs.
The Saturday Match (1937) and Gauvinier Takes to Bowls (1948) were among de Selincourt's final books.
He died in his home in Sussex at the age of 72. His widow Janet died in 1955.
---