William Arbuthnot Lane 1st Baronet 1856 – 1943
December 03, 2009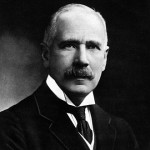 Sir William Arbuthnot Lane 1st Baronet (1856-1943) Legion of Honour was a Scottish surgeon.
Associated for most of his career with Guy's Hospital, Lane is known for three surgical procedures: the treatment of cleft palate, the application of internal splints to fractures using the strict aseptic 'Lane technique', and the treatment of chronic intestinal stasis, he founded the New Health Society in 1925 to publicise his views on healthy diet and life.
Lane was a firm believer as well as a pioneer in alternative or homeopathic medicine, and he was a hugely influential and controversial figure, a brilliant surgeon with an open mind - very rare indeed. Lane co wrote, endorsed and wrote the foreward to homeopath J Ellis Barker's _Cancer, how it is Caused, how it Can be Prevented. _Lane was a friend of Joseph Chamberlain, Marie Stopes, and a correspondent of George Bernard Shaw,
Lane retired from Guy's Hospital and practiced from his home at 21 Cavendish Square, turning his attention to educating the public about healthy eating and healthy living, a hugely controversial and public campaign promoting the provision of fruit and vegetables to housewives, and a return to rural living, his New Health Society was largely responsible for the founding of a Chair of Dietics at London University,
During the 1914–18 war, William Arbuthnot Lane organised and opened Queen Mary's Hospital, Sidcup, a pioneering institution in plastic surgery.
This controversial surgeon asked to have his name removed from the Medical Register, in order to promote the New Health Society (the first organised body to deal with social medicine), to avoid being disciplined by the General Medical Council.
He had founded the New Health Society in 1925 to publicise his views on healthy diet and life.
'J Ellis Barker devoted his literary career, from 1900, to warning England of the danger of a war with Germany and to urging military, naval and economic preparation, cooperating with Frederick Sleigh Roberts 1st Earl Roberts, Joseph Chamberlain and others; one of the founders of the New Health Society, acting as Honorary Secretary from its beginning.' (In this respect J Ellis Barker resembles Walter Johannes Stein).
Sir Arbuthnot Lane, Bart., C.B., M.B.,M.S., F.R.C.S., speaking in the House of Commons: 'Cancer is a disease of civilisation. It is practically unknown to the primitive races leading primitive lives.
'Hundreds of medical men who have practised for decades among the South African negroes have never seen a cancer case…
'On the other hand, cancer is not uncommon among the South African negroes in the coast towns who for decades have lived more or less on the white man's diet…
'Cancer is essentially a nutritional disease. It is far more prevalent in the towns where people subsist on artificial food than in the country where men eat fresh natural food, take plenty of exercise and are less troubled with intestinal stagnation and auto-intoxication than are the sedentary inhabitants of the larger cities.
'We need not abolish civilisation in order to abolish cancer. We need only reform our lives in accordance with the dictates of nature…'
William Arbuthnot Lane trained and later worked at Guy's Hospital in London. Lane is best known for his attempts at improving alignment of fractures by using internal fixation. He started off using silver wire, then he used steel screws and this was followed by the use of plates and screws.
Lane was regarded at his peak as the best abdominal surgeon in England and was called on to operate on Royalty, politicians and many society figures of the Edwardian era.
Naturally rather shy, he found teaching and medical writing difficult, and taught mostly by example. His remarkable knowledge of anatomy and supreme surgical technique was much admired by surgeons from all over the world who flocked to watch him operate at Guys Hospital.
This fame made him many enemies in London surgical circles. Remarkably, when he published a series on the operative repair of fractures by steel plate and screws, his fellow surgeons reported him to the General Medical Council (the doctors disciplinary body in Britain) and attempted to have him struck off the Medical Register and thus destroy his practice.
In 1904, Lane met the Russian Nobel prize winning bacteriologist Elie Metchnikoff who fatally influenced his thoughts. Believing that Charles Darwin's theories on natural selection were right, Lane noticed that the skeletons of manual workers had undergone changes in their lifetime. This led him to believe that natural selection was happening much faster than Charles Darwin suggested.
Elie Metchnikoff unfortunately had become convinced that humans were changing much faster as well and that several of our body structures were now obsolete and through evolutionary process going to disappear. He suggested that the colon was one such structure, that it was going to shrink like the appendix and dreamed of a day when we could have an operation to remove it entirely.
Lane realised that he had now developed abdominal surgical technique to a point where this was possible and decided to operate on some patients with very severe constipation. Gratified by the results of this first surgery, he then performed total colectomies as a cure for "auto-intoxication".
This condition had no medical or scientific credibility and at a meeting of the Royal Society of Medicine in London to discuss the topic in 1913 many of Lane's enemies seized the opportunity to attack his ideas and to publicly humiliate him.
Lane's reputation was irreversibly damaged and despite being asked to lead the British army's surgical service during World War One and setting up the first plastic and reconstructive surgery unit to cope with war injuries, he never recovered.
After the war he left Guy's Hospital and soon retired from medicine.
In 1926, still convinced that auto intoxication was a genuine disorder, he appeared to have completely changed his mind about removing the colon. In an extraordinary volte face he started promoting exercise, fruit and vegetables and bran cereal as the answer to bowel problems.
Using his many royal and society connections he set up The New Health Society to promote programmes of health education that mirror those present today. Lane wrote columns in the newspapers, held public lectures and improved the distribution of fruit and vegetables. In this he was 40 years ahead of his time.
Lane's syndrome - (Otherwise Lane's disease or Arbuthnot Lane syndrome). A syndrome prevalent in women characteised by colonic inertia, contraction and lack of relaxation of the pelvis muscles, and rectal obstruction.
Lane is sometimes unfairly quoted as the model for George Bernard Shaw's scurrilous surgeon in his play The Doctors Dilemma. This is not true. George Bernard Shaw himself stated that he had written the play before he had ever heard of Lane. The original of Cutler Walpole according to George Bernard Shaw was an Ear Nose and Throat surgeon in London who had made a fortune by performing an unnecessary operation to extirpate the uvula.
Lane and George Bernard Shaw never met, but George Bernard Shaw was an admirer of his. He was fascinated by Lane's opinions about the speed of evolution and the two had corresponded on the subject.
Lane married first Charlotte Jane Briscoe 1857 - 1935, daughter of John Briscoe, son of Major Briscoe. They had issue. Sir William married second Hendon 25 September, 1935 Jane Mutch (died Bridport q4 1966 aged 82), sister of Sir William's son in law, Nathan Mutch.
He died from being run over during a wartime blackout outside the Athenaeum Club in Pall Mall.
William Arbuthnot Lane wrote Everywoman's home doctor, Cleft palate and hare lip, The operative treatment of fractures, The operative Treatment of chronic intestinal stasis, Operative treatment of chronic constipation, Chronic intestinal stasis, The consequences and treatment of alimentary toxæmia from a surgical point of view, Injuries and diseases of muscles and tendons, Remarkable example of the manner in which pressure-changes in the skeleton may reveal the labour-history of the individual, Can cancer be prevented?, Bibliography of the published writings (1883-1938) of Sir William Arbuthnot Lane, A surgical tribute to the late Dr Wooldridge, and he wrote the foreward to Maori Symbolism by Ettie A Rout (where he expounds his disgust of Western civilisation as it pertains to diet and lifestyle and its role in cancer and ill health), and he wrote many medical articles for various publications, and he edited his own journal New Health: journal of the New Health Society,
Lane has had many biographies written about him (see Google Books) and Guy's Hospital Reports: special number dedicated to Sir William Arbuthnot Lane,
---