John Hitchman 1805 - 1867
November 28, 2009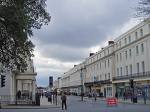 John Hitchman 1805 - 1867 MRCS, was a British orthodox Surgeon, Surgeon at the Leamington Hospital, who converted to homeopathy late in his medical career  in *1865, member of the Midland Homeopathic Society,
John Hitchman lived for over 40 years at 10 Euston Place, Leamington, and was one of the most renowned doctors in Leamington, and he also practiced at the Hydropathic Establishment, the Arboretum, Leamington.
'… The efforts of the late Mr. Hitchman should not be overlooked, for to him the idea of planting the roadsides with trees is due, and by his energy it was mainly carried out…' (Abel Heywood and Son's Guide to Royal Leamington Spa (Manchester, 1905). Page 5).
*In 1857 in a letter to _The Lancet, _John Hitchman explained that he had been experimenting with high dilutions, using arsenius acid, in doses of one hundredth of a grain in the treatment of cholera with good success,
John Hitchman was also an advocate of hydrotherapy, and he was especially interested in sanitary reform. John Hitchman founded the Arboretum in 1864 in Tachbrook Road, Leamington Spa, which eventually became the Midland County Home for Incurables.
Two years after John Hitchman's death, his friend Henry Jephson formed a fund to build the

Hitchman Fountain at Leamington Spa, unveiled on 25.10.1869, (picture © Copyright David Stowell and licensed for reuse under this Creative Commons Licence), was built in his memory.
Henry Jephson who had helped to promote the healing properties of the town's spa waters and built houses for the town's poor residents. A Corinthian style temple was added to the gardens in 1849 and inside it a large marble statue of the doctor.
Most of this early work was undertaken by poor labourers, given employment by another of the town's earlyphilanthropists, Dr Hitchman. In 1869 Hitchman received recognition of his efforts when a fountain bearing his name was erected in the gardens, near the boundary with the town's main street.
John Hitchman was born in Chipping Norton, and he came to Leamington from Banbury in 1840, where he had been an assistant surgeon.
John Hitchman's Obituary is in the Homeopathic Medical Directory in 1868, and in The British Homeopathic Review, Volume 10, and in _The British Homeopathic Review, _Volume 11, (1 April 1867) 253-4.
John Hitchman wrote A case of Fever treated homeopathically and hydropathically with John Stuart Sutherland,
---