John Suffield 1802 - 1891
November 21, 2009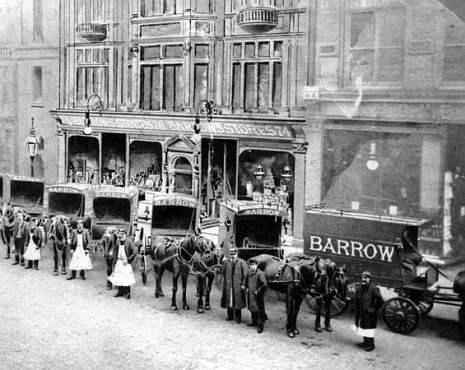 John Suffield 1802 - 1891 was a British Laceman and Lace Dealer, Hosier, Glover and Carpet Warehouseman, Sponsor of the Blue Coat School in Birmingham, and on the Management Committee of the Birmingham Homeopathic Hospital,
John Suffield was the great grandfather of J R R Tolkien (by marriage),
J R R Tolkien's great grandfather, also John Suffield, was there from 1826 with a drapery and hosiery business.
John Suffield operated at Old Lamb House, 107 and 108 Bull Street, Birmingham, and at Union Passage, Birmingham, (for picture of Old Lamb House see the Connecting Histories web site)
From Personal Recollections of Birmingham and Birmingham Men by Eliezer Edwards 1815 - 1891:  Bull Street was then the principal street in Birmingham for retail business, and it contained some very excellent shops.
Most of the then existing names have disappeared, but a few remain. Mr. Suffield, to whose courtesy I am indebted for the loan of the rare print from which the frontispiece to this little book is copied, then occupied the premises near the bottom of the street, which he still retains.
Mr. Adkins, the druggist, carried on the business established almost a century ago. He is now the oldest inhabitant of Bull Street, having been born in the house he still occupies before the commencement of the present century.
Mr. Gargory–still hale, vigorous, and hearty, although rapidly approaching his eightieth year–then tenanted the shop next below Mr. Keirle, the fishmonger. His present shop and that of Mr. Harris, the dyer, occupy the site of the then Quakers' Meeting House, which was a long, barn-like building, standing lengthwise to the street, and not having a window on that side to break the dreary expanse of brickwork.
Mr. Benson was in those days as celebrated for beef and civility as he is now. Mr. Page had just opened the shawl shop still carried on by his widow.
Near the Coach Yard was the shop of Benjamin Hudson, the bookseller, whose son still carries on the business established by his father in 1821. In 1837, Benjamin Hudson, Sen., was the publisher of a very well conducted liberal paper called The Philanthropist. The paper only existed some four or five years. It deserved a better fate….
Of interest;
Jane Suffield Neave 1872 - 1963, sister of Mabel Suffield Tolkein, taught J R R Tolkien geometry as a young child,
John Suffield Junior 1833 - 1930, son of John Suffield senior, was the father of Mabel Suffield Tolkein, brought up a Methodist, (Baptist according to Wikipedia) he became a Unitarian, he was a prosperous draper in Birmingham, (and as a brassfounder) but was declared bankrupt and became a Commercial Traveller for Jeyes Disinfectants,
From the Connecting Histories web site: John Suffield (junior) of Birmingham lived to the grand age of ninety seven.
He was born in Old Lamb House, Bull Street in 1833 and died in Moseley just after his birthday in September 1930.
The Suffield family had a drapery business in Old Lamb House, a half timbered building on the corner of Bull Street and High Street.
When he was born they lived above the shop. The sketch above (see the Connecting Histories web site), probably by John Suffield, accompanied an article he wrote "My Old Home" for the Central Literary Magazine in April 1887.
In the early 1840s the family moved out to Edgbaston, one of Birmingham's new suburbs. In the mid 1850s they moved to Moseley, then still in the countryside, on one of the hills immediately to the south of Birmingham. (John Suffield junior died at Bag End, Dormston, Worcestershire in 1930),
John Suffield, ?cousin of a John Suffield senior from Evesham, Plate Maker and Engraver in 1831, (attributed as the Suffield ancestor of J R R Tolkien in Tolkien And The Great War: The Threshold Of Middle Earth by John Garth. J.R.R. Tolkien encyclopedia: scholarship and critical assessment by Michael D. C. Drout, continues:
'Originally from Evesham in Worcestershire, they moved to Birmingham in the early 1800s and later to Edgebaston and Moseley.
From 1812, J R R Tolkien's great, great, great uncle William Suffield owned a Birmingham book and stationary shop. Coverted to a drapery business by his brother John Suffield senior in 1826, it operated until an 1886 redevelopment plan demolished the shop.'
Joseph Suffield, ?brother of John Suffield senior, was a Victualler at Union Passage Hotel Birmingham in 1861,
Mabel Suffield Tolkien 1870 - 1904, great grandaughter of John Suffield senior, mother of J R R Tolkien:
Her parents, John Suffield and Emily Jane Sparrow, lived in Stirling Road, Birmingham and owned a shop in the city centre. The Suffield family had a business in a building called Lamb House since 1812.
From 1812 William Suffield ran a book and stationery shop there; J R R Tolkien's great grandfather, also John Suffield senior, was there from 1826 with a drapery and hosiery business.
Mabel Suffield was born in Birmingham, one of six children of John Suffield (junior), a draper who had become a commercial traveller, and his wife Emily (nee Sparrow.) In March 1891, she sailed from Southampton to Cape Town to marry Arthur Tolkien (q.v.). Their two sons, J R R Tolkien and Hilary (1894) were born in South Africa; but, while his wife and children were on a visit to Birmingham, Arthur died of a haemorrhage, and the family remained in England.
In June 1900, Mabel and her sister May were received into the Roman Catholic Church, and her children were brought up in that faith. However, Mabel, like her husband, died young, of a diabetic coma.
Mark Oliver Suffield, ?brother of John Suffield junior, worked together as John Suffield and Co, at 1, 2 and 3 Crooked Lane, Birmingham and 29, 30 and 31 Union Passage, Birmingham, in 1885,
Mary Suffield, ?relation, was a toy maker in Birmingham in 1861,
Samuel Wilson Suffield, ?relative, Druggist in Birmingham in 1844,
Wiliam Suffield, brother of John Suffield senior, was a printer, Stationer and Paper Hanger, in Bull Street, Birmingham in 1810, (also commended for improvements to the manufactur of artificial teeth in Birmingham in 1859),
---