Richard Sanders 1815 - 1876
November 20, 2009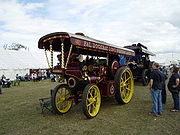 Richard Sanders ?1815 - ?1876 was a British Cooper in 1850, a toy dealer in 1861, and thereafter an Agent, specifically a Tin and Copper Smelter's Agent (to William Forster and Co), and on the Management Committee of the Birmingham Homeopathic Hospital,
Richard Sanders lived at 198 Hagley Road in Birmingham,
Of interest:
Richard Sanders ?senior, ?father of Richard Sanders, was a member of the Warwick Union Society, a auctioneer, timber merchant (in 1831 with Joseph Sanders), surveyor and 'self styled' architect in 1811, who supervised the building of meeting rooms in Leamington,
Richard Sanders, ?ancestor of Richard Sanders, was a very famous bell maker in Bromsgrove in 1735,
William Foster & Co Ltd was an agricultural machinery company based at Lincoln, UK and usually just called "Fosters of Lincoln".The company can be traced back to 1846, when William Foster purchased a flour mill in Lincoln.
William Foster then proceeded to start small scale manufacturing of mill machinery and threshing machinery. The mill was converted to an iron foundry by 1856, thus becoming the original Wellington Foundry.
During the First World War they built the first tanks for the British Army.
The company was known for producing threshing machines, regarded as among the best available. They also made traction engines, steam tractors such as the Foster Wellington and showman's road locomotives.
Foster were briefly involved in a deal to market tractors built by Daimler in Britain but this was dropped after the war. (Little is known about the Daimler tractors which mainly were exported).Foster's, as builders of agricultural machinery, were involved in the production and design of the prototype tanks, which were, in effect, agricultural tractors with armoured bodies.
After the First World War, The Royal Commission on Awards to Inventors decided that the inventors of the Tank were William Tritton, managing director of Fosters together with Walter Gordon Wilson.
An example of the first tanks that were used in the 1st World war is preserved and on display in the Museum of Lincolnshire Life. This is a Mark IV. The tanks were described as "Water carriers for Mesopotania" during production for security.
The firm used the symbol of the tank after the war on other machinery they built as a trade mark.
John Gwynne manufactured motor cars and centrifugal pumps in Hammersmith until acquired by Foster & Co. in 1927. Pump production was moved to Lincoln in 1930 and the company renamed Foster Gwynnes. Pump production ended in Lincoln in 1968.
In 1964 vertical pumps were supplied to the Deeping fen IDB for the pumping station at Pode Hole, where they remain in use. The company was acquired by W H Allen & Co in 1960, and subsequently by Amalgamated Power Engineering.
Of interest:
C J Sanders was a Steward at the Annual Festival in aid of the funds of the Charity, and in commemoration of the opening of the London Homeopathic Hospital on Thursday, the 10th of April 1851,
---