Thomas Adams 1807 - 1873
November 16, 2009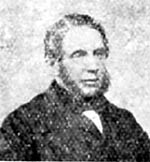 Thomas Adams 1807 - 1873 was a British philanthropist, Justice of the Peace, lace maker and a banker in his later years, who was on the Provisional Committee of Lloyds Bank of Birmingham, First Chairman of the Nottingham Joint Stock Bank, and on the Management Committee (Anon, Homeopathic Medical Directory of Great Britain and Ireland, (Henry Turner and Co, 77 Fleet Street, EC, 74 New Bond Street, W1, 1868). Page 98) of the Birmingham Homeopathic Hospital,
As a lacemaker, it is possible that Thomas Adams may well have known Jean Barthelemy Arles Dufour and William Leaf, who were so influential in the introduction of homeopathy into Britain,
Lacemaking in Britain had become industrialised by 1860, driving many local people out of business as steam powered machinery became the vogue. Many people became very wealthy as a result, and Thomas Adams was one of six lacemakers on the Board of the Nottingham Joint Stock Bank, and Thomas Adams established close connections with Birmingham Banks,
Thomas Adams made a great deal of money, and he lived at Lenton Firs (Lenton Firs farm is still in existence), and it is now part of the University of Nottingham,
Thomas Adams & Co. were major players in the Victorian lace boom, and established a large American export trade following the American Civil War, producing a "low class cheap effective article", which was what the major consumer markets required.
Although the British domestic trade had its seat in London, the sales offices of Adams, Birkin and others in what, thus, became known as the Lace Market attracted German, American and other buyers, becoming the centre for export…
…in 1865, the Nottingham Joint Stock Bank was opened by the lace manufacturer, Thomas Adams, and the entrepeneurial lawyer, Jesse Hind. Their best known customer was Jesse Boot 1st Baron Trent (the founder of Boots the Chemists, which began life as a herbal shop which Jesse Boot 1st Baron Trent expanded with product lines such as Boots No Name Ointment and Boots Patent Lobelia Pills), until 1905, when the Boot Empire outstripped their capacity and Jesse Boot 1st Baron Trent moved his account to the National Provincial Bank…
The magnificent lace warehouse of Thomas Adams & Co, Stoney Street, was designed by the architect, Thomas Chambers Hine.
The Adams Building on Stoney Street is the largest building in the Lace Market district of Nottingham, England.
Historically, it is probably the largest and finest example of a Victorian lace warehouse to survive in the country, and has been listed by the Department of Culture, Media and Sport as Grade II* (of architectural or historical interest). The building now forms part of the City campus of New College Nottingham…
As a committed Christian and philanthropist, Thomas Adams was determined to provide humane conditions and good facilities for his workforce.
A large area of the basement (now Floor B) was designed as a chapel (with a company chaplain and vestry) where more than 500 workers and managers would take part in a service before starting work. Indoor toilets, washing facilities and tea rooms were provided for staff, and there are records of a sick fund, savings bank and book club…
The Adams Company closed the factory in 1950
Opened on 10 July, 1855, the building is named after its original owner Thomas Adams (1807 - 1873), a Victorian industrialist with strong Quaker views and a deep social conscience.
He selected the Nottingham architect Thomas Chambers Hine and between them, they created a building which, for a variety of social and architectural reasons, is quite unique…
Until recently, the Adams Building was in a serious state of decline, due to rising repair costs, outdated standards of workspace, and under-occupation. Many floors were structurally unsound, having sagged or failed under the weight of heavy machinery.
In 1996, the building was acquired by the Lace Market Heritage Trust, and after being considered for the new headquarters of English Heritage was restored and imaginatively converted to a new use as a College of Further and Higher Education for New College Nottingham. Many of the courses held here (such as fashion and textiles) continue the traditional purpose of the building for the design and manufacture of clothing.
The £16.5 million restoration of the Adams Building itself triggered a revitalisation of the Lace Market district as a whole. The project was assisted by grant aid from the Heritage Lottery Fund and European Regional Development Fund, and was a pilot scheme for the Government's Private Finance Initiative. CPMG Architects designed the refurbishment…
The Adams Building was officially re-opened by HRH the Prince of Wales on 5 February 1999.
In 1861 (Thomas) Adams supervised the extension and modernization of the Lenton Firs residence, which resulted in the red brick and timber facade that we now see. Most rooms are large and some enhanced by bay windows.
There was a Library, drawing room, dining room, and billiard room of note. Once more, when looking out from the front of the house, a scape of fields and woodland could be appreciated together with a view of Nottingham Castle and Lenton village…
Thomas Adams lived from 1844 to 1873, at Lenton  Firs, on Derby Road. He was born in 1807 at Worksop; at fourteen he was apprenticed to a draper at Newark, and after seven years' service he took a situation in London, and when about twenty three years of ago commenced business as a lace merchant in a very small warehouse in Stoney Street, Nottingham…
After Thomas Adams' death, his friends commissioned two windows in Lenton Church in his memory:
The Adams Window: this was erected by the friends and neighbours to the memory of Thomas Adams, Lenton Firs, Adams-Hill, Lenton. (The Hill so named after Thomas Adams while the residence is now occupied by the Nottingham University.)…
The Timothy Window: A small window in the south east wall was given to the Church in memory of Thomas Adams, the cost being covered with the surplus of money collected after defraying the cost of the larger window. This is called the "Timothy Window" being a portrayal of Timothy being instructed in the Scriptures by his mother, Eunice. It is inscribed "Sp'us Sa's Pater Filius", i.e. Father, Son and Holy Spirit. "From a child hast thou known the holy scriptures", in the book shown, it reads "All flesh is as grass, all the glory of man is as the flowers of grass"…On the south side of the church there is a tablet to the memory of Thomas Adams J.P., "erected by his grateful children". He was born 5th February 1807. Fell asleep May 16th 1873, also in memory of their beloved mother, Lucy Adams, born August 28th 1807, died August 28th 1874.
---