James Beaumont Neilson 1792 – 1865
November 05, 2009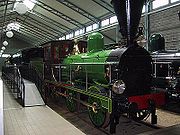 James Beaumont Neilson 1792 – 1865 is a Scottish inventor whose hot-blast process greatly increased the efficiency of smelting iron.
James Beaumont Neilson was on the Local Liverpool Branch (Marmaduke Blake Sampson, The concluding task of the disciples of homœopathy, an address by M.B. Sampson delivered at a general meeting of the British Homeopathic Association, together with a report of the proceedings of the meeting, (1849). Preface) of the British Homeopathic Association,
The son of an engineer, he was born in Shettleston and worked his way up to a position as foreman of the Glasgow Gasworks in 1817, a position he would hold for 40 years.
While trying to solve a problem with a blast furnace at Wilsontown Ironworks, Neilson realized that the force of the blast could be increased by passing hot air, rather than cold air, through the red-hot vessel. This reduced the amount of coal required to make iron, and greatly increased production efficiency to meet the demands of the railway and shipbuilding industries.
Neilson conducted experiments to prove this theory, and patented his hot-blast process in 1828. After resolving some early teething troubles by 1834, the process became used widely, though Neilson had to frequently go to the courts to defend his patent and be able to license his invention.
His defence of his invention was successful, and he became rich. He died on his estate at Queenshill, near Kirkcudbright. His son, Walter Montgomerie Neilson, erected a monument to his memory there in 1883.
William Neilson, James's brother, founded the Glasgow locomotive manufacturer Neilson and Company, in 1836. James's son Walter took over the running of the firm in 1843.
Of interest:
Robert Neilson ?1817 -  was a British engineer, and he was the Local Liverpool Honorary Secretary and Deputy Chairman of the British Homeopathic Association,
Robert Neilson, ?son of Robert Neilson, died in India, late Chief Engineer SS Vortigern of Glasgow. Died July 16th 1896, aged 51 years.
Neilson and Company was a locomotive manufacturer in Glasgow. The company was started in 1836 at McAlpine Street by Walter Neilson and James Mitchell to manufacture marine and stationary engines.
In 1837 the firm moved to Hyde Park Street and was known as Kerr, Mitchell and Neilson and, in 1840, Kerr, Neilson and Company, becoming Neilson and Mitchell in 1845. Locomotive building began in 1843 for the local railways.
By 1855, the company was building four-coupled tank engines, along with 2-4-0 and 0-4-2 tender locos. Some of these were for Cowlairs and St. Rollox, but many more went to India.
Through the 1870s considerable numbers of 0-4-4 tank engines were built for the London, Chatham and Dover Railway, the Midland and the Great Eastern. Many other types were built for railways at home and abroad, including fifty 0-4-2s for India. The company's first eight-coupled locos were built in 1872, also for India.
In 1879 the first 2-6-0s to run on British rails were built for William Adams of the Great Eastern. One of these was named "Mogul" and this became the name applied to all locomotives of this wheel arrangement. (However, the name had already been employed in the USA about ten years earlier.)
More overseas orders followed, with engines for South Africa and South America.
In 1884, Neilson left to form a new company at Clyde Locomotive Works but, though Reid became the sole owner, it was not until 1898 that the company changed its name to Neilson, Reid and Company.
However, by this time, intense competition from America meant that small companies were unable to survive. There was a need for amalgamation, and in 1903 Neilson Reid combined with Dübs and Company and Sharp Stewart and Company to form the North British Locomotive Company, the largest locomotive company in the world, outside of the United States.
---