Joseph Albert Jack Pease 1st Baron Gainford 1860 – 1943
October 28, 2009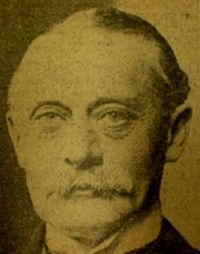 Joseph Albert Jack Pease 1st Baron Gainford PC, DL, JP 1860 – 1943, known as Jack Pease before 1917, was a British businessman and Liberal politician. He was a member of Herbert Henry Asquith's Liberal cabinet between 1910 and 1916 and also served as Chairman of the BBC between 1922 and 1926.
Jack Pease was an advocate of homeopathy, as was his first cousin Katherine Maria Routledge,
From Peter Morrell, A History of Homeopathy in Britain, (Staffordshire University).  The fact that this aristocratic patronage of homeopathy in the UK extended well into the 1940's, and beyond, can be easily demonstrated…. the British and Foreign Homeopathic Directory lists the patrons of the dispensaries and hospitals. It reads like an extract from Burke's or Debrett's.
Some examples include: The Duke of Beaufort, Duke of Cambridge, Marquesses of Anglesey, Arthur Algernon Capell 6th Earl of Essex, John Gray 15th Lord Gray, Arthur de Vere Capell Viscount Malden, Richard Walter Hely Hutchinson 6th Earl of Donoughmore, Lord Ernle, Earl of Kintore, Arthur, Arthur Fitzgerald, 10th Lord Kinnaird, Duchess of Hamilton and Brandon, Francis Richard Charteris 10th Earl of Wemyss Lord Elcho, Henry William Paget Marquess of Anglesey, George Granville William Sutherland Leveson Gower 3rd Duke of Sutherland, Earls of Dudley, George Wyndham 1st Baron Leconfield, Thomas Egerton 2nd Earl of Wilton, William Coutts Keppel Viscount Bury 7th Earl of Albemarle, John Robert Townshend 1st Earl Sydney, Lady Radstock, Mary Adelaide of Cambridge Duchess of Teck, Duke of Northumberland, Earl of Scarborough, Earl of Dysart, Marchioness of Exeter, Sarah Waldegrave, Countess of Waldegrave, Countess of Crawford and Balcarres, Lord Headley, Earl of Plymouth, Lord Calthorpe, John Talbot 16th Earl of Shrewsbury, Lord Horder, Lord Gainford, Lord Moynihan, Lord Ernle, Lord Ampthill, Lord Home, Viscount Elibank and the Earls of Lichfield.
And to this list we can also add numerous knights, barons, Army officers and clerics (and politicians and Members of Parliament Bankers and Industrialists)… [this data extracted from the Homeopathic Medical Directories 1867, 1874, 1895, 1909, 1931; see also Nicholls, 1988 and 1998 op cit.; see also London Homeopathic Hospital, Sixty Five Years Work: A History of the London Homeopathic Hospital, London, 1915; for John Talbot 16th Earl of Shrewsbury see also Hobhouse, op cit., p.247; re Lord Donoughmore, see his Obituary, Health Through Homeopathy, BHA, 7:11, Nov. 1948, p.250; also his Obituary, Daily Telegraph, London, 19 Oct. 1948; re Lords Ernle, Gainford and Ampthill, and Viscount Elibank, see Heal Thyself 1935; re Lord Home see Heal Thyself _1931-2; re Henry William Paget Marquess of Anglesey see _Heal Thyself 1938; re Lord Horder Heal Thyself 1937; re Duchess of Hamilton and Brandon see Heal Thyself 1932, 1933 and 1938].
From [http://en.wikipedia.org/wiki/Jack\_Pease,\_1st\_Baron\_Gainford\](http://en.wikipedia.org/wiki/Jack\_Pease,\_1st\_Baron\_Gainford) Pease was born in Darlington, County Durham (a member of the Darlington Peases), the second and youngest son of Sir Joseph Pease, 1st Baronet, of Hutton Hall, Guisborough, and Mary, daughter of Alfred Cox. He was the younger brother of Sir Alfred Pease, 2nd Baronet, the nephew of Arthur Pease and the first cousin of Sir Arthur Pease, 1st Baronet, and Herbert Pease, 1st Baron Daryngton. He was educated at Grove House, Tottenham, a Quaker school, and at Trinity College, Cambridge.
Pease served as Mayor of Darlington from 1889 to 1890. He was elected Member of Parliament for Tyneside in 1892, a seat he held until 1900, and then represented Saffron Walden between 1901 and 1910 and Rotherham between 1910 and 1916. He was private secretary (unpaid) to John Morley, the Chief Secretary for Ireland, between 1893 and 1895 and a junior opposition whip between 1897 and 1905.
When the Liberals came to power in 1905 under Henry Campbell Bannerman, Pease was appointed a Junior Lord of the Treasury (government whip). After Herbert Henry Asquith became Prime Minister in 1908 he was promoted to Parliamentary Secretary to the Treasury (Chief Whip) and sworn of the Privy Council.
In 1910 he entered Herbert Henry Asquith's cabinet as Chancellor of the Duchy of Lancaster, a post he held until 1911, and then served under Herbert Henry Asquith as President of the Board of Education between 1911 and 1915 and as Postmaster General in 1916. In 1917 he was raised to the peerage as Baron Gainford of Headlam in the County of Durham.
He served on the Claims Commission in France in 1915 and between 1917 and 1920 and in Italy between 1918 and 1919 and was also a Deputy Lieutenant of County Durham and a Justice of the Peace for County Durham and the North Riding of Yorkshire.Apart from his political career, Pease was Deputy Chairman of the Durham Coal Owners Association and Vice Chairman of the Durham District Board (under the Coal Mines Act 1930), a director of Pease and Partners Ltd and other colliery companies, Chairman of Durham Coke Owners, director of the County of London Electric Supply Company Ltd, Chairman of South London Electric Supply Company, of the Tees Fishery Board, and of the Trustees of the Bowes Museum.
In 1922 he was appointed Chairman of the British Broadcasting Company Ltd, a post he held until 1926, and was then its Vice Chairman until

From 1927 to 1928 he was President of Federation of British Industry…
Lord Gainford married Ethel, daughter of Sir Henry Havelock Allan 1st Baronet, in 1886. They had one son, Joseph, and two daughters, Miriam and Faith (who married Michael Wentworth Beaumont and was the mother of Lord Beaumont of Whitley).
Lady Gainford died in October 1941. Lord Gainford survived her by two years and died in February 1943, aged 83. He was succeeded in the barony by his son, Joseph Pease.
Of interest:
The Pease Family was influential and well connected, married into Fox family of Falmouth and into the Wedgwood family,
---