Coutts Lindsay 2nd Baronet Trotter of Westville 1824 - 1913
October 23, 2009
[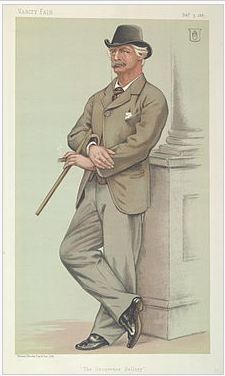 ](http://sueyounghistories.com/wp-content/uploads/2009/10/Coutts-Lindsay.jpg)Sir Coutts Lindsay 2nd Baronet **Trotter of Westville** 1824 - 1913 was a British artist and watercolourist. Coutts Lindsay and his wife Blanche founded the Grosvenor Gallery in 1877,
Coutts Lindsay was a patient of Samuel Hahnemann, and Antoine Henri Petroz, who was the homeopath of his family,
The Lindsays were friends of Robert Browning, Dante Gabriel Rossetti and his circle, Lawrence Alma Tadema and his famous homeopathic Epps Family, and Coutts Lindsay was the son in law of Nathan Meyer Rothschild,
In 1839 he succeeded by special remainder to his maternal grandfather Sir Coutts Trotter's baronetcy (which became extinct on Lindsay's own death).
He then entered the army, commanding the 1st Regiment of the Italian Legion during the Crimean War before retiring from military life to devote himself to art.
From 1862 to 1874 he exhibited many pictures, including various successful portraits. His studio at 4-5 Cromwell Place was also used by Archibald Stuart Wortley.
Coutts Lindsay and his first wife founded the Grosvenor Gallery in 1877 as an alternative to the Royal Academy. It was devoted to exhibiting works by the Pre-Raphaelites (then held to be too stylistically advanced for the Royal Academy) and becoming the focus of the Aesthetic Movement from then until its closure in 1890.
Its inaugural exhibition on 1 May 1877 included James Whistler's "Nocturne in Black and Gold: The Falling Rocket", leading to the famous libel trial between James Whistler and John Ruskin.
Coutts was important to the careers of Coutts' friends James Whistler and George Frederic Watts in providing a sympathetic venue for the display of their work.
However, the gallery declined after Lindsay separated from his first wife, and it closed in 1890.
In the 30 years before her death Blanche then lived in London and Venice, gathering a circle of friends including Lawrence Alma Tadema, George Frederick Watts and Robert Browning, and collecting a number of fine paintings (some of which she left to the National Gallery. Blanche also published several volumes of poetry, including From a Venetian Balcony (1903) and Poems of Love and Death (1907).
Coutts Lindsay first married in 1864 to the distinguished artist and poet Caroline Blanche Elizabeth Fitzroy (died 10 August 1912, London), daughter of the Rt. Hon. Henry Fitzroy by his wife Hannah Mayer de Rothschild (daughter of Nathan Meyer Rothschild).
Sir Coutts Lindsay, 2nd Bt. was born on 2 February 1824. He was the son of Lt.-Gen. Sir James Lindsay and Anne Trotter. He married, firstly, Caroline Blanche Elizabeth Fitzroy, daughter of Rt. Hon. Henry FitzRoy and Hannah Mayer Rothschild, on 30 June 1864.
He married, secondly, Kate Harriet Burfield, daughter of William Burfield, on 10 August 1912.
He died on 7 May 1913 at age 89.
Sir Coutts Lindsay, 2nd Bt. succeeded to the title of 2nd Baronet Trotter of Westville, Lincolnshire on 1 September 1837, under the special remainder of this title to his mother.
He gained the rank of Captain in the service of the Grenadier Guards. He was commander of the 1st Regiment, Italian Legion in 1854. He fought in the Crimean War. He held the office of Deputy Lieutenant (D.L.) of Fifeshire.
He held the office of Justice of the Peace (J.P.) for Fifeshire. He was Lieutenant Colonel of the Fife Volunteers between 1864 and 1884.
Children of Sir Coutts Lindsay, 2nd Bt. and Caroline Blanche Elizabeth Fitzroy, Harriet Euphemia Susan Lindsay 1865- 1946,  Anne Helen Lindsay  1868- 1955.
The Grosvenor Gallery, on New Bond street, London, is the youngest institution of its kind in Great Britain, but by no means the least important. lt was opened to the public for the first time in 1877.
Like the Dudley Gallery, it has no membership. It is under the management of Sir Coutts Lindsay, to whom, on account of his efforts in behalf of this gallery, the art loving world owes much.
Its exhibitions are made up of the works of living painters and sculptors who are invited by Sir Coutts Lindsay to contribute upon these occasions. The pictures are not placed closely together, as is of necessity the rule in ordinary galleries, but a space of at least one foot is allowed on every side of each work, and all are hung in the light and position best suited to them.
The consequence is that each work appears to the best advantage, and the whole has the elfect of a private salon, richly and harmoniously furnished, in which is a superb collection of the works of the modern masters.
The director of the Grosvenor Gallery claims that it is not intended to rival the Royal Academy, and the works of many Academicians are seen upon its walls; but in it, nevertheless, are conspicuous the paintings of what is known as the Romantic School, with which the Council of the Academy does not seem to be in sympathy, and which in many instances were not seen by the general public until the opening of the Grosvenor Gallery.
Among the better known of the contributors to these exhibitions have been, John Everett Millais, Francis Grant, Frederick Leighton, George D Leslie, George Henry Boughton, Edward Burne Jones, Lawrence Alma Tadema, John Roddam Spencer Stanhope, Walter Crane, Albert Joseph Moore, James Whistler, Ferdinand Heilbuth, James Tissot, Marie Spartali Stillman, and Louise Jopling.
The gallery is open during the London season, and annually receives the attention it merits. The building it occupies was erected under the personal supervision of Sir Coutts Lindsay, by whom it is owned. It is artistic and commodious; it has two large galleries for oil paintings, a smaller room for watercolors, and a gallery for sculpture, all admirably designed for the purposes for which they are intended.
Of interest:
Lady Jane Lindsay was a Patron of homeopathy in 1887,
John Trotter Lindsay 10th Earl of Lindsay 1827 – 1894 was a Patron of the Wigan Homeopathic Dispensary in 1873.
Earl Lindsay signed the petition in support of Alfred Crosby Pope in 1851, and he was a Patron of the London Homeopathic Hospital in 1879
---