Baron Louis Joseph G Seutin 1793 - 1862
October 07, 2009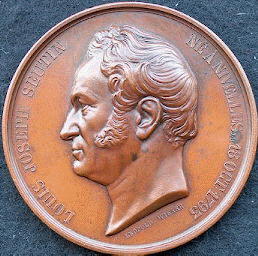 Baron Louis Joseph G Seutin 1793 - 1862 MD was a Belgian orthodox physician, Professor and Surgeon in Chief at the Université Libre de Bruxelles, the personal doctor of Leopold I Belgium and Head Doctor of the Belgian army,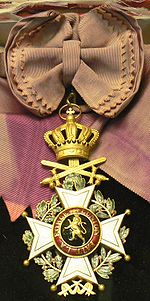 Commander of the Order of Leopold, who converted to homeopathy,
Baron Seutin was a famous medical man in Brussels, and his memory is enshrined today in Baron Seutin Square, Avenue Baron Seutin at 1410 Waterloo, Walloon Brabant, Belgium, and a new Baron Seutin Campus built at Eckelmans University, Parijsstraat 74 3000 Leuven, Belgium in 1993,
Baron Seutin is famous for his 'starched bandages' (plaster casts or "bandage amidonnee") which were introduced widely due to his publications, and of course are a mainstay of fracture clinics today.
Baron Seutin was also the first physician to use chloroform for anaesthesia,
In 1835, Gottlieb Heinrich Georg Jahr founded the Belgian Homeopathic Society, with ten homeopaths representing seven cities were represented. This group was soon joined by:
From http://www.homeopathie-unio.be/nl/algemeen Loosvelt of Tielt, Bogaerts of Thielrode, De Cooman of Oosterzele, Jean Francois Dugniolle, Elewaut of Haasdonck, Van den Stappele of Thermonde, Soenens and Victor Wullaert of Courtrai, Amand of Gavere, Dobbelaere of Bruges, Martiny, Gaillaird, Jules Gaudy, Seutin, Huyvenaer, De Mulder, Chevalier, Fauconnier, Haemelrath, Edmond Mersch and Nyssens of Brussels, Leonard Lambreght, Boniface Schmitz and Van den Heuvel of Antwerp, Bernard and Criquelion of Mons, Samuel Van den Berghe of Ghent; the veterinary physicians Mans of Brussels, pharmacists Seutin and Van Berkekaere of Brussels and Dwelshauverses of Ghent….
The Board of the Belgian Homeopathic Society is composed of : President: Boniface Schmitz; Secretary: Samuel Van den Berghe; Treasurer: Edmond Mersch; Counsellors: Isaac, Leonard Lambreght and Samuel Van den Berghe. More than 50 Belgian physicians have been educated in homeopathy by Gottlieb Heinrich Georg Jahr himself. Leonard Lambreght, Jules Gaudy, Gailliard, Van den Neucker, Gustave Adolphe Van den Berghe, De Keghel, Prosper Schepens, Van Ooteghem, and a lot of others received the good advices of Gottlieb Heinrich Georg Jahr…. 
During the year 1871, returning by train after a lesson at the clinic of Gottlieb Heinrich Georg Jahr, Rue de Laeken, in Brussels, some physicians of Flanders decides to found in Gent a Homeopathic Medical Society where, like in the Society of Allopathic Medicine, the physicians homeopaths of the two Flanders would meet, would communicate themselves their interesting cases and by reciprocal advises, would learn mutually.
This idea was a proposition of doctor De Keghel. Doctors Van Ootegem, Prosper Schepens, Lados and De Keghel take part in this decision. Each of them assigned to warn, one or the other colleague of Gent and the other localities of the two Flanders, of the date agreed for one first meeting dedicated to the constitution of the new Society. Doctors Dumont, Stockman, Van den Neucker, Pierre Joseph De Moor, Van Ootegem, Prosper Schepens, Lados, Van Peene and De Keghel attends this meeting.
From http://en.wikipedia.org/wiki/Louis-Joseph_Seutin**  Louis Joseph Seutin** was a Belgian doctor, surgeon and professor at the Université Libre de Bruxelles. Born in Nivelles, he studied medicine and took part in the Battle of Waterloo as a doctor. After the Belgian Revolution in 1830, he became the personal doctor of Leopold I Belgium and Head Doctor of the Belgian army. He was later made a baron for his services. He became a senator for the Liberal Party in 1853.
He invented the use of starched bandages and, in 1848, was the first to use chloroform for anaesthesia. His treatment of open fractures was revolutionary. By improving hygiene, he also drastically reduced the number of women who died in childbirth. Seutin died in Brussels on 29 January 1862.
 From http://en.wikipedia.org/wiki/Orthopedic_cast#History … An improved method for orthopaedic castes was introduced by Louis Seutin of Brussels. In 1835 Seutin had served in the allied armies in the war against Napoleon Bonaparte and was on the field of Waterloo. At the time of the development of his bandage he was chief surgeon in the Belgium army.
Seutin's "bandage amidonnee" consisted of cardboard splints and bandages soaked in a solution of starch and applied wet. These dressings required 2 to 3 days to dry, depending on the temperature and humidity of the surroundings. The substitution of Dextrin for starch, advocated by Alfred Armand Louis Marie Velpeau, the man widely regarded as the leading French surgeon at the beginning of the 19th century, reduced the drying time to 6 hours.
Although this was a vast improvement, it was still a long time, especially in the harsh environment of the battlefield. A good description of Seutin's technique was provided by Samson Gamgee who learned it from Seutin in France during the winter of 1851-52 and went on to promote its use in Britain. The limb was initially wrapped in wool, especially over any bony prominences. Pasteboard was then cut into shape to provide a splint and dampened down in order that it could be molded to the limb. The limb was then wrapped in bandages before a starch coating was applied to the outer surface. Suetin's technique for the application of the starch apparatus formed the basis of the technique used with plaster of Paris dressings today.
The use of this method led to the early mobilization of patients with fractures and a marked reduction in hospital time required… Seutin had travelled through Russia demonstrating his Starched Bandage, and his technique had been adopted by both the Russian army and navy by 1837.
Nikolai Ivanovich Pirogov had observed the use of plaster of Paris bandages in the studio of a sculptor who used strips of linen soaked in liquid plaster of Paris for making models. Nikolai Ivanovich Pirogov went on to develop his own methods, although he was aware of Antonius Mathijsen's work.
Nikolai Ivanovich Pirogov's method involved soaking coarse cloth in a plaster of Paris mixture immediately before application to the limbs, which were protected either by stockings or cotton pads. Large dressings were reinforced with pieces of wood.
MW619 Belgium Louis Joseph Seutin. Surgeon. Laudatory medal. A copper medal 1852 by Leopold Wiener. Bare head left, inscription around. Reverse. A wreath with inscription around and within. (Referring to his tour of many countries to introduce the use of chloroform ?). 62mm (Forrer Vol VI 493).
A typical well executed portrait by the work of L. Wiener. Extremely Fine. £45. (picture). Louis Joseph Seutin. Doctor and Surgeon (1793-1862). He became Head Doctor of the Belgian army in 1830 and later made a Baron for his services. He became Head Surgeon of St. Peters Hospital and a professor of surgery in 1834. He later became a Senator in 1853. He invented the use of starched bandages and in 1848 used chloroform for the first time to sleep a child who had a broken leg. A statue was erected to him.
Baron Seutin submitted cases and articles to various homeopathic publications, and he contributed to the academic life of the homeopathic community across the homeopathic world (Anon, The North American Journal of Homeopathy, Volume 5, (American Medical Union, 1857). Page 567. See also Anon, The Pacific Coast Journal of Homeopathy, Volume 3, (California State Homoeopathic Medical Society, 1895). Page 339. See also Anon, The Hahnemannian Monthly, Volume 24, (LaBarre Printing Company, 1889). Page 607. See also Anon, Transactions of the … Session of the American Institute of Homeopathy, Volume 29, Issue 2, (1880 - World's Homeopathic Convention). Page 312).
Of interest:
E Seutin MD was the founder of the first homeopathic Pharmacy in Brussells in 1844,
From Clive A. Spinage, Cattle Plague: A History, (Springer, 2003). Page 385.  In 1866, Edward Hamilton visited Belgium to investigate the work of Jules Gaudy and Seutin in the treatment of cattle plague with homeopathic remedies. The Dutch Government had agreed to allow Seutin, a homeopathic chemist, the total control of infected cattle in Matterness, and initially, Seutin saved 70% of the cattle, though latterly, he had saved 9 out of every 10 beasts brought to him for treatment, and Seutin's use of homeoprophylaxic treatment of unifected beasts brought the epidemic under control entirely within four weeks. Matterness was pronounced free from infection and it has remained thus ever since. The remedies used were arsenicum, phosphorus, phos ac, rhus tox and sulphur.
---