Robert Dufilho 1897 - 1989
September 18, 2009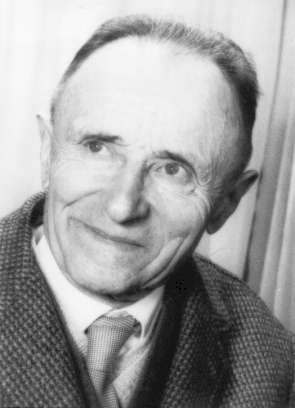 Robert Dufilho 1897 - 1989 MD was a French orthodox physician who converted to homeopathy,
Dufilho was a colleague of Bernard d'Angouleme, Capdevielle, Paul Joseph Edmond Carton, Hernandez, Jacques Hui Bon Hoa, Tomas Pablo Paschero, Gerard Sinan Pau, Pierre Schmidt, Robert Seror, Seval, Margaret Lucy Tyler, Leon Vannier,
From Reports of interventions Seminary of St. Hugh of Biviers: 24th and 25th November 1990 (pages 156 - 171) 24 by Didier Marion:
Robert Dufilho is a leading figure of the town of Oleron Ste Marie. He has given an excellent picture of homeopathy in his practice that is both rigorous and at the same time very open to the medicine.
Dufilho was born August 28, 1897 at Lectoure (Gers), in a Protestant family. His father was a solicitor and has held several posts abroad, which allowed Robert to know Asia it was at the end of his father's career as a prosecutor in Indochina. It was he who bought the house in Cathedral Square, in Oloron Sainte Marie (Pyrenees Atlantiques), and those who will travel to Oloron can visit the house now a museum of the High Beam.
After high school in Pau, Dufilho participated in the war of 1914-1918, and only on his return could he follow the academic curriculum of the Naval Medical Health in Bordeaux, focusing in particular pediatrics, qualifying in 1931.
He gave an interview, broadcast on local radio in 1986, explaining that during his convalescence of six months for (suspected tuberculosis?), he accidentally read an article on homeopathy that had "absolutely stunned" him and that made him want to know more.
He got his first book of Charette and his precious Eugene Beauharnais Nash (because as well as Spanish, Robert Dufilho read English fluently). I can say in addition, he studied homeopathy at least as early as 1932, since that date is found on his Materia Medica.
After Charette and Eugene Beauharnais Nash cited above, his sources are the early works Lathoud, Leon Vannier, Gottlieb Heinrich Georg Jahr, Henry Duprat and Ernest Albert Farrington. They are writers to whom he remained faithful, he would read and annotate (all journals and books by Robert Dufilho, whether or not the topic for medicine, are filled with notes in the margins, it is impressive to see number of books he has summarized the number of exercise books covered with his handwriting, articles, reflections on medical topics, philosophical, metaphysical, etc..).
He opened his practice for "five or six" years before he started practicing homeopathy without, as he liked to say, "following a single course". He had regular working meetings with Drs Bernard d'Angouleme and Seval of Astaffort. He was also associated with Dr. Jacques Hui Bon Hoa of Bordeaux who came to see him at Oloron and Dr. Gerard Sinan Pau.
On a trip to Madrid in 1935 where he met Dr. Hernandez when purchasing a "computer". The computer records of Hernandez is in the form of notched sheets, each sheet corresponds to a symptom, each notched a remedy, the notch is more or less, depending on how deep.The repertorisation is instant, by stacking the cards corresponding to the patient's symptoms.
The first contact with Pierre Schmidt was in

He visited that year and was subsequently in correspondence with him, Dufilho was not to my knowledge back then in Geneva, despite repeated invitations by Pierre Schmidt who offered to join him in Lyon. Dufilho does not seem to have participated in the rallies but he did participate in the first meetings of the Homeopathic Society of Aquitaine in 1948-1949, but he walked away, not sharing the positions of its then President (Dr. Bernard), who paid too much attention to "constitutions" for his taste.
Travel to London in 1935 where he attended the consultations of Margaret Lucy Tyler, at the Royal London Homeopathic Hospital.
He travelled in Argentina, meets with Tomas Pablo Paschero, and he had contacts with Italy…
If Robert Dufilho often prescribed several remedies, giving the remedy of substantive accompanied by "suckers" as Solidago or Berberis, he was more pleased, "having a good aim, do not miss the bird", and I still hear him say: "I owe my success to the best use of the pill".
It would be terribly inaccurate to reduce its practice to the practice of homeopathy. Indeed, he was much concerned for himself and his patients, concepts of hygiene as they were addressed by the naturist movement in the publications of Paul Joseph Edmond Carton. He served also worked with Capdevielle, an Argentine doctor known for his literary work and legal work. Capdevielle particularly denounced milk, and at Oleron, when speaking of Dufilho, adding that he gave regimes and prohibited milk cow…
In the years 1930-1940, Dufilho was in correspondence with Leon Vannier, who appreciated his work and published it in French in 1951. Dufilho and his wife went to meet Leon Vannier down on vacation in Gavarnie, (there was also a meeting in Burgenstock).
Dufilho presented his first work on "topographical remedies" in August 1948,  (such work had already been approached by Dr. Espinay of Lyon before the 1914 war)…
In 1966 he spoke of his pupils Robert Seror and Pierre Schmidt…
The most recent consultation, found in his notebooks of patients, date of September 1974. He published The mental symptoms in homeopathy (psyche of the adult and child) in 1986 with the help of a teacher friend, Mr. Castaing.
Should you talk about his life in Oloron, its forest walks, rain or not, he went out walking every day, he left with his wife to gather herbs for his evening tea (tea of nettles!) He loved gardening. He observed a vegetarian diet during fifteen years and he loved to find a fellow homeopath in a good restaurant where the region is far from being destitute…
One of the striking traits of Robert Dufilho was how easy he was to communicate with…
It is amusing to note that in 1941 he agreed to write a book! At the end of his life, he had generously distributed the books in his library to his younger brother, who very kindly receives visitors and provides advice and technical advice.
Dufilho died two years ago shortly after his wife (May 13, 1989), Robert Dufilho was delighted to learn that his homeopathic Geography would be reprinted. When I saw him last fortnight before his death, he announced the editions for Similia to republish his work, and he was very pleased that we were interested in his work. Here we must thank Robert Seror who has enriched the book of his master, while maintaining what made it an original approach to remedies.
Three years ago, Robert Dufilho showed me his set of medical records with which he practiced his "lines". He made a short list of ten symptoms that may characterize a cure, they were worn on the front of the sheet, classified by their level in the directory or medical subjects (its sources were mainly the authors I mentioned at the beginning, though I need to add John Henry Clarke and William Boericke). On the back were made remarks on the remedy, the recommended potencies, etc.
I mentioned earlier the "range" as practiced by Dufilho, and here's how it proceeded: at the fireplace in the evening, his wife pulled sheets of Materia Medica at random, the game was for him either to guess the name of the remedy, or to quote from memory its characteristics. His records also accompanied him on holidays, because it took time to read them all completely once a year, the case was "sealed off in a fortnight" and he made the rounds of his materia medica.
I'm going to finish on the piano which he advised all homeopaths to study. The number of personal and original work he published… (dichotomous as his paintings, his repertoire of the child psyche …), makes me think that homeopathy should be practiced as a game and a passion in all cases.
Dufilho wrote La geographie homeopathique, Les Symptômes mentaux en homéopathie: psychisme enfant et psychisme adulte, Le Piano homéopathique,
Of interest:
Charles Dufilho, son of Robert Dufilho, makes available some work from La geographie homeopathique_ _on line,
_ _
---