Count Eduard Clam Gallas 1805 - 1891
September 05, 2009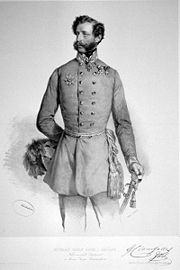 Count Eduard Clam Gallas 1805 - 1891 was an Austrian General, Austrian Cavalry of Bohemia,
Clam Gallas was cured of cholera by spirits of camphor by Count Laransky in 1831, as Samuel Hahnemann recommended.
Eduard's mother Josephine Clary 1777 - 1828, virtuoso violin, was a friend of Ludwig von Beethoven, who composed music for her.
Eduard's father Christian Christoph Graf Clam Gallas and his brother Phillip Christian Graf Clam Gallas (1748-1805), founded the spa bath Libverda in Jizera as a summer residence of the family Clam Gallas.
Clam Gallas was the son of Christian Christoph Graf Clam Gallas (1771-1838). He joined the Austrian army in 1823, and in 1831 was first captain in Cuirassier No 1, 1835 Major , 1840 Oberst , in 1846 he was General Major and Brigade Commandant in Prague, in 1835 Major, in 1840 Colonel, and in 1846, he was appointed Major General and Brigade Commander in Prague.
He was awarded the Order of Maria Theresa, and promoted to Lieutenant General. In 1849, he became Commander of the Transylvanian army corps, and was successful against Jozef Bem. In 1850, he was given command of the Bohemian Army Corps, which he commanded again in 1859, in the Sardinian war in Italy in the battles of Magenta and Solferino. In these battles, his army corps, positioned on the first left of the battlefield, survived intact. In 1861, he was a member of the House of Lords and in 1865, Lord High Steward of the emperor.
In 1866, during the Austro Prussian War, he suffered a devastating defeat at Jitschin, and was placed before a court martial, but acquitted on the basis of his social position. His spent most of his time on his estates Friedland and Reichenberg in Bohemia.
In 1850 he married Clotilde (1828-1899), the heiress of Prince Franz Joseph von Stein Dietrich (1798-1858), his son was Franz Graf Clam Gallas.
---