Thomas Egerton 2nd Earl of Wilton 1799 - 1882
August 23, 2009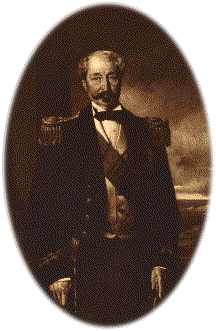 Thomas Egerton 2nd Earl of Wilton GCH PC 1799 - 1882, born Thomas Grosvenor, was a British nobleman and Tory politician, and the brother of Robert Grosvenor 1st Baron Ebury, and Richard Grosvenor Earl Grosvenor 2nd Marquess of Westminster.
Earl Wilton was a patient of Henry Kelsall, as were his two children, and he was also a patient of Paul Francois Curie, as was his children's governess.
In 1840, Earl Wilton was the President of the London Homeopathic Medical Institution at 17 Hanover Square, alongside Paul Francois Curie, William Headland, William Leaf, Middleton, William Warne, and he was also a Patron of the Liverpool Homeopathic Dispensary, the Manchester Homeopathic Hospital, and the Hahnemann Hospital at 39 Bloomsbury Square, and a Patron of the Leicester Homeopathic Dispensary,
Earl Wilton was a staunch advocate of homeopathy, and he was a sponsor and President of the London Homeopathic Hospital, and his wife the Countess of Wilton Mary Margaret Stanley Egerton was an active fund raiser for the hospital. Countess Wilton was a friend of the wife of Thomas Roupell Everest,
Earl Wilton signed the petition in support of Alfred Crosby Pope, and he also defended Paul Francois Curie,
Earl Wilton served as Lord Steward of the Household in 1835 in Robert Peel's first Tory administration.Wilton was the second son of Robert Grosvenor, 1st Marquess of Westminster and his wife Lady Eleanor Egerton, daughter of Thomas Egerton, 1st Earl of Wilton. Robert Grosvenor, 1st Baron Ebury, was his younger brother.
In 1814, at the age of 14, he succeeded to the earldom of Wilton according to a special remainder on the death of his maternal grandfather. He assumed by sign manual the surname of Egerton in lieu of Grosvenor in 1821.
Lord Wilton took his seat in the House of Lords on his twenty first birthday in 1820. In January 1835 he was appointed Lord Steward of the Household in the Tory administration of Robert Peel and the following February he was admitted to the Privy Council.
However, the government fell already in April 1835 and Lord Wilton was never to return to office.
Lord Wilton was Commodore of the Royal Yacht Squadron from 1849-1881. In this capacity, he was most notable for inviting members of the New York Yacht Club to race in the Royal Yacht Squadron regatta open to all nations around the Isle of Wight on August 22, 1851. The N.Y.Y.C. yacht America won the event and its silver trophy was subsequently renamed the America's Cup. Lord Wilton was inducted into the America's Cup Hall of Fame in 2001 in a ceremony at the Royal Yacht Squadron during the America's Cup Jubilee.
Lord Wilton married firstly Lady Mary Stanley, daughter of the Edward Smith-Stanley, 12th Earl of Derby, in 1821. After his first wife's death in 1858 he married secondly Isabella Smith. He had eleven children by his first marriage, of whom only five reached adulthood:
1: Lady Eleanor Egerton (1823-1824) 2: Thomas Egerton, Viscount Grey de Wilton (1825-1830) 3: Lady Mary Egerton (1827-1838) 4: Lady Margaret Egerton (1830-1831) 5: Arthur Egerton, Viscount Grey de Wilton (1831-1831) 6: Lady Elizabeth Egerton (1832-1892), married 1853 Dudley FitzGerald de Ros, 24th Baron de Ros 7: Arthur Egerton, 3rd Earl of Wilton (1833-1885) 8: Lady Katherine Egerton (1835-1920) 9: Lady Emily Egerton (1837-1839) 10: Seymour Egerton, 4th Earl of Wilton (1839-1898) 11: Lady Alice Egerton (1842-1925)
Lord Wilton died in March 1883, aged 82, and was succeeded in the earldom by his third but eldest surviving son Arthur.
Of interest:
Seymour John Grey Egerton, 4th Earl of Wilton (1839–1898) was also an advocate of homeopathy, and he attended fund raising activities for the London Homeopathic Hospital.
---