Algernon George Percy 6th Duke of Northumberland 1810 - 1899
August 23, 2009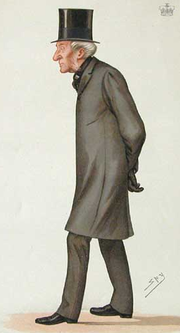 Algernon George Percy, 6th Duke of Northumberland, KG, PC 1810 - 1899 was a British Conservative politician.
Earl Percy was a staunch advocate of homeopathy, and he employed George Lennox Moore to look after the animals on his estates, and he was a Patron of the homeopathic hospital in Smyrna,
In the 1790s, Hugh Percy 2nd Duke of Northumberland established a Veterinary College in England, and the Earls of Nurthumberland retained an interest in this subject.
The homeopathic hospital in Smyrna, was also supported by: Arthur Algernon Capell 6th Earl of Essex, Lord Lovaine MP (Algernon George Percy 6th Duke of Northumberland), James Gambier 1st baron Gambier, George Wyndham 1st Baron Leconfield, Colonel Taylor, Edmund Gardiner Fishbourne, Robert Grosvenor 1st Baron Ebury, Richard Whately Archbishop of Dublin, Henry Charles FitzRoy Somerset 8th Duke of Beaufort, Arthur Wellesley 1st Duke of Wellington, James Hamilton 1st Duke of Abercorn, and 18 other members of the House of Lords, 43 Peer's sons, Baronets and Members of Parliament, 17 Generals, 33 Field Officers, 43 other Officers of the Army, 2 Admirals, 15 Captains of the navy, 65 Clergymen, 45 Justices of the Peace, Barristers and Solicitors, and 314 Bankers, Merchants and others.
His father, George Percy, Lord Lovaine, was the eldest son of the 1st Earl of Beverley (formerly Lord Algernon Percy), a younger son of the 1st Duke of Northumberland.
From his father's succession as second Earl of Beverley in 1830, Percy was styled Lord Lovaine. In 1865, Lord Beverley inherited the Dukedom of Northumberland from his first cousin, the 4th Duke, and thenceforth Lovaine was styled Earl Percy.
He sat in the House of Commons as a Member of Parliament for Bere Alston (1831–1832) and later for Northumberland North (1852–1867). He served briefly as Vice-President of the Board of Trade in Lord Derby's second government.
In 1867 Lord Percy succeeded to the Dukedom of Northumberland and entered the House of Lords. He became Lord Lieutenant of Northumberland in 1877, and in 1878 joined Lord Beaconsfield's second government as Lord Privy Seal, a post he held until the fall of the government in 1880. He was made a Knight of the Garter in 1886.
Of interest:
George Percy Lord Lovain 5th Duke of Northumberland was also an advocate of homeopathy.
---